Dear colleagues,
As communicated a few weeks ago, all members of the campus community are encouraged to participate in the 2019 University of Cape Town (UCT) InclusionIndex survey. The purpose of this survey is to help us to broaden inclusivity within the UCT community, by identifying areas that are doing well and those that may need intervention.
The closing date for completing the survey is tomorrow, Friday 14 June 2019. We ask all of you to let us hear your voices so that we can begin to work on a plan to take our university into a more inclusive, respectful future where everyone feels heard and valued. We also thank those of you who have already completed the survey.
The feedback received from the service provider indicates an average completion rate of only 32.2% to date. There have been higher completion rates in some departments than in others. As the executive, we really wish to see higher and more consistent completion rates across all departments, so that this survey provides us with an overall picture that is a reflection of the various departments at UCT.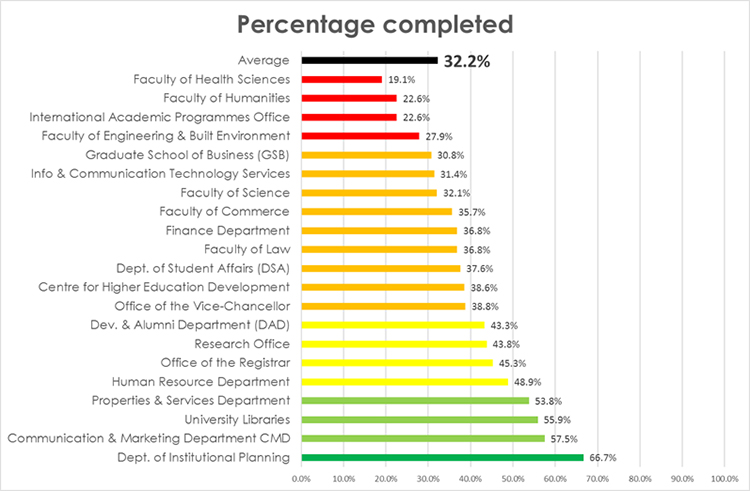 Without your input we will not be able to identify and provide specific interventions. We encourage you to share your experiences at UCT so that we can provide the necessary support to ensure that everyone works in a safe and inclusive environment.
On 20 May 2019, staff who have access to email received an email from Aephoria, a UCT-appointed external service provider, with the subject line InclusionIndex 2019 is finally here! Please use the link in this email to complete the survey.
This survey will not be the end of the transformation project. We understand that transformation is not one-directional, and that it needs to be interrogated constantly to truly benefit the community. Thus, this survey is part of a much larger project; interventions that come out of the results will constantly be assessed, and you may be asked to participate further. Confidentiality will be maintained at all times.
To track our progress, this survey will be administered again in 2023.
If you have any questions regarding the survey, you can read the most frequently asked questions in English, Afrikaans and isiXhosa.
There is also a web page for the UCT Staff Inclusivity Survey to help keep you updated and informed, which includes links to all our relevant communications.
In addition, you may contact Aephoria directly should you have any further questions about the survey, by sending an email to help@aephoria.co.za or a WhatsApp message to 071 186 3441.
Your participation in this survey will help us to guide UCT further into becoming a truly transformed university for all. Thank you for your participation.
---
Read previous communications:
---
This work is licensed under a Creative Commons Attribution-NoDerivatives 4.0 International License.
Please view the republishing articles page for more information.
---