A one-day introductory course into design thinking offered UCT staff and students valuable insights into this problem-solving skill and writer Carla Bernardo jumped at the chance to take part. Here she shares what she learnt.
Since joining the University of Cape Town (UCT), "design thinking" has come up on numerous occasions as a must-have tool in your arsenal.
I spent many online sessions looking at courses at the Hasso Plattner Institute of Design Thinking (d-school), considering my options. I knew I wanted to upskill in design thinking but I didn't know where to begin.
Then I came across a fast-forward programme, a one-day introductory course for UCT staff and registered students. I jumped at the opportunity.
Come the morning of 10 May, I was excited and nervous in equal measures as I made my way through the Graduate School of Business (GSB) towards the d-school. Here was this Humanities graduate who has spent all her time in news and communications diving into the design arena – and in full view of colleagues from across campus.
My first impression was how colourful and bright the d-school office is, with ottomans scattered all around, two bright red sofas, a coffee nook to the left, sticky notes everywhere and writing on the walls. It's very clearly a space where mobility and socialising are key.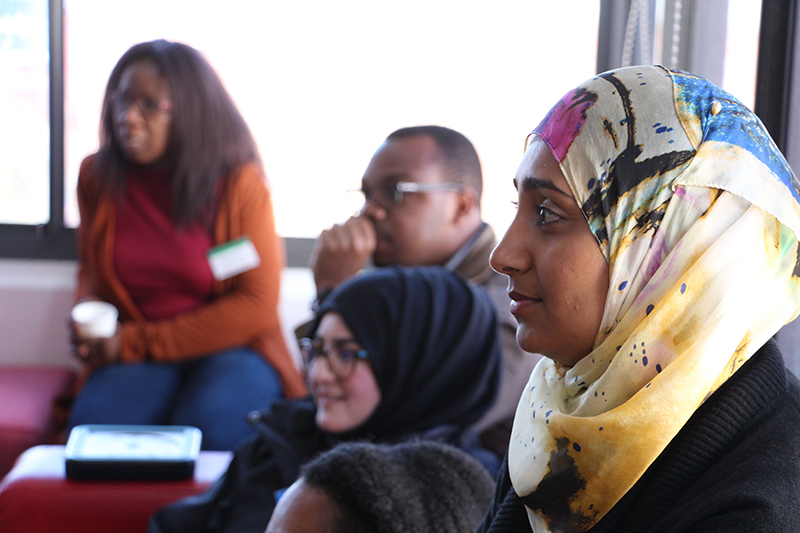 The staff and students who were joining me on the course came from Development & Alumni, Research and Innovation, Astronomy, the Division of Environmental Health and Career Services, to name a few. This kind of diversity, I was to soon learn, is key to design thinking.
Hypothetical challenge
After a fun warm-up, d-school programme manager Dr Rael Futerman kicked off the day's proceedings. He gave us a broad overview of the d-school and design thinking, making it very clear that the day was only an introduction. Nonetheless, it would be intensive and keep us occupied right through to 17:00. And that it did.
Futerman presented us with the hypothetical challenge we would be expected to help solve: "How might the V&A [Waterfront] ensure people perceive a better sense of identity, ownership and inclusion when visiting?"
"How might the V&A [Waterfront] ensure people perceive a better sense of identity, ownership and inclusion when visiting?"
Then we were divided into groups, each under the guidance of a d-school coach.
As soon as we were in our team workspaces – with everything on wheels – the work began. We had to "mindwash" and get all our thoughts about the challenge out onto sticky notes, deconstruct the loaded words in the challenge statement, bring our understanding and ideas together, identify our stakeholder group who we'd interview and observe, go out and conduct those interviews, bring back our findings and start on a prototype to present at the end of the day.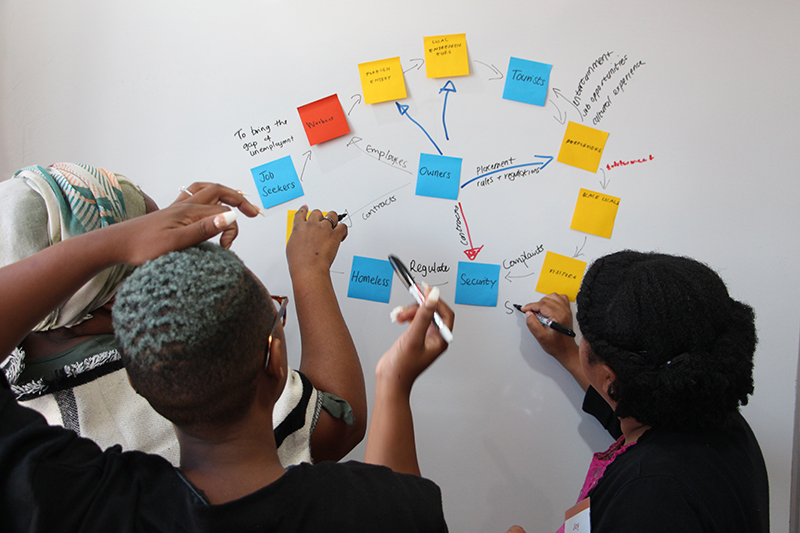 Through the day's work of sharing and collaboration, running around the V&A Waterfront precinct conducting interviews and coming up with a human-centric solution, I learnt a great deal. The five standout lessons were:
The more diverse your team, the richer your understanding of a problem will be, and so too the research and solution/s. While we all wore the UCT badge as students or staff, our diversity meant we were able to present numerous solutions, none of which were the same and none of which were wrong.
Spend more time on the problem. All of us are faced with problems every day. Often, we feel the pressure to respond and provide quick fixes. But spending more time on the problem, on why it exists in the first place, can help us solve it once and for all.
Listen to the user. If you're creating something – a physical structure, a process, a policy, a website, your user must be at the centre. And you need to clear your mind of any assumptions and any idea that you know the answer. During the day's exercise, there were instances when we thought we knew the answer but when we really listened to the intended user, we realised that our assumption was not useful to them.
Learn to say "yes, and". Instead of shooting down someone else's idea, build on it. See the value in their idea and see how you can grow it together. And be open to having your own ideas expanded upon.
Design thinking is for everyone. All of our skills and experience proved useful. What I lacked, my teammates made up for, and vice versa. I don't know if design thinking will feel accessible to everyone everywhere but certainly, at the d-school, you know you are capable.
I am excited to put what I have learnt to good use, whether in the newsroom, as part of the department's Transformation Committee, in my studies or outside the university. It's a necessary skill all students and staff should have in their toolbox.
Departments and faculties can contact the d-school for training, as can outside teams seeking human-centric solutions to their problems.
---
This work is licensed under a Creative Commons Attribution-NoDerivatives 4.0 International License.
Please view the republishing articles page for more information.
---