The University of Cape Town's (UCT) 2018 graduation season wrapped up on Friday, 14 December with a clear call to graduates from alumnus, philanthropist and trail-blazing venture capitalist on male-dominated Wall Street, Annette-Campbell White, urging them to make a difference in society.
Speaking at the joint Faculty of Engineering & the Built Environment and the Faculty of Science ceremony, Campbell-White's focus was on the future and the inevitable change it brings.
As a New Zealander educated in South Africa who crossed the Atlantic to smash glass ceilings on Wall Street, Campbell-White knows all too well how to adapt to change. And, having fought sexism throughout her career as well as cancer, she knows about battling the odds.
"Nothing can prepare you for change," she said. "You have to be alert."
The changes graduates will have to adapt to and find solutions for include climate change, famine and water shortages. But, "change brings opportunity", a chance for graduates to use their UCT education to make a difference.
"You now have the educational foundation so that you can, in turn, help to develop solutions," said Campbell-White.
And this gift of education, she said, can never be taken away.
"You have learned how to think and that is the greatest gift of all."
But using their degrees and diplomas to innovate wasn't all Campbell-White expected of them. She also looked to graduates to be change-makers, for instance in using wealth for the common good and restoring the ethical balance to the world of business.
"You might be the smallest cog in the machine, but you have the responsibility to do the right thing."
A lasting impression
Doing the right thing and doing it well set Gregor Leigh, senior lecturer in the Department of Physics, apart in 2017. At Friday's ceremony, Leigh was presented with the Distinguished Teacher Award for which he was named alongside three other academics in 2017.
The award acknowledges the primary place of teaching and learning in the work of the university and it marks sustained excellence in teaching.
While he was making his way to the stage, the audience and platform party applauded loudly but as Leigh turned and nodded to the students, the increase in volume made it clear: Leigh had indeed left a "significant and lasting impression on [his] students".
For someone who says, "More than any other role, teaching defines who I am", it was an affirming moment and evidently an emotional one as he wiped away tears while smiling broadly at the students.
"As you can see … Gregor Leigh enjoys legendary status," said Deputy Vice-Chancellor of Teaching and Learning Associate Professor Liz de Lange, who read out the award presentation speech.
One of Leigh's colleagues wrote that "the life and times of Gregor Leigh serve as a case study in what can be achieved through a love of your discipline, a love of teaching, mutual respect between instructor and students and raw stamina".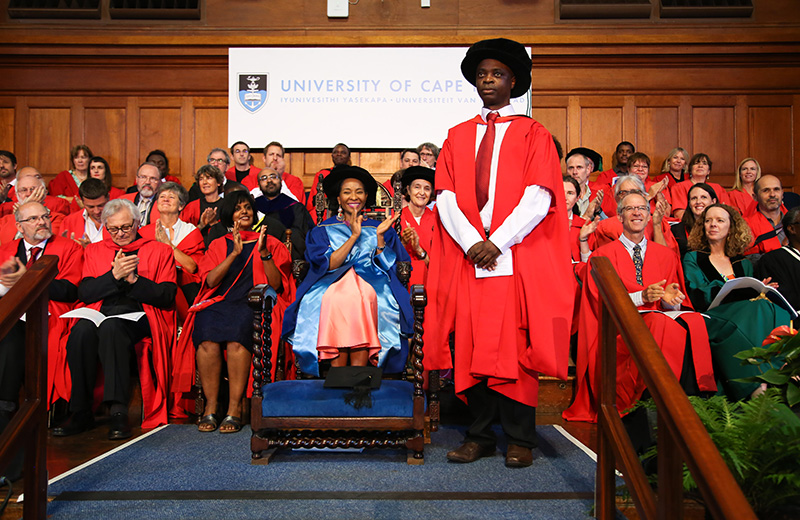 Other celebrations of staff excellence during Friday's ceremony included the admission of two professors as UCT Fellows. The Department of Engineering's Professor Aubrey Mainza and the Department of Environmental and Geographical Science's Professor Michael Meadows were admitted for their original and significant contributions to knowledge.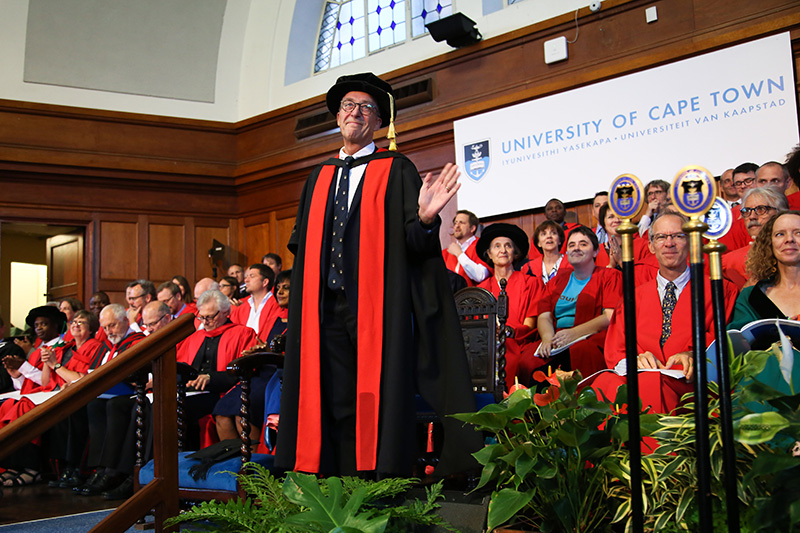 A successful season
As well as seeing approximately 1 885 students – including 118 doctoral and 780 master's candidates – graduate, this season included the Vice-Chancellor's robing ceremony and the celebration of academic staff excellence with the UCT Book Award and three Creative Works awards. It takes the total number of graduates to over 7 000 for 2018.
It also included a special graduation ceremony for students who previously could not graduate because of outstanding fee debt. They were finally able to do so after once-off donor funding was secured by the university.
---
This work is licensed under a Creative Commons Attribution-NoDerivatives 4.0 International License.
Please view the republishing articles page for more information.
---