The simple treat of eating ice cream and jelly in hospital after having her tonsils out was the first step in University of Cape Town (UCT) master's student Maria Jose's journey to becoming a medical doctor, and onwards to being chosen as a Mandela Washington Fellow.
"It was a magical experience for me. I thought: 'I would love to work in this place'," Jose recalled.
"I was only six, but I ever wavered from wanting to become a doctor."
Since then, she has powered her way through medical school, practised as a doctor at public hospitals, worked as a lecturer, and is now a Mandela Washington Fellow while pursuing her Master's in Public Health at UCT.
Jose is one of 700 young African leaders from across the continent to be selected as part of the Mandela Washington Fellowship for Young African Leaders (MWF), a flagship programme of the Young African Leaders Initiative. The 700 fellows for 2018 were chosen from 37 000 applicants and have backgrounds in fields ranging from education, health and public finance to law and business.
Jose said it has been invigorating meeting Africans from countries as diverse as Madagascar, Burkina Faso and Guinea.
The year-long fellowship includes six weeks at one of 26 American universities, where the fellows do academic course work, leadership training and networking in three tracks – civil leadership, public management, and business and entrepreneurship.
"To be away with 25 young African leaders who are extremely positive about the continent and are doing amazing things in their communities was very motivating."
Jose was among 25 fellows hosted at Florida International University (FIU) in Miami on the public management track. It was an opportunity to be immersed in an intense programme of lectures, discussions and site visits. The fellows were able to sit in on a council meeting and had the chance to see how Miami – Cape Town's sister city – manages its procurement, waste management and environmental regulations.
She also did voluntary work at the city's Food Bank.
'Valuing Africa's doctors'
Living and working with her African counterparts was a highlight.
"I realised how contagious positivity is. To be away with 25 young African leaders who are extremely positive about the continent and are doing amazing things in their communities was very motivating," she said.
In the last three days of the programme, fellows convened in Washington DC for the Mandela Washington Fellowship Summit to participate in networking and panel discussions with each other and US leaders from the public, private and non-profit sectors. Jose was chosen by her group of young African leaders to represent FIU at the summit, presenting an Ignite talk on "Valuing Africa's doctors".
Jose told delegates how she had launched a drive to donate used laptops to UCT medical students who couldn't afford them, ultimately collecting 16.
"We know that when we put the laptops in the hands of students, we're helping them get close to graduation day. But not only that, they are the people who are going to be working in the communities. That's 16 communities that we are helping," she explained.
She also relayed the story of a student who received one of the laptops and decided to pay it forward by developing an app which teaches medical students sign language. Jose was thrilled when fellows from Kenya and Nigeria approached her after her presentation indicating an interest in the project.
Since returning home, she has continued to work on her master's thesis, which examines the choices medical students make when thinking about where they would like to go for their two-year compulsory internships.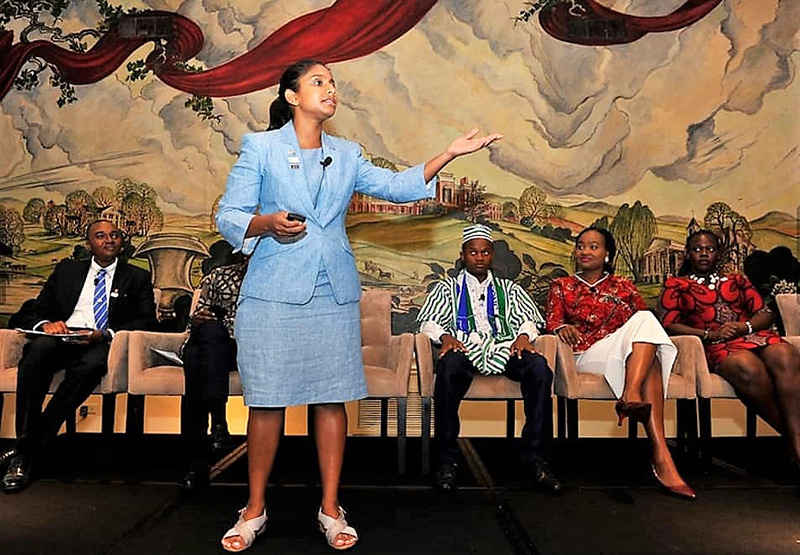 "A lot of work has been listening to students through focus group discussions. We peel back the layers of the decision they need to make – whether they want a lot of practical experience, which area they want to live in, what stage of life they're in, and what they'd like to experience in their two years."
Jose hopes her research will provide valuable information for policymakers in respect of areas in which to invest if they want to attract new medical students to work in rural hospitals.
Through her recent work as a lecturer in UCT's Department of Pathology, Jose has also become interested in how educational content is increasingly moving online – and that not everyone is comfortable about the move.
Technological divide
"There's a huge divide between people who are really good at technology and those who are suspicious of it," she said.
"Some students don't have access to technology, while there can be a mismatch between what students want and what tech companies offer.
"I'd like to work with tech companies as they develop their products, so that they continuously listen to our end user, whether it's a student, a patient, a nurse or a teaching staff member. I see myself as a bridge between these two different worlds."
To dig even more deeply into this, Jose enrolled for a Foundation in Design Thinking course with UCT's d-school, an experience she described as "mind-expanding" and one which she will carry into her work in the years ahead.
"There are such awesome people on the UCT campus. Our challenge is not to be overwhelmed by how huge the need is."
While back on home ground, Jose has also drawn on her connections as a Mandela Washington Fellow. As part of her fellowship year, she hopes to bring an American expert to South Africa through a grant.
"I would love to bring him to Cape Town to meet tech start-ups and tech companies here and do some capacity building in our university and other Western Cape universities."
Jose has packed plenty of experiences and skills into her 20s, and radiates enthusiasm.
While recognising that the university and Health Sciences faculty have faced difficult times over the past few years, she said people should not be afraid to reach out.
"There are such awesome people on the UCT campus. Our challenge is not to be overwhelmed by how huge the need is, but to ask: 'What small thing can I do to help?' Sometimes the problem on campus is that we try to be politically correct and that paralyses us from doing any good.
"Rather than doing nothing, do something. If you fail or it is not well received, iterate on it, learn from it, make it better and keep doing something good," she urged.
Watch Jose's Ignite talk at the Mandela Washington Fellowship Summit.
---
This work is licensed under a Creative Commons Attribution-NoDerivatives 4.0 International License.
Please view the republishing articles page for more information.
---