A solution-based forum centred on the University of Cape Town's (UCT) policies, progress and infrastructure regarding water sensitivity has red-flagged areas of concern that should be prioritised in the coming months.
The event, on 20 August, was hosted by the Green Campus Initiative (GCI) and Future Water, who will present a detailed statement to UCT management.
Jessica Fell, former coordinator of the water desk, opened the meeting with an overview of water management at UCT and the progress made thus far.
"I stepped into this role at the height of the Day Zero frenzy," said Fell.
"As much as it was a very stressful and tense time for all of us, it also sparked very interesting conversations about water that we'd never had before.
"I'm happy to be here today to have a continuation of these conversations as we try and transition UCT into a water-sensitive institution."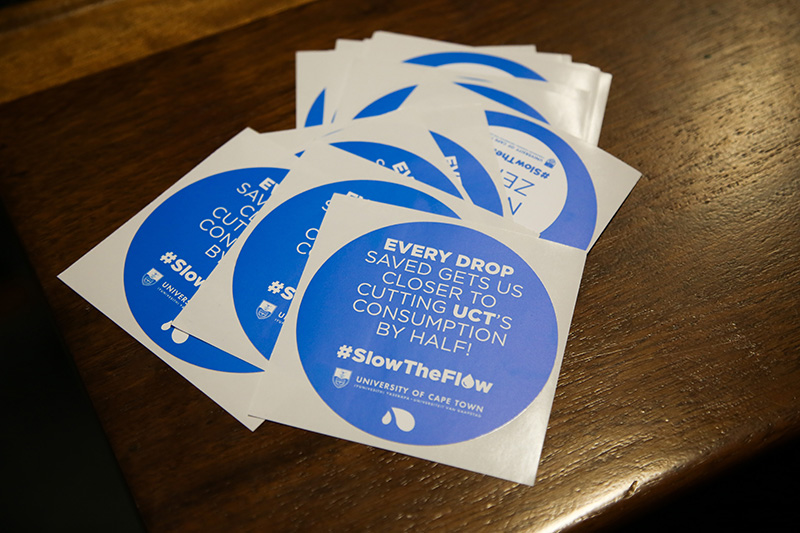 Water management strategy guideline
She explained that the UCT Water Task Team is guided by the water management strategy guideline, which outlines a five-tiered approach. The first tier of the system is titled "Making a commitment", and it entails building awareness at UCT.
"This was primarily done through the Communications and Marketing Department's water savings campaign. They had some water savings tips and reaffirmed UCT's commitment to reduce their water consumption by 50%," she said.
The next tier is a water audit, which follows the dictum: "You can't manage what you don't measure. This led to an effort to locate and map 110 of UCT's water meters on the reticulation system.
"We focused for the first six months on [the] first two tiers as we were trying to drive behavioural changes across the institution and … targeted these low-hanging fruit.
"The third tier of the management strategy guideline is around reducing water consumption and it involves trying to invest in retrofitting technologies. The Properties & Services Department have made very impressive progress on this front."
The improvements include replacing 238 washing machines with more water-efficient machines, converting 289 baths into showers, fitting 182 toilets with water-restriction devices, and installing 681 tap aerators.
The next tier looks at reusing storm water, grey water and lag water, and the last tier, where the highest costs are to be incurred, is to use alternative sources of water. These alternative sources include groundwater and rainwater, and to this end five potential borehole sites have been identified.
Campus as a catchment
"How can we start looking at our campus as a catchment, and what are the different [sources] of water on our campus?" Fell asked.
"There's grey water from residences, from bathrooms. How can we capture and reuse that? There's rainwater, there's groundwater. Another one is lag waste water. Also, how do we collect storm water and reuse that in a fit-for-purpose manner?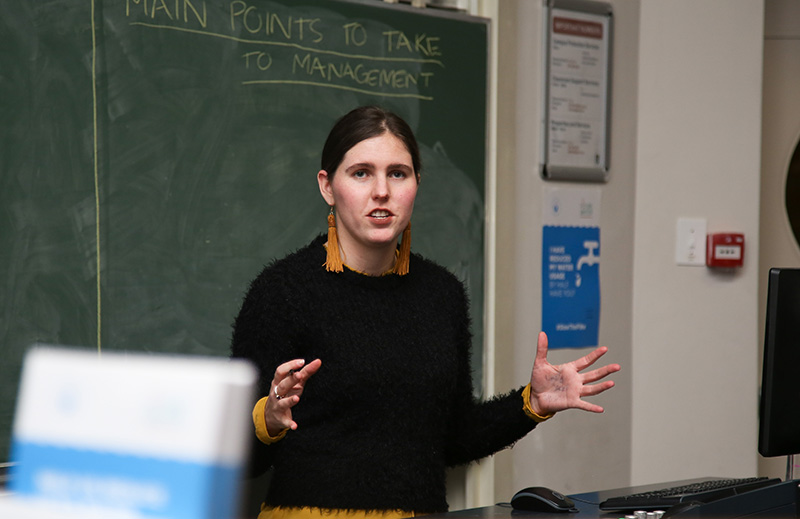 "These are just some thoughts and some talking points as we move forward ... to discuss how to make UCT more of a water-sensitive campus."
"How can we start looking at our campus as a catchment, and what are the different [sources] of water on our campus?"
During the discussion that followed, Kobus van Zyl, a professor in the Department of Civil Engineering, said he believed the core issue was culture, with engineering being the easy part.
"My question is, how do we change the culture? Not when we're staring Day Zero in the eye, but generally. This becomes part of our culture as an institution that water is something precious and something to be saved.
"If you have that culture, that changes where budgets are allocated, how people respond to certain initiatives and those sorts of things," he added.
PhD candidate Natasha Pressend, from the Environmental Humanities South programme in the Faculty of Humanities, said that as a university, UCT needed to be part of the debate.
"It's not only about how we are going to address the water situation here in the halls of UCT but how we are also part of the debate around water use, given the nature of climate change and that we basically have to change our relationship to water forever," she said.
Summary of points
Fatima Mohamed, of the GCI, summarised the contributions of the forum attendees into six points to take to UCT management.
"[UCT has, firstly,] to communicate a plan, if they have one. If they don't have a strategic plan they have to come up with one, and also use the resources which they have at hand at the university, like engineers, sociologists, etc," she said.
The second point, she continued, was a need to improve communication when it comes to water management; what's happening currently at the university and what is planned for the future.
Thirdly, the management system at the university is opaque and needs to be made clear.
"If you want to get in touch with someone, if you want to change a tap [for instance], you need to be able to get hold of that person. You need to be able to easily Google that, a name should pop up and it should be the right name," Mohamed said.
The fourth point is to do with lobbying the City of Cape Town.
"The university needs to work out its stance [and] where they are… in terms of City of Cape Town water management."
"The university needs to work out its stance [and] where they are… in terms of City of Cape Town water management. We are a big part of the city. Why isn't the city making use of the university?"
The final points pertain to responsible water management becoming incorporated into the university's values.
The GCI and forum attendees felt that the university should incorporate sustainability into the various curricula being covered at university level. This means that courses across the disciplines at UCT should incorporate sustainability and water sensitivity into their course content.
---
This work is licensed under a Creative Commons Attribution-NoDerivatives 4.0 International License.
Please view the republishing articles page for more information.
---