Universities are conducive to innovation, as researchers and students dedicate themselves to the act of problem-solving through research. Over the past few years, UCT has been central to an array of practical innovations that have been implemented to better the lives of ordinary people. In many cases, women have been taking the lead.
On 26 April, we celebrate World Intellectual Property Day and – importantly – this year, we're focusing on the women who are driving change through ingenuity, curiosity and courage.
We caught up with a few of the women at UCT who have made it their business to solve problems and instil their passion for innovation in their students.
Tania Douglas: biomedical engineering
Professor Tania Douglas, director: Medical Imaging Research Unit in the Division of Biomedical Engineering and the NRF/DST South African Research Chair (SARChI) in Biomedical Engineering and Innovation, doesn't identify with the term 'innovator'.
"I consider innovation as only one aspect of my work," she says. "But it's a critical component of the postgraduate education we offer in the Division of Biomedical Engineering. Our aim is to create a learning environment that promotes innovation."
Nonetheless, Douglas has played an integral role in assessing and developing various health technologies. She has also contributed to the establishment of the company CapeRay Medical, which is commercialising a breast-imaging solution that combines X-ray imaging and ultrasound. This combined system will particularly benefit women with dense breast tissue for whom X-ray mammography alone may not be a sufficient diagnostic tool.
SARChI Chair
Douglas' excellence in her field was recognised when she received the prestigious SARChI Chair in Biomedical Engineering and Innovation. The main goal of the SARChI initiative is to strengthen and improve the research and innovation capacity of public universities, particularly through the training of postgraduate students.
"This was a wonderful opportunity to advance biomedical engineering and health innovation in South Africa," Douglas explains.
As for why this is so important, Douglas recently captured the essence perfectly in a piece titled 'Africa needs to start creating its own medical technology. Here's how' for The Conversation Africa, where she writes: "Most of Africa's medical equipment is imported. 'Equipment graveyards' become the final resting place for medical devices that aren't suited to local conditions. This can include dust, heat, humidity and an intermittent supply of electricity ...
"African countries need to start producing and developing their own medical devices. A cadre of suitably skilled biomedical engineers is needed for this sort of innovation to take root."
This need has led to the establishment of the African Biomedical Engineering Mobility project, of which Douglas is a driving force. It funds postgraduate education in the field across the continent.
New initiatives in health innovation
As an expression of this drive, Douglas has established an MPhil in health innovation at UCT. Douglas says this master's course was motivated by her experience with UCT's postgraduate degree programme in biomedical engineering, which is oriented towards the development and application of technological innovations.
"We identified a need for a programme with a broader mandate, which welcomes students from a variety of backgrounds, because innovation is not only about technology," she says.
The programme is intended to address the gap that often exists between solutions and their implementation when context is neglected. It uses design thinking, which relies on contextual immersion. "Our students spend time with communities, trying to understand the communities' experiences and needs, before attempting to design solutions," she explains. Colleague Dr Tinashe Mutsvangwa and postdoctoral fellows Dr Nailah Conrad and Dr Trust Saidi play a pivotal role in imparting the design thinking approach, which is also the focus of UCT's Institute of Design Thinking or d.school.
A practical example of the importance of context is addressing hearing loss among the elderly in a low-income area. While the solution might seem as simple as providing hearing aids to those affected, or even designing a better and cheaper hearing aid, stigma and denial may prevent people from acknowledging their hearing loss and seeking assistance. Thus, the problem to be addressed is far more complex and technology on its own may not be the answer.
To share knowledge on addressing the health needs of the developing world through innovation, Douglas also recently launched the Global Health Innovation journal. One of the barriers to research and innovation in low- and middle-income countries, is access to current scientific knowledge which is often hidden behind unaffordable journal subscriptions. Global Health Innovation will be freely accessible online. The journal is the result of a partnership between Northwestern University in the USA and the Universities of Lagos and Ibadan in Nigeria. The first issue is expected to appear in June 2018.
Michelle Kuttel: computer science
Michelle Kuttel is an associate professor in the Department of Computer Science. She focuses on the development of research software and its application to solve problems in scientific disciplines. She is currently working on a number of collaborative research projects, covering a range of disciplines.
Two of Kuttel's most fascinating projects are an investigation into the development of anti-bacterial vaccines through computational chemistry simulation, in collaboration with Professor Neil Ravenscroft in the Department of Chemistry; and the development of high-performance computing software for the new Square Kilometre Array radio telescope in collaboration with Dr Sarah Blyth in the Department of Astronomy and Dr Anja Schroeder from the South African Astronomical Observatory.
Ernesta Meintjes: medical imaging
Professor Ernesta Meintjes, like Douglas, is part of the Division of Biomedical Engineering. She holds the SARChI Chair in Brain Imaging and is the director of the Cape Universities Body Imaging Centre at UCT that houses the only research-dedicated Magnetic Resonance Imaging (MRI) scanner on the African continent.
Needing to repeat scans that are not of good enough quality to make a diagnosis, costs hospitals and contributes to long waiting lists. Just like a photo will be blurred if the camera or subject moves, images from an MRI scanner will be blurred if there is any movement during the scan. This includes voluntary movement, such as nodding of the head, and involuntary movement, such as occurs when breathing, for example.
However, in contrast to a camera that takes a photo almost instantaneously, an MRI scanner can take anything from a couple of seconds to five minutes to capture a picture, making the method highly sensitive to motion.
"Our work has focused on making scans more motion-robust," she explains. "This involves tracking motion throughout the scan and adjusting the region from where the scanner collects data every time motion is detected. In this way, we ensure that we keep collecting data from the same part of the body, even if that part of the body has moved.
"There are some very expensive commercial solutions available, but we aim to achieve similar – or better – results at minimal cost. This is crucial to ensure that the methods are practical for use in lower income and clinical settings," she says.
Chelsea-Joy Wardle: software development
As part of her master's degree in computer science, Chelsea-Joy Wardle partnered with Milk Matters, a community-based breast milk bank that pasteurises and distributes donations of screened breast milk from healthy donors to premature, ill and vulnerable babies.
Together they created a mobile app that helps users to donate their breast milk and provides breastfeeding features and content to donor mothers.
The app's features include a donation tracker, educational content, news and events, and a section about Milk Matters. Registered donor mothers can also access a depot locator, which provides them with a map of and key information about the Milk Matters' depots.
"Being a woman brings so many new and interesting dimensions to innovation," Wardle says. "In a world that has previously been dominated by men, we're killing it right now with fresh, new perspectives. When I think of women innovators, I think passion, empathy, advocacy, ambition and game-changers."
World Intellectual Property Day
Established in 2000 by the
World Intellectual Property Organization
, the day aims to celebrate innovation and raise awareness about the profound effect patents, copyright and trademarks have on our daily lives. Locally, the initiative is driven by the Department of Science and Technology's National Intellectual Property Management Office.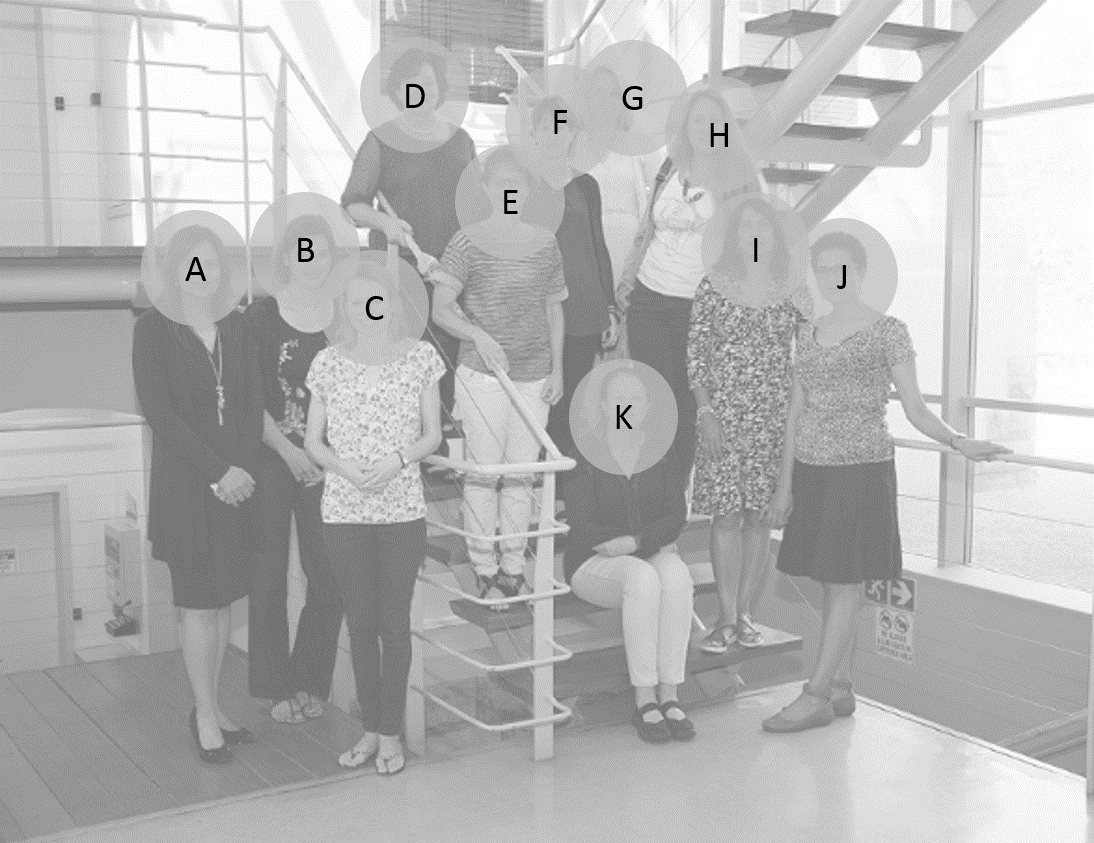 A: Prof Virna Leaner, B: Dr Georgia Schafer, C: Dr Pauline van der Watt,
D: Prof Anna-Lise Williamson, E: Dr Nicola Douglass, F: Prof Ernesta Meintjes,
G: Dr Lindi Masson, H: Prof Michelle Kuttel, I: Prof Sharon Prince,
J: Prof Tania Douglas; K: Prof Carolyn Williamson
---
This work is licensed under a Creative Commons Attribution-NoDerivatives 4.0 International License.
Please view the republishing articles page for more information.
---