Chilean researcher Dr Erasmo Macaya's chance discovery of bull kelps on a beach on the west coast of the Antarctic Peninsula has raised alarm over biological invasions as the ice continent warms. The finding has also upended theories on Antarctica's ecological isolation.
New research reported this week in Nature Climate Change by an international, multidisciplinary team of scientists led by Dr Ceridwen (Crid) Fraser of the Australian National University (ANU) reveals just how significant that beaching is.
The two southern bull kelp (Durvillaea antarctica) specimens had travelled at least 20 000 km – more than halfway around the globe – making these the longest-known biological rafting events recorded. Their genetic fingerprints were traced to the Kerguelen Islands in the southern Indian Ocean and South Georgia in the southwest Atlantic Ocean.
Oceanographic models show that strong circumpolar currents and westerly polar winds create an almost impenetrable barrier around Antarctica, pushing most drifting particles and organisms north.
So how did the kelp reach shore? The answer was surprising.
Using cutting-edge oceanographic modelling techniques, ANU co-author Dr Adele Morrison found that when the wave-driven surface motion of Antarctic storms was factored in, the pattern changed. Her analyses showed that large storm waves could help kelp rafts reach Antarctica.
The upshot is that the great ice continent, which supports a scant floral offering of lichens, moss, liverworts and terrestrial and aquatic algae, is not as isolated as scientists believe. Pushed south by this wave-driven motion, known as Stokes drift, and coupled with global warming, biological dispersal could significantly change Antarctic coastal marine ecosystems, said Fraser.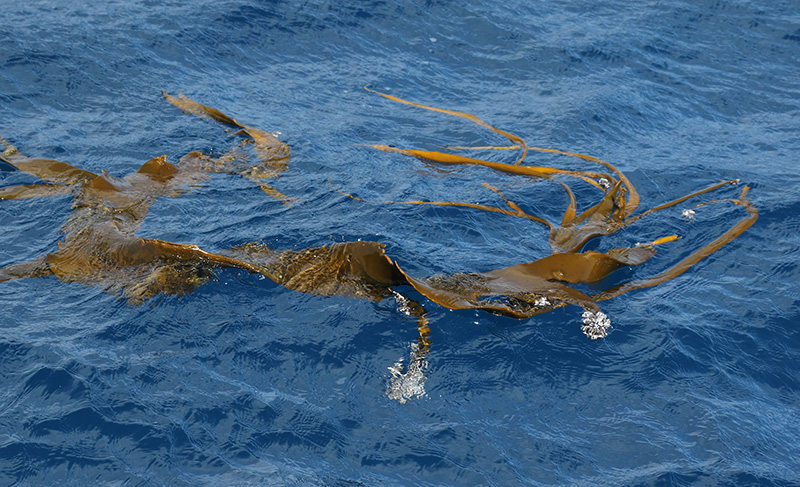 "We always thought Antarctic plants and animals were distinct because they were isolated, but this research suggests these differences are almost entirely due to environmental extremes, not isolation."
Kelp drift tracking
Additional data on kelp transfer across the Antarctic Polar Front came from co-author Professor Peter Ryan, director of UCT's Percy FitzPatrick Institute of African Ornithology, a Department of Science and Technology / National Research Foundation Centre of Excellence.
Ryan has made a point of collecting data on drifting kelp while counting seabirds in the Southern Ocean. In 2016/17 he was part of the three-month Antarctic Circumnavigation Expedition (ACE) and mapped kelps all around the ACE track.
"We found a lot of kelp south of the Antarctic Polar Front in waters it's not supposed to get to."
Bull kelp grows in the intertidal zones and has a limited distribution in New Zealand, southern South America and the subantarctic islands.
"It has massive holdfasts because it's designed to 'stick' to the rocky intertidal zones in these very high-energy environments; the Southern Ocean is the windiest and waviest environment in the world. It's got to be tough to survive on the west coast of Marion Island with waves crashing in endlessly. However, it can't grow in the Antarctic because it can't withstand scouring by sea ice.
"Small marine animals such as crustaceans and molluscs live inside the kelp's holdfasts, so when a kelp breaks off, it's like a tiny ark going to sea.
"We've known for some time that these can drift considerable distances. But it's only now that we can show how far. Even from our ACE observations from Marion Island you could see there was a lot of kelp downstream from Marion, and the Crozet and Kerguelen islands.
"Small marine animals such as crustaceans and molluscs live inside the kelp's holdfasts, so when a kelp breaks off, it's like a tiny ark going to sea."
It was surprising how much kelp they were seeing – and how far from land.
His concern is that foreign species can displace local floral and faunal populations. The accidental introduction of rats and mice to subantarctic islands such as Marion and Gough, which support huge populations of seabirds, showed how vulnerable these isolated island ecologies are.
Intruder populations
"Most organisms on oceanic islands have no evolutionary response to intruder populations, which is the reason we see so many extinctions on these islands.
"Antarctica, in a sense, is like a big island because it's been cut off from the mainstream of the rest of the world for so long. But human visits to Antarctica have increased dramatically over the past century and tourism is now a big business, especially in the Peninsula area. It hasn't had the same impact in terms of invasive species because the climate is so prohibitively cold and miserable."
But now, scientists report that parts of Antarctica are among the fastest warming places on Earth.
"As the climate warms we're starting to see invasions linked to human activity. This research suggests there's an indirect way things can invade; there's a mechanism now where things can start to get in."
Ryan said that while the kelp will struggle to settle in the ice-scoured Antarctic intertidal zone, some of the passengers rafting with it might just find suitable homes.
"It's a mechanism by which the isolation of Antarctica might start to break down."
He adds, "What's exciting about this paper is that the modellers were able to come up with a plausible model to explain how drifting kelp managed to cross the Antarctic Polar Front."
The findings are also significant for the science of ocean drift used to track plastics, aeroplane crash debris and other floating material across our seas.
---
This work is licensed under a Creative Commons Attribution-NoDerivatives 4.0 International License.
Please view the republishing articles page for more information.
---