The University of Cape Town's (UCT) new Vice-Chancellor, Professor Mamokgethi Phakeng, has launched the Nelson Mandela School of Public Governance, describing it as a flagship of UCT that encourages Mandela's values of ethical and selfless leadership.
"The impact this school will make will be long-lasting and epitomises the values which Mandela stood for," Phakeng said.
The Vice-Chancellor, who began her term of office only a few days ago, said it was also in line with her vision for the university.
"The Mandela School epitomises my vision of strengthening our excellence as a university, driving transformation and ensuring a sustainable future for UCT. Through it, UCT is becoming a more African university through its contribution to excellence in leadership and excellence in Africa."
Founded originally as the Graduate School of Development Policy and Practice in 2011, the school has transitioned to become the Nelson Mandela School of Public Governance, with the support of the Nelson Mandela Foundation. The Mandela School, as it is expected to be popularly known, combines academic insight with practice-based public service to promote strategic public leadership in Africa.
The launch of the school was timed to celebrate the centenary year of Mandela's birth.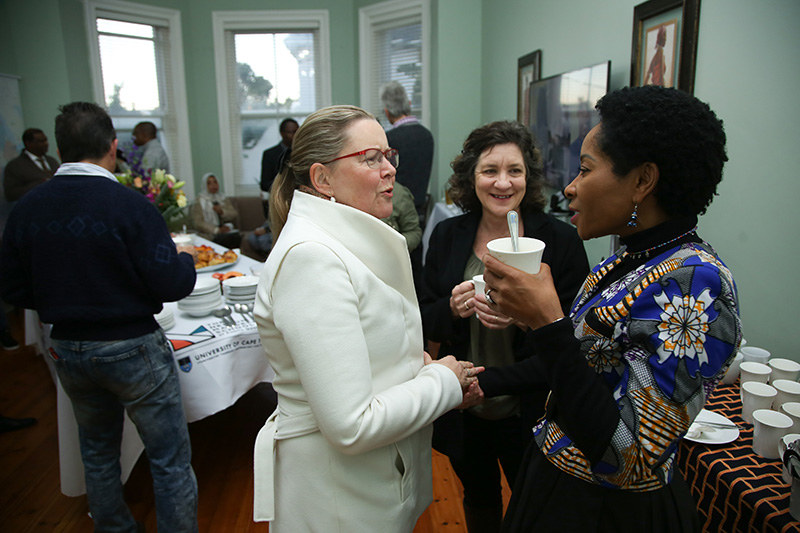 African governance
"The Nelson Mandela School of Public Governance is committed to cultivating and supporting leadership in African governance. We have built a truly African centre at the University of Cape Town. We are proud and deeply honoured to be associated with Nelson Mandela's name," said Professor Alan Hirsch, director of the school.
"We have built a truly African centre at the University of Cape Town."
The school offers a range of programmes and courses, from a part-time master's programme for mid-career public servants to executive short courses for government officials, high-level dialogues with experts across the continent, and pan-African youth leadership programmes.
The student body is split evenly between students from South Africa and those from the broader African continent. They come from both the public and private sector – from civil society professionals to government officials and activists. The 1 300 alumni of the school live in more than 30 African countries.
Phakeng said the school was pivotal in influencing strong public governance and leadership in Africa. She also explained her vision for the university, which rests on the three interdependent pillars of excellence, transformation and sustainability.
Transformation is at the centre of it all.
"Without transformation, excellence won't be sustainable, but you cannot drive transformation without a focus on excellence. If you do that, you will undermine the very transformation project itself. To make it impactful you have to make sure your transformation agenda foregrounds excellence."
The Mandela School's focus on leadership in Africa also resonates with the new Vice-Chancellor.
In response to a question from the audience, Phakeng said there would be a shift away from the term "Afropolitanism", which had been used over the past few years to promote UCT as a truly African university.
"Afropolitanism is mixing cosmopolitan with Africa. It is an apologetic way of being African. For me it was important that we agree in our vision on settling on being an African university. We can excel in the global space being African."
It also dovetailed with Mandela's stance.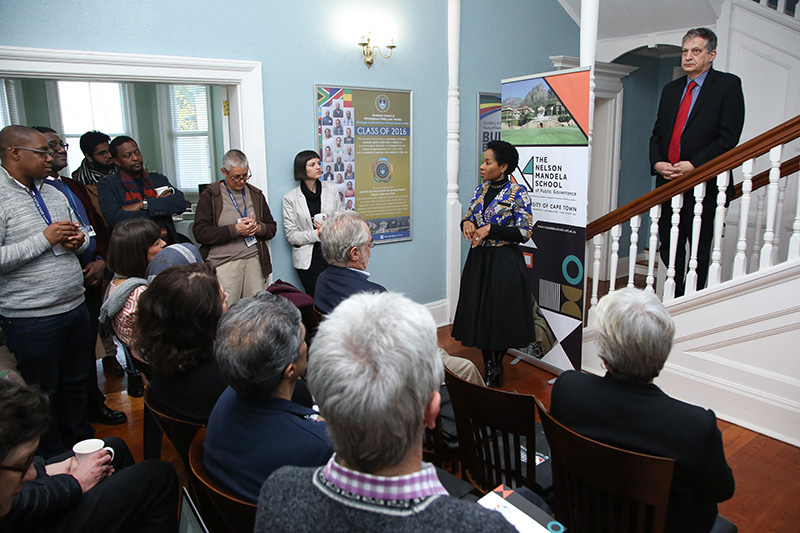 "Mandela is a world leader, but he is African. He never compromised on who he was. He remained African through and through and kept to his values and style of leadership."
Future leaders
The Vice-Chancellor said she was excited about the talented, emerging leaders in Africa.
"Young people in the country and the continent are doing amazing things. Those are our future leaders."
She was also pleased about the potential reach and influence of the school.
"It's a flagship centre, not just for scholarship, but in how scholarship can shape what our continent becomes … and what our continent becomes depends on a foundation of leadership and governance.
"Having the Mandela brand and working with the Mandela Foundation is an added advantage which communicates who we are and what we want to achieve."
"It's a flagship centre, not just for scholarship, but in how scholarship can shape what our continent becomes."
The academic backbone of the school is the professional master's degree, which is taught part-time in four intensive tuition blocks. This makes it ideal for those already working in leadership in the public sphere.
Hirsch said the master's programme attracted plenty of applications, enabling them to select a top-notch group of students every year. Applicants need to have at least five years of public service experience.
The school's executive short courses are designed to deliver cutting-edge insights and practical toolkits directly into the hands of senior public sector management, supporting robust regional and national policy implementation.
The Mandela School's Building Bridges team trains the next generation of leaders through its Emerging Leaders programme, which selects about 25 fellowship recipients from 10 African countries for a two-week series of intensive workshops.
Next generation of leaders
During their time in Cape Town, the young change-makers benefit from access to public figures who exemplify the best qualities of moral leadership. These have included Thuli Madonsela, Albie Sachs, Pregs Govender, Nhlanhla Nene, Thandika Mkandawire, Beatrice Mtetwa, Bantu Holomisa and Achille Mbembe.
Honorary professors at the Mandela School include former executive secretary of the United Nations Economic Commission for Africa Carlos Lopes, and former South African Finance Minister Trevor Manuel. Professor Brian Levy is the academic director.
The school runs annual courses on evidence for policy-making and implementation, ethical leadership and public accountability, understanding poverty and inequality in South Africa, and innovations in public employment programmes.
Students and alumni of the school have been enthusiastic in expressing their support for the programmes. Alumni from 16 African countries recently responded to a questionnaire, with 96% of respondents saying they had been able to implement significant policy or attitude changes at their place of work since doing a course at the school.
A total of 93% said the course had given them an extremely valuable professional network in Africa, while 99% of respondents said they continued to use course principles in their every-day policy work.
---
This work is licensed under a Creative Commons Attribution-NoDerivatives 4.0 International License.
Please view the republishing articles page for more information.
---