Dr Dyllon Randall and his team scooped a global sustainability prize at UNLEASH 2018 with their SaniHive prototype – a self-sustaining toilet hub that recovers value from waste. The innovation has huge potential in urban slums.
SaniHive, a modular, fully integrated design, is inspired by the structure of honeycomb, and maximises space in an urban slum. It took the laurels for the United Nations Sustainable Development Goal (SDG) 6: Clean Water and Sanitation, as well as the Global Scalability Potential award, beating the 995 other contestants and 169 other solutions.
UNLEASH 2018 is a global innovation lab; this year it was held in Singapore. It brings together 1 000 top young talents (aged between 20 and 35) from 100 countries to create real, scalable solutions to the SDGs on food, water, health, education, energy, urban sustainability, responsible supply chain and so on.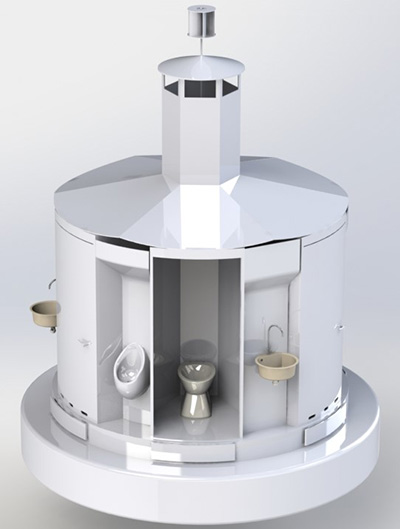 Randall is a senior lecturer in water quality in the Department of Civil Engineering. He and Jessica Fell of the Future Water Institute represented UCT – both working on the same SDG, but in different teams.
Projects were evaluated by leading experts and company partners, refined, and then presented to their peers and panels of judges and mentors in a gruelling four-day innovation process.
Randall worked with four other innovators from Colombia, Singapore, Uruguay and Barbados. The top teams in each SDG stream presented their solutions to investors and experts, after which gold and silver awards were presented, on 5 June. He had the honour of presenting his team's work at the various stages of judging – in the final round to an audience of approximately 1 200 people.
Scalability potential
The local applicability alone has enormous potential, said Randall.
"The innovation would create employment, as local people could transport the waste to mini treatment plants where high-end products could be created," he continued. Phosphorous recovery from urine for fertiliser is one example of this.
"The innovation would create employment, as local people could transport the waste to mini treatment plants where high-end products could be created."
The judges also chose the project because of its potential for scalability, winning the group its second prize. They then pitched their idea to the 'marketplace': potential funders.
The group chose Khayelitsha as a case study. Here, the current system provides communal toilets, and the waste is collected and dumped into the nearby wastewater treatment plant.
"There's no recovery of value, or upliftment and empowerment of the community," said Randall. "But if you have this system, you can create substantial value from the waste."
With projections of close to one billion urban slum dwellers by 2030, Randall says that sanitation innovations will play a big part in ensuring clean water and sanitation – and in creating sustainable cities and healthy citizens.
"But it doesn't have to be an urban slum," he adds. "You can use the same methodology in richer suburbs, where you create an integrated, decentralised system with a mini treatment plant [in the neighbourhood]. The challenge would be to separate the waste."
Showcasing UCT research
The work also showcased his research at UCT in urine treatment and resource recovery, which has already won innovation and sustainability awards for Randall and his postgraduate students.
"But UNLEASH showed that the larger community is really open to these ideas, which is fantastic. Part of my research is about creating paradigm shifts in how we view our waste, specifically urine. The aim is to get people enthusiastic and open to these kinds of innovations. It also speaks to social responsiveness in terms of the impact the research has for society at large."
The awards represent another badge of honour for Randall and for UCT.
Professor Pilate Moyo, the head of department, said: "It is very rewarding to see one of our young researchers being recognised for their innovative work. As a department, we value innovation. We are extremely proud of Dyllon and the pioneering work he is doing in wastewater."
The faculty's deputy dean for transformation and social responsiveness, Associate Professor Tanja Winkler, added: "As a faculty, we hope to develop innovative solutions to some of the socio-economic challenges facing our country and continent. We also remain committed to promoting sustainable outcomes via engaged scholarship and the co-production of knowledge. This is precisely what Dyllon is doing. His work is inspirational, and has great potential not only to generate employment opportunities, but also to add value to waste."
Randall and his group hope to pursue the SaniHive innovation, and plan to approach funders to help commercialise this technology.
Watch SABC3's Expresso show on Dr Dyllon Randall's work on fertiliser and bio-bricks made from urine.
---
This work is licensed under a Creative Commons Attribution-NoDerivatives 4.0 International License.
Please view the republishing articles page for more information.
---