It's indicative of his energy, vision and commitment to the Southern Africa Labour and Development Research Unit (SALDRU), which he founded in 1975, that Emeritus Professor Francis Wilson retired not once but twice from the University of Cape Town (UCT).
It was the second occasion on 23 April, the final chapter in his 43 years at UCT, that gathered colleagues, friends, mentees and collaborators to bid a final farewell. Wilson and his wife, Lindy, will head for the Eastern Cape, where he was born and raised.
The event coincided with a one-day symposium in his honour, hosted by SALDRU to present their findings on social mobility and inequality. These markers of national well-being have been at the heart of the unit since its inception. Wilson's legacy has been continued by director Professor Murray Leibbrandt.
Academic maverick
Among the guests at the farewell were two former UCT vice-chancellors, Dr Stuart Saunders (1981–1996) and Dr Mamphela Ramphele (1997–2000).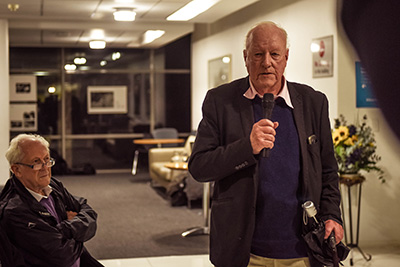 Saunders recalled, "When I went to the Bremner building [as Vice-Chancellor] I realised I had to accommodate extraordinary people on the staff and particularly academic mavericks. And that's what Francis is: very bright, unpredictable, an academic entrepreneur; the sort of thing that drives a VC mad!
"But Francis had that ability to engage with you and to capture the imaginations of undergraduates and inspire them and that's exactly what he did for generations of students."
"But Francis had that ability to engage with you and to capture the imaginations of undergraduates and inspire them and that's exactly what he did for generations of students."
Restore empathy
Ramphele said that in Wilson she had found a mentor, collaborator and lifelong friend.
"People talk about Francis's personal impact on people. I am it ... There is something about this man and his relationship with his country that we seem to have lost. It's called empathy. Francis graduated from being my newspaper deliverer in Lenyene township when I was banished there, and he became my champion to get me to UCT, and my teacher in terms of learning to think and write academically."
Referring to Wilson's groundbreaking labour research she said, "He could have stayed in economics, but he wanted to make sure that those people who nobody talked about at the time – migrant labourers – became the centre of academic discourse."
Boyhood in the Amatola
Wilson's lifelong friend, Wits sociologist Emeritus Professor Eddie Webster, described their boyhood growing up at the foot of the Amatola Mountains. Their grandfathers had worked together to build institutions like Fort Hare and Healdtown.
"I remember your book in 1972 on labour on the South African gold mines. It may not be exceptional now, but then, at the height of apartheid, what Francis demonstrated through meticulous scholarship was that the wage of a black miner for a shift had not changed for 50 years, from 1911 to 1969. That made a dramatic impact and brought up what our system has been built on: cheap black labour."
Senior scholar and Emeritus Distinguished Professor of Complex Systems George Ellis recounted how he and Francis had been physics students together at UCT in 1957. Physics' loss had been economics' gain.
"What Francis brought to this university and department is an incredible strategic sense of what needed to be done and what was an urgent issue and not being tackled by other people at the time. First the gold mines, crucial in the South African economy, then there was migrant labour, then there was farm labour, then a health conference, then a poverty conference and then the setting up of SALDRU to collect all this data."
Changing the country
Having been involved in the trade union movement, photographer, activist and author Omar Badsha paid tribute to the poverty data that SALDRU had generated, which had driven much of the debate over the past four decades.
Badsha's book The Cordoned Heart is a curation of material from the photographic exhibition that accompanied the Second Carnegie Inquiry into Poverty and Development in Southern Africa.
"We actually saw how the work being done by academics translated into organisational tools. It's changed the history of this country, so I always understood the importance of universities and academics, progressive academics, coming together and making the changes."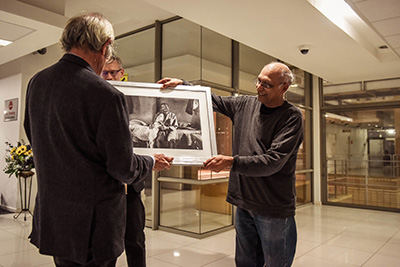 Lastly, Wilson thanked Leibbrandt for continuing SALDRU's work.
"When the founder leaves the organisation, it crumbles to dust. Murray Leibbrandt picked up SALDRU at a very vulnerable stage of its life and made sure it could keep going in the way that it now has.
"My incredible good fortune is being succeeded by Murray since my retirement 14 years ago (He gave me an office!). He has always made me feel welcome, as has everyone else. But I shouldn't press my luck, and the time has come for me to bid farewell and head for the Eastern Cape."
---
This work is licensed under a Creative Commons Attribution-NoDerivatives 4.0 International License.
Please view the republishing articles page for more information.
---