The African Climate and Development Initiative (ACDI) has taken a step up, graduating from a Vice-Chancellor's Strategic Initiative to an established UCT institute at the end of 2017. The new institute was formally launched at an event on 16 April.
The celebration of the ACDI's new status was also an opportunity to acknowledge the commitment and efforts of the ACDI team and the support of members and partners at UCT and beyond, said the institute's director, Professor Mark New.
Launched in 2011, the ACDI was one of four Vice-Chancellor's Strategic Initiatives established by Dr Max Price soon after he took the helm at UCT in 2008. The other three are the Safety and Violence Initiative, the Schools Improvement Initiative and the Poverty and Inequality Initiative.
The ACDI is also one of the Vice-Chancellor's signature themes, each of which were chosen to drive research in a strategic manner. These themes are grounded in existing areas of internationally recognised excellence at UCT, and aligned to institutional, regional and national priorities.
The ACDI's focus is climate change and development in Africa, and the institute conducts interdisciplinary, innovative research across a wide range of disciplines to inform its teachings. It brings together academics with NGOs, business and government in a knowledge factory that co-produces and tests new insights, evidence and innovations that will help solve Africa's challenges in climate change and development.
One of the highlights in the new institute's short history has been the launch of its flagship interdisciplinary programme, the Master's in Climate Change and Sustainable Development. This involves 25 teaching and project supervision staff from across UCT and beyond.
ʻA dream, a vision'
In her opening address at the event, Deputy Vice-Chancellor for Research and Internationalisation Professor Mamokgethi Phakeng said that the Vice-Chancellor's Strategic Initiatives were about "a dream, a vision", each aimed at tackling society's big problems.
"Now, eight years later, we are here to celebrate the ACDI's success and look forward to its challenges," said Phakeng. The award of institute status had been an incredible achievement in a short space of time.
She added, "It has shown that their interdisciplinary approaches to teaching and research can help address complex societal problems. And the ACDI can provide a space for people at UCT to work across disciplinary boundaries."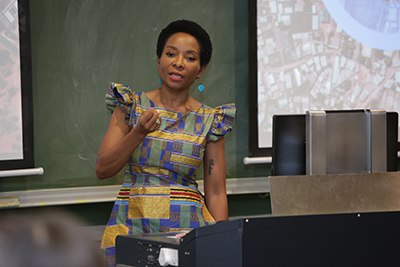 Phakeng said that the development now secured the ACDI an important place in UCT's formal research governance structures.
In another coup, the African Research Universities Alliance (ARUA) has also chosen the institute as one of two new centres of excellence, along with UCT's Poverty and Inequality Initiative.
ARUA is a network of 16 leading African universities from different countries and different historical backgrounds. The network is united by a vision to expand and enhance the quality of research by African researchers in Africa.
One big idea
The ACDI launch took the format of a panel discussion, moderated by the institute's new deputy director, Professor Sheona Shackleton.
The purpose, said New, was to reflect on the ACDI's agenda, enabling climate-compatible development in the context of Africa, and to harness input from people working in the field "to anchor what we might be doing and think about what we're doing moving forward".
Providing a range and depth of insights, the six panellists were Professor Edgar Pieterse (African Centre for Cities), Dr Mandy Barnett (South African National Biodiversity Institute Climate Fund), Professor Bruce Hewitson (holder of the Department of Science and Technology / National Research Foundation Research Chair in Climate Change), Kirtanya Lutchminarayan (World Wide Fund for Nature, South Africa), Professor Harald Winkler (Energy Research Centre) and Tasneem Essop (Energy Democracy Initiative).
Each was asked to present "one big idea" that could coalesce and further the ACDI's work. First up, Pieterse said that it had been an enormous source of pride and inspiration to work alongside the institute. However, the notions of "one" and "big" idea had given him conceptual indigestion.
Fresh political-cultural imaginary
"So, if I have to confess to having a ʻbig idea' it would be this: We need a fresh political-cultural imaginary for how transformative changes can be ushered into the world through molecular acts of becoming."
"We need a fresh political-cultural imaginary for how transformative changes can be ushered into the world through molecular acts of becoming."
Barnett's big idea was not new, she said, but one people struggled with: a move from silos to systems, a vertical integration and connection of people at grassroots level through to policy implementation.
Hewitson proposed moving from programmatic solutions to mindset and ethics, particularly the ethics of a largely Western approach and focus on the challenges of climate change and development, with the incumbent deterministic power relations involved.
Lutchminarayan said that it was time to go back to basics, appreciating the massive implications of tiny changes in behaviour and looking at natural resources as more than commodities to be exploited.
Winkler's big idea was linked to how society would go about reducing greenhouse gas emissions and changing the aspirations of the middle class.
Essop spoke of an idea that's gaining traction, she said, a "just transition" promoted by global trade-union movements.
"It's complex and political and deals with power; it's not a walk in the park. This is about struggle. This 'just transition' would have to ensure we are transitioning to a socially and economically just society and ensuring there is equal sustainability. Bringing these together is going to be quite complex."
---
This work is licensed under a Creative Commons Attribution-NoDerivatives 4.0 International License.
Please view the republishing articles page for more information.
---