An initiative of c*change (a Department of Science and Technology and National Research Foundation of South Africa Centre of Excellence) is catalysing change in South African high schools by supporting science teachers.
Over the next three years, the c*hemRoots plan is to distribute 25 000 resource kits to teachers through a series of training workshops.
The plastic box looks more like a lunch box than a science lab, but it holds all the necessary chemicals, equipment and instructions to create a range of chemistry practical activities on acid-bases chemistry for grades 8 to 12.
"In designing this kit, we had to ensure that it was not only cost effective and durable, but also that it contains materials that are readily available at a supermarket," explains Dr René Toerien, material developer and lead for the c*change Science Engagement project c*hemRoots.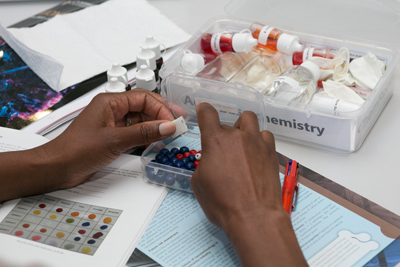 With this in mind, each kit uses laminated paper in place of test tubes, dropper bottles for easy dispensing of chemicals, and everyday substances like vinegar and baking soda. The kits are also designed to be modular: while the first one is on acids and bases, future kits will take on new topics drawn from the physical sciences curriculum.
To ensure the sustainability of the interventions, all training materials are open-source and available online. The c*hemRoots team are also hoping to extend this to a web platform to create a user-generated online community where teachers can support one another. It is envisaged that beyond the three-year horizon, short courses for teachers on the developed materials will be offered by the University of Cape Town.
Catalysing change
In 2016 only 27% of South African matric students wrote the physical sciences examination. Of these, only 8.2% obtained the minimum threshold of 70% for admission to the Department of Chemical Engineering at UCT.
"While there are many reasons for poor learner performance at school level, one leading issue we identified is teachers' lack of content knowledge," says Dr Nico Fischer, an associate professor in the Chemical Engineering department and the project leader of c*hemRoots.
Teachers familiarise themselves with the c*hemRoots kit at the first workshop held at UCT on 27 January 2018.

The kit, along with accompanying teaching resources, was developed over the course of two years by Fischer and Toerien, together with c*change partners at the University of Johannesburg and the North-West University, in a bid to provide teachers with educational curriculum materials which focus on using practical work as a teaching strategy.
"One of the strengths of this approach is that we don't just hand out kits which risk being stuck in a cupboard and never used again," says Toerien. "Teachers receive these kits as part of a training workshop in which they are encouraged to engage with the materials in order to build their skills and confidence."
The first such workshop was held at UCT on 27 January 2018 and included 110 science teachers from around Cape Town.
Learning from the past
The c*hemRoots initiative builds on a 2011 project in which Toerien, as part of c*change and with funding from Sasol and PetroSA, developed a "chemical industry resource pack", which gave teachers more context for new curriculum topics.
According to Toerien, that project's success built the foundation for the current c*hemRoots project.
"The 2011 project was relevant both because of the variety of teaching materials that it offered, from animations to posters and practical acivities, and the fact that the workshops in which the teachers got to interact with the materials were very pragmatic.
"We learned from our experience of this in designing c*hemRoots to ensure that it will have real-world impact for school-level learners."
Working closely with provincial departments of education, other tertiary academic institutions and non-profit science organisations around the country, c*hemRoots is now also seeking support from the private sector in order to ensure the longevity of the project and the roll-out of kits and workshops across South Africa.
"The c*hemRoots initiative has the potential to increase the number of students who are eligible to access science and engineering programmes at a tertiary level."
Professor Michael Claeys, director of c*change, believes that the project not only has the potential to impact the teaching of chemistry on a national level, but also that such projects are essential to ensure a strong cohort of future science undergraduates.
"The c*hemRoots initiative has the potential to increase the number of students who are eligible to access science and engineering programmes at a tertiary level. In turn this leads to better success at a university level, a more highly trained workforce and a new generation of academics.
"This is a great example of fulfilling the c*change mandate of catalysing change."
---
This work is licensed under a Creative Commons Attribution-NoDerivatives 4.0 International License.
Please view the republishing articles page for more information.
---