Earlier this year Bathabile Mpofu beat 24 000 entrants from all over South Africa to walk away with R600 000 prize money and top honours in the 2016 Total Startupper of the Year competition. Her prize-winning creation, ChemStart, is a science kit which offers a fun experiment per week for the whole year for high school learners.
Mpofu, who developed the idea during her MBA studies at the UCT Graduate School of Business (GSB), says her fellow students and staff have helped her on the road to success.
"I did a PDBA [postgraduate diploma in business administration] at UCT because my boss at the time suggested I do it. And I had just been promoted to being a manager, so I needed business skills because I was just a scientist," she says.
Afterwards she pushed on to enrol for the two-year modular MBA programme in 2015. She felt the GSB was a space where she could freely express herself, so she introduced her concept in front of her classmates, who helped her to improve the product.
"Last year the Bertha Centre and SAB Foundation had seed funding that students could apply for, and I applied and got some money. That's how we started putting the kit together," says Mpofu.
By the time the Total Startupper competition came she had already established the kit, which is packaged into a box offering 52 physical science-related experiments. The prize money she won from the competition went straight into her first order, and into bringing the ChemStart kit to life.
"It came at the perfect time," says Mpofu.
The ChemStart kit was launched in June 2016 and was developed following the Department of Basic Education's guidelines, which means that the kit can be used by learners from Grade 8 to 12.
Mpofu says her time at the GSB has helped her realise that when a person has potential, they don't have an excuse not to advance themselves.
"Its fair game for everyone. If you are privileged and you know what you want, you just have to fight for it. There's no more excuses," she says.
Business is booming
Mpofu quit her job after winning the competition to focus full time on her start-up, Nkazimulo Applied Sciences, which is named after her youngest child.
"That might just be an inspiration for him to take over," she laughs.
Mpofu got her new business off the ground while juggling work, completing her MBA studies, as well as being a wife and mother to three children.
"A lot of people said it's a brilliant idea. So I told myself, 'I can't drop this; it has to happen,' and I tell you 24 hours in a day was just not enough," she says.
But her passion for Nkazimulo Applied Sciences has kept her going.
"With a tool like this you don't have to build labs. You can just distribute the kits and learners can do the experiments anywhere," says Mpofu.
The goal of the project was to get children interested in science and to help them see how science works practically.
"Kids like to explore," says Mpofu, "If science is presented in an abstract way, it doesn't seem appealing, but if they interact with it and begin to understand the application of science, then it becomes a different story."
The Mpofus sold their first unit of ChemStart in June and have sold just over 400 since.
"When the orders came in, my husband and I realised we need more hands," she says.
Discovering the world of science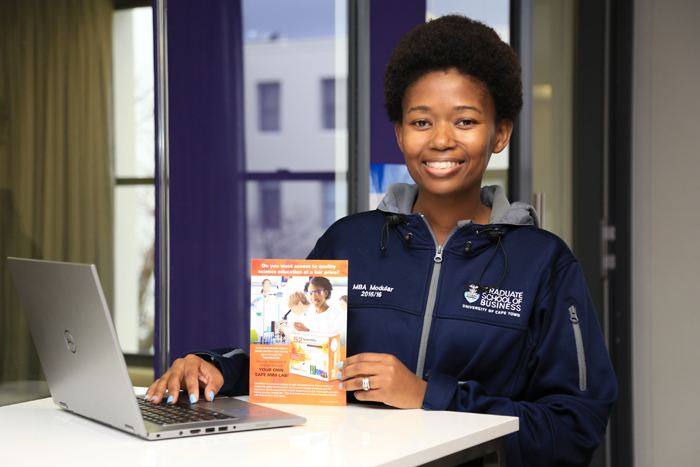 Bathabile Mpofu, founder of ChemStart, has realised the importance of having access to equipment like chemistry sets that can be used at home for hands-on interaction with science concepts.
Mpofu was born in rural KwaZulu-Natal and completed her schooling in Ulundi. She graduated with BSc honours in chemistry from UKZN, and is a registered scientist with the South African Council for Natural Scientific Professions.
"Initially I wanted to do medicine but I didn't pass well enough to make it to med school, so then I just did the BSc," she says.
She worked at university as a laboratory technician for five years before working in an organisation that provides resources to entrepreneurs in science. It was while she was at the organisation that she decided to give back to her community. Mpofu's inspiration for ChemStart came after giving the science demonstrations at underprivileged schools.
"Last year I did that … We used my husband's funds, and we went and bought chemicals," explains Mpofu. "We went to schools and did experiments, which was fun for the learners. We got them to see the practical side of science, which they don't often get to see."
She did the demonstrations with her husband with the hopes of helping learners grasp science concepts and understand how science is applied by giving them real life examples. But she soon realised she could reach more children by supplying science projects.
Her own passion for physical science was sparked in high school after she saw an experiment with potassium permanganate and glycerine on TV.
"When you mix the two it results in a spontaneous reaction," she explains. "So I went to buy glycerine because I was sure I had seen potassium permanganate somewhere in class."
During break time she gathered with her friends outside and attempted the experiment herself, which resulted in a mini explosion.
"We were amazed. To actually experience that as a child is nice; it's a good feeling. So I suppose that's what I'm looking for and what I want others to experience," she says.
The kit comes with a manual that explains the experiments, the science concepts and how they are applied in real life. It contains 23 solid chemicals, 11 liquid chemicals and other essentials such as test tubes, beakers, safety glasses, gloves and a thermometer to conduct the experiments.
"They are working with chemicals, but it's safe for any high school learner to use," she says.
After completing her MBA she plans to fully focus on the business and build her community.
"I'll be using the tools that I have gained here to grow the business," says Mpofu.
Mpofu advises young learners to be inquisitive.
"If you fear it [science], you won't get it. Just try to understand it and experiment at home. And in understanding science you don't have to start by building a rocket. Just understand how the things work around you at home," she says. "Find out how bleach works, how baking powder works, start exploring with the small things like that."
Story Chido Mbambe. Photos Je'nine May.
---
This work is licensed under a Creative Commons Attribution-NoDerivatives 4.0 International License.
Please view the republishing articles page for more information.
---