Graduand Peter Häussler's professional journey in Africa and his PhD thesis on Kwame Nkrumah and Julius Nyerere provide insights on leadership in Africa – and lessons for contemporary African leaders and societies. He graduates at the 18:00 ceremony on 20 December.
Using hermeneutics, Häussler examines the political and social history of the two exceptional African leaders, Ghana's Nkrumah (1909–1972) and Tanzania's Nyerere (1922–1999), through a dialogical interpretation of their written texts, essays and public speeches.
Hermeneutics is the "art of understanding" in the course of interpreting texts in a social, historical and psychological context.
The research methodology is a combination of text analysis and critical reflective hermeneutic dialogue between the two leaders.
Constructing a moderated dialogue between the two men, Häussler focuses on how they depict human equality, a foundation of liberation, in their major writings. In doing so, he asks a fundamental question: could Nkrumah and Nyerere be role models for the 21st century?
"They [Nkrumah and Nyerere] had clear visions and programmes to end colonialism and build a new and 'equal' society with 'free' people and an 'African' personality," says the 71-year-old scholar.
"They were charismatic, transformational leaders and devoted Pan-Africanists. Though they may have proposed different socialist economic models as alternatives to the capitalism of their former colonial master, they had a common vision of a society based on equality and access to basic goods and services for everyone."
He hopes his study will provide "original insights that could influence leadership training programmes and contribute to better leadership for human development in contemporary Africa".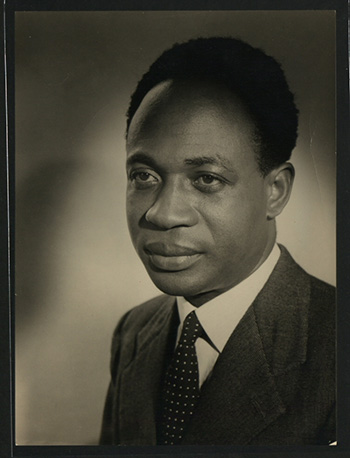 Examining the writings
Häussler's PhD was supervised by Professor Viviene Taylor of the Department of Social Development and builds on the foundations laid in his master's degree in social development (UCT, 2000–2004), a hermeneutical study on Nyerere's perspectives during Tanzania's first decade of independence from 1961 to 1971.
In his PhD, Häussler continues that hermeneutic journey with Nyerere and the older statesman, Nkrumah, who led Ghana to independence in 1957. In constructing the dialogue between the two leaders, Häussler employs his unique Triple Jump methodology, which he pioneered for his master's thesis.
For his PhD, he uses this innovative method of contextualised hermeneutic interpretation of Nkrumah and Nyerere's writings, alongside interdisciplinary research in social development, history, politics and philosophy. He believes that this provides a holistic and practical model for better understanding Nkrumah and Nyerere as leaders as well as their philosophies, perceptions and plans concerning human equality.
"It arrives at a social truth."
He adds, "Because we understand in context, a hermeneutic process of understanding a text has to include a systematic review of both the contextual situation and the conceptual ways of thinking in which it was produced.
"It is increasingly being taken up by African philosophers to reflect critically on colonial history and European philosophy."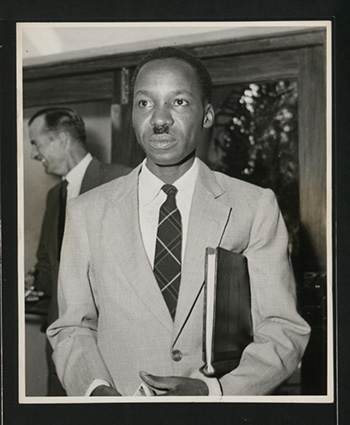 Liberty, equality and dignity
Häussler also examines the conditions of Ghana and Tanganyika at the time of their liberation from colonial rule and points to the "huge challenges" the two leaders faced when they gained political power after independence.
Nkrumah was the flag-bearer for socialism in Africa and though he and Nyerere fought for poverty reduction and equality using different means and ideologies, it was a common mission, "not for self-enrichment or for importance".
"Colonial oppression [had] devastated the lives of many people. Abject poverty reigned, particularly in the rural areas, and people often lacked basic healthcare, education, water, food, paid work and rights for women."
In weighing up their leadership and philosophies, Häussler says, "Nkrumah was the pioneer; he had to do the hard job. His biggest achievement was towards colonial freedom from the colonial master [Britain]. For Nkrumah to fail was easier than for Nyerere as he already had a role model in Nkrumah."
Häussler believes that their legacies as universal "good leaders" in the quest for independence can help activate ethical leadership today.
He notes, "We are faced with a deep leadership crisis today in Africa and elsewhere. Despite eloquent and routine promises, few politicians tackle the conditions of poverty and inequality. While political leaders have no magical power to solve such problems, they are a decisive factor for the organisation of societies.
"In democratic societies in Africa, they have a responsibility to respect human rights and to work together with people for equality and development."
Personal authenticity
Häussler brings to his study the insights of more than two decades of political and social development work in Africa (Nigeria, Benin, Tanzania, Mozambique and latterly South Africa), especially his experience with the Young Leaders Training Programme in Tanzania, supported by his former employer, the Friedrich Ebert Foundation in Germany.
But he's also aware of his limitations.
"On the one hand, my direct experiences with the leaders in Nigeria, Benin, Mozambique, South Africa and Tanzania lend a certain authenticity to my narrative. On the other, despite my self-declared European-African identity, I am a foreigner and a 'white nose' and conscious of a heavy historical burden.
"However, as partners and friends on an equal footing, Europeans and Africans have to work together to cultivate fair and peaceful development for human equality and an end to poverty."
"However, as partners and friends on an equal footing, Europeans and Africans have to work together to cultivate fair and peaceful development for human equality and an end to poverty."
Mature student
Reflecting on his time on campus, Häussler says that his experiences as a mature student were novel and generative.
"The time between 2002 and 2004 was particularly exciting. That was when I did my studies for the master's degree in social development (together with my wife, Valeria). It was during my sabbatical at work.
"I had to participate in lectures, do coursework and sometimes work in small groups or attend classes. The students came from different cultures, were young and old, well experienced in work and life or real newcomers ... A wonderful mix of people and opinions; somehow a new environment for me.
"I had usually stood on another side, as a lecturer or as the director of an educational organisation: teaching, coordinating or debating. Interestingly, after a short time at UCT I felt and behaved like a student (not always disciplined)."
What comes next for the scholar?
"Besides a bit of writing, teaching and debating in seminars and workshops," says Häussler, "I will work more on practical projects. One of the ideas is to develop and support a young leadership training programme for pupils and students – girls and boys equally – living in and around the community of Masiphumelele.
"We have just started developing a concept; and volunteers and supporters are cordially welcome to help us in 2018."
Contact Peter Häussler for more information about his young leadership training programme…
---
This work is licensed under a Creative Commons Attribution-NoDerivatives 4.0 International License.
Please view the republishing articles page for more information.
---