Commemorations of the Marikana massacre launched into full swing on UCT's upper campus on 16 August 2016, exactly four years after 34 unarmed mineworkers were gunned down by police.
Gathered on Jameson plaza, staff, students and a group of former Metro workers saluted the fallen mineworkers and urged unity in the ongoing struggle for fair labour practices.
The workers were continuing a campaign to also be insourced at UCT. The group of around 40 workers were stationed at UCT while under the employ of Metro as casual labourers, meaning they were never on fixed-term contracts and had not been offered permanent posts at UCT as part of the insourcing process.
Since 972 workers were insourced in July this year, this group has been without work, says the UCT Left Students Forum (LSF). The workers rejected a contract offer from UCT, insisting instead on being permanently employed as their former Metro colleagues had been.
Thabang Bili, an LSF representative, urged students and staff to heed the workers' call for solidarity in their campaign to be permanently employed at UCT, before the gathering turned into a march down the Jameson steps.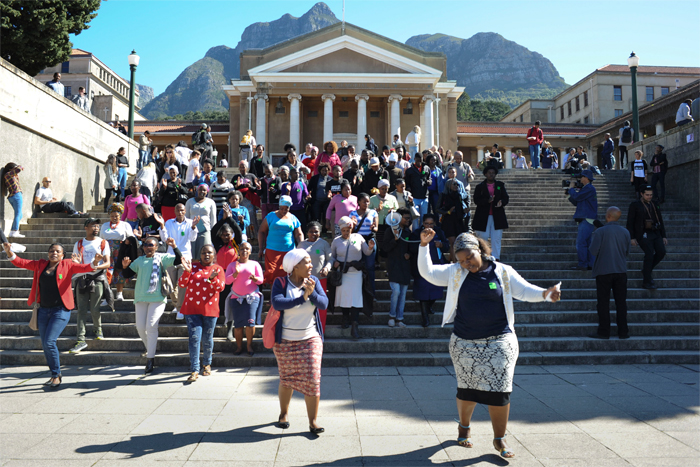 After gathering on the Jameson plaza, staff, students and workers marched down the staircase to continue their insourcing campaign.
One worker addressed the crowd, which had gathered around the empty plinth where the statue of Cecil John Rhodes once sat. She cautioned against forgetting the killings of the 34 unarmed mineworkers at Lonmin's Marikana mine on 16 August four years ago.
"We are mothers. We are the working class. Those were our brothers that were digging the money, the gold – whatever you call it. It's our brothers. Today there's no life for our sisters, for our mothers, because their sons passed away.
"That blood is still wet. You can think it's dry. It's not dry. Those were our brothers. Today there are widows. Today abantwana are orphans."
The staff member, who had been insourced, referenced the famous anti-dompas slogan: "You touched a rock. You touch the women; you touch the rock!"
"Today, the pain is still there. There is no one to put food on the table. Where are you, government?"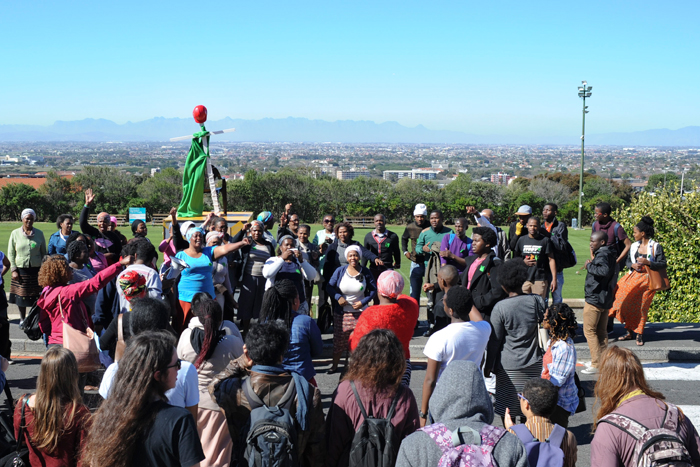 The crowd gathered around the plinth, which was adorned with an artwork memorialising slain Marikana strike leader Mgcineni "Mambush" Noki, known as "the man in the green blanket". Workers, students and staff shared their views on continuing worker struggles since the massacre.
Rorisang Moseli, outgoing president of the Students' Representative Council, was asked to contact members of the university's senior leadership group to receive the workers' mandate, and he obliged.
Unity between students and staff was the abiding theme, as the crowd sang Ixesha Lisondele, a struggle song whose main verse translates as "The time has come, unity, my child".
Gerda Kruger, executive director of UCT's Communication and Marketing Department, explained that UCT had begun engaging with the workers.
"During the [insourcing] process, it came to light that 44 workers were employed by the outsourced companies but not as full-time permanent staff," said Kruger. "They were employed as temporary, ad hoc staff, but on investigation we found that these workers worked mainly on the UCT campus. Hence, we have, in fairness and with the intention to honour our commitment to insourcing, begun an engagement with these workers.
"We believe they should be insourced and we wish to do so. However, we cannot insource them as permanent workers as they were never permanent workers in the first instance. We will honour the commitment of their contracts by insourcing them in permanent, part-time posts. On accepting our proposal, the workers will in fact earn more in salary than before, as they are coming onto UCT terms of employment. They will receive many benefits, including maternity leave, study rebates, pension, etc, that they never had before."
---
This work is licensed under a Creative Commons Attribution-NoDerivatives 4.0 International License.
Please view the republishing articles page for more information.
---