The university's musicians dished up a spicy chakalaka of samba, a cappella, jazz, opera and choral music at the annual Vice-Chancellor's Concert, which is a celebration of excellence and diversity.
But the celebration, featuring the combined talents of the South African College of Music (SACM), had one overriding theme: a thank-you from Vice-Chancellor Dr Max Price to staff and their families "who are as much a part of the UCT family as you are".
"It's one of the eagerly awaited events of the year, staged for one purpose only and that is to say a big thank-you and express our appreciation to you all for what you do to make this a great institution," said Price.
Welcoming staff, alumni, benefactors and special guests on the first of its two-night run in the Baxter Theatre Centre, Price said that this year's concert was also a landmark event.
"As you know, some 1 000 new colleagues [insourced staff], many who have been working for the university for many years but have rejoined our staff, have received invitations to the VC's Concert for the first time, this year as full members of staff."
Price said that because of the additional pressure for tickets, which are allocated according to a lottery system each year, the SACM agreed to consider putting on three concerts from next year.
And then it was on to the feast, introduced by master of ceremonies, Elisabeth Manduell, chair of the Music Students Council.* Here are some tasters:
The UCT Samba Ensemble led by Mestre Espirrinho (right) got things cooking with their rousing drums and percussion instruments. Espirrinho's co-dancer is Cebolenkosi Zula. They are predominantly African Music students at various stages of study. "We have so much to be proud of across the university but the College of Music is certainly one of the jewels in the crown," said VC Dr Max Price.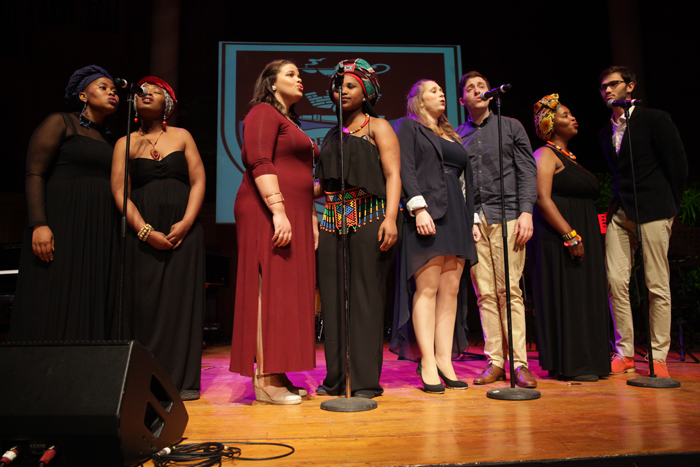 A feast of a cappella kicked off with foursome Zinzi Nogavu and Thandeka Mfinyongo of the African Music department and guests Lindiwe Sigwela and Namakrestu Xakathugaga. They teamed up with AnecNote, an a cappella group of alumni and students and "now one of the country's leading a cappella groups", said VC Dr Max Price.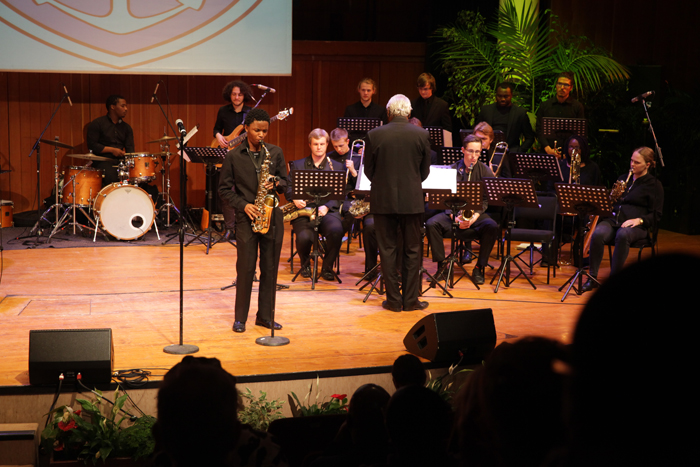 Always a hit, the UCT Big Band, directed by Darryl Andrews, featured saxophonist Ofentse Moshweti on alto sax, among other soloists. They played a number of compositions by locals: "Bra Ntembi's Kwela" by Ntembi Piliso, Abdullah Ibrahim's "Mannenberg" and Sipho Bhengu's "Woodpecker" (all arranged by Professor Mike Campbell), as well as Mike Campbell's own "Snoek Town".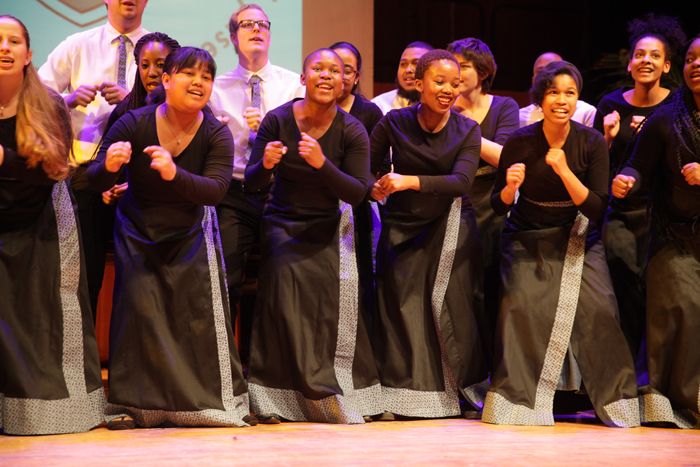 The UCT Choir, conducted by Kurt Haupt, performed "Tshotsholoza, Rababona" and UCT alumnus Dan Heymann's "Weeping", an iconic protest song of the late 1980s which was made famous by local band Bright Blue. In his welcome against the backdrop of the choir, VC Dr Max Price quipped that the choristers had remained on stage because he was going to sing! (Price, a keen saxophonist, made his stage debut at his first VC Concert in 2009, a never-repeated performance).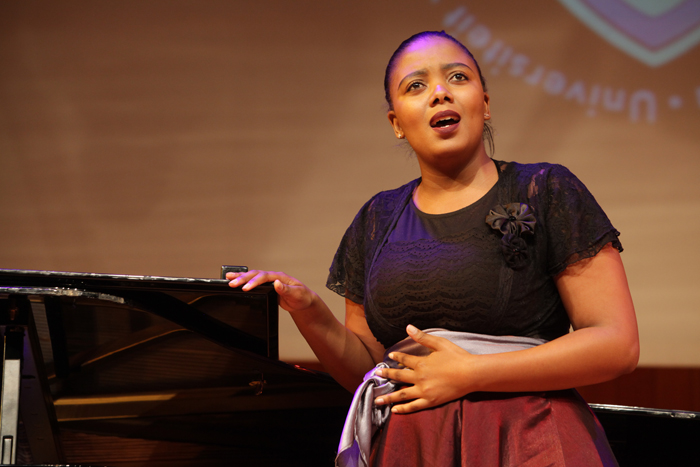 The UCT Opera School, directed and accompanied by Kamal Khan, featured several of the school's leading lights, including mezzo-soprano Bongiwe Nakani and soprano Noluvuyiso Mpofu (in picture), PGDip with distinction in 2015. Nakani heads off to the stages of Vienna in a couple of weeks. Mpofu sang "È strano! è strano! ... Sempre libera" from Giuseppe Verdi's La Traviata – "the aria that stole everyone's hearts recently won second place and the coveted Audience Prize in the Belvedere competition", said VC Dr Max Price.
*The concert was compiled and directed by the SACM's Gillian Lindner.
Story Helen Swingler. Photos Michael Hammond.
---
This work is licensed under a Creative Commons Attribution-NoDerivatives 4.0 International License.
Please view the republishing articles page for more information.
---