UCT raised a glass to some its most accomplished young role models at the annual Student Leadership Awards, held in partnership with Investec, on 13 October 2015. Students who showed outstanding leadership abilities in a range of categories were celebrated and encouraged in equal measure on the night. Vice-Chancellor Dr Max Price and keynote speaker Setlogane Manchidi imparted words of both congratulations and trust in the students' resolve to use their potential to do as much good for society as they could.
Awards were made in five categories:
SOCIAL RESPONSIVENESS AWARDS

SARAH OLIVER
Chair of Ubunye Development Agency
Sarah Oliver is the chair of Ubunye, which runs outreach programmes in disadvantaged schools, and a member of the University Social Responsiveness Committee. Among her major achievements is organising the Re-ACT Social Responsiveness Conference, attended by over 60 participants from UCT, Stellenbosch, UWC and Rhodes. The conference engaged with issues like privilege, positionality and volunteerism. Sarah also champions the interfaith movement, interns for Right2Know, and is an English tutor volunteer with TeachOut.
HUGH STEVENSON
Chair of Green Campus Initiative
From overseeing a successful Green Week to organising informative environmental talks, speaking at UWC's Green Conference Summit and spearheading the promotion of recycling at UCT society parties, Hugh Stevenson has deepened the university's commitment to conserving the environment. He oversaw the selection of three UCT delegates and raised funds to attend the World Student Environmental Network Global Summit. Hugh was also instrumental in the launch of the Food Dome Project and helped oversee the clean-up of the Liesbeek River.
PRIYANKA NAIDU
President of the SHAWCO Health Steering Committee
As president of one of the country's largest student volunteer health and welfare organisations, Priyanka Naidu has overseen the development of several successful pilot projects. These include the implementation of social work services at weekday health clinics, spearheading a social media campaign against xenophobia, piloting a Mandela Day initiative, providing screening and health promotion to the Southfield Community with doctors at Victoria Hospital, piloting a smoking secession support group at Du Noon in Milnerton, and introducing workshops to aid student teaching.
Social responsiveness awards | Leadership excellence awards | Executive awards
| Team awards | Additional awards
LEADERSHIP EXCELLENCE AWARDS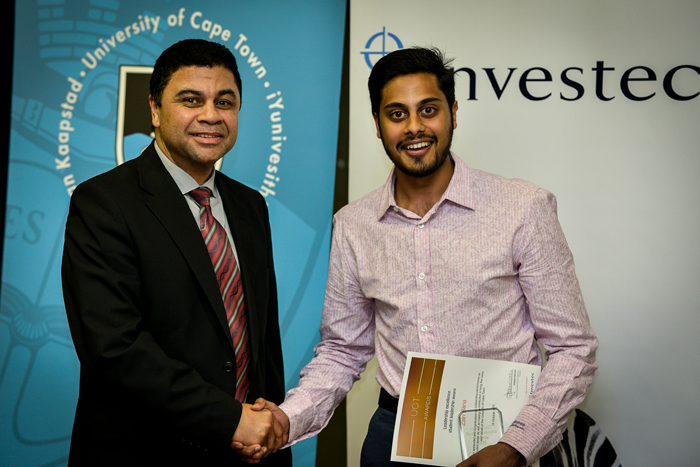 Zain Bana, chair of the Engineering & Built Environment Student Council, with Prof Francis Petersen.
ZAIN BANA
Chair of the Engineering & Built Environment Student Council
As the chairperson of his faculty council, Zain Bana developed a student distress fund for EBE students, organised the first EBE faculty assembly in nine years to discuss transformation, refurbished the council's offices, spearheaded the amendment of the council's outdated constitution, initiated a depression awareness talk, and facilitated the sponsorship and organisation of the 2015 EBE graduation ball. He did all this while tutoring first-year engineering students and maintaining an exceptional academic standard during his third year of civil engineering.
---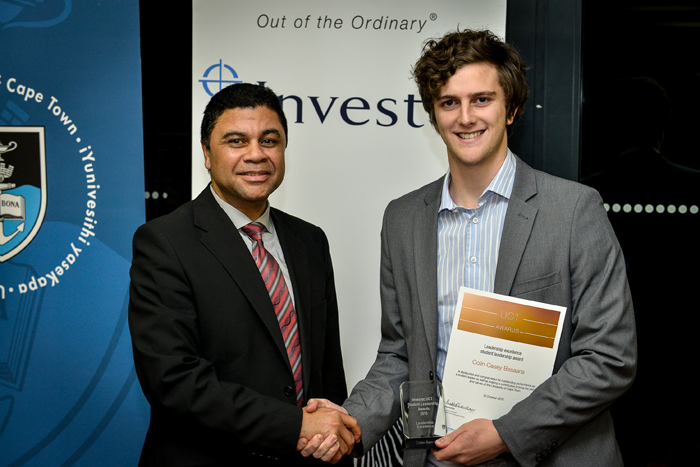 Colin Casey Besaans, vice-president external of the Law Student Council, with Prof Francis Petersen.
COLIN CASEY BESAANS
Vice-president external of the Law Student Council
Colin Casey Besaans has been a driving force behind creating many new opportunities for law students, including persuading a consulting firm to run a new internship programme. He has facilitated numerous talks for students on topics such as sexual health, women's issues in law, and racial privilege. He is also on the dean's merit list and has served as vice-president external for his faculty council, the faculty orientation co-ordinator, and the manager of the speaker series for the UCT Consulting Club. As the deputy director of the Thethani Debating League and the provincial debating champion for the past two years, he regularly runs debating tournaments in township schools.
---
CHELSEA BRUK-JACKSON
President of the Law Student Council
Chelsea Bruk-Jackson oversaw the restructuring and facilitation of the Faculty of Law's orientation programme, ensuring a marked increase in student attendance and participation this year. She worked to restructure mentorship programmes, initiated lunchtime talks with legal professionals, reconnected with the National Prosecuting Authority and Public Protector, and set up vacation work programmes. She also launched Triangle Project UCT, a community service project that provides professional services to the LGBTQIA+ community.
---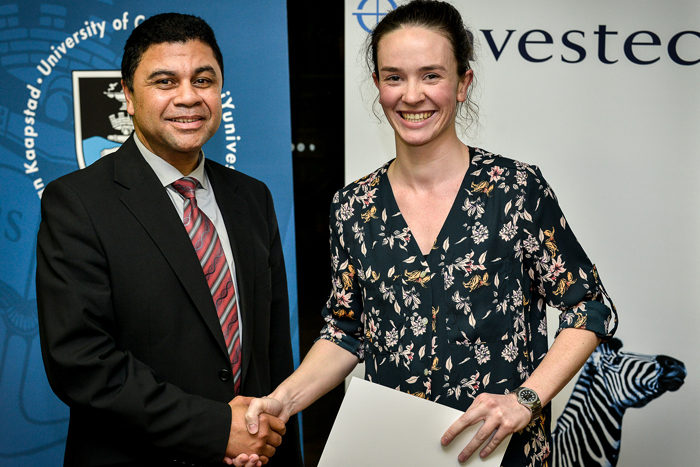 Danielle Ferrar, president of the UCT Surgical Society and the International Association of Student Surgical Societies, with Prof Francis Petersen.
DANIELLE FERRAR
President of the UCT Surgical Society and the International Association of Student Surgical Societies
Danielle Ferrar, a final-year medical student, convened a host of skills workshops, educational talks, academic meetings, sponsorships, and research projects in her role as president of her society. On an international level, she convened a successful conference in Brisbane, Australia, to further build a global network of inter-societal partnerships of Surgical Societies. Her council initiated several projects – including the Health Aid for Refugee Project and Cederberg Outreach – and worked to overturn gender stereotypes through their Women in Surgery programme. For the first time this past year, the committee achieved an almost equal split of seven women to eight men.
Social responsiveness awards | Leadership excellence awards | Executive awards
| Team awards | Additional awards
EXECUTIVE AWARDS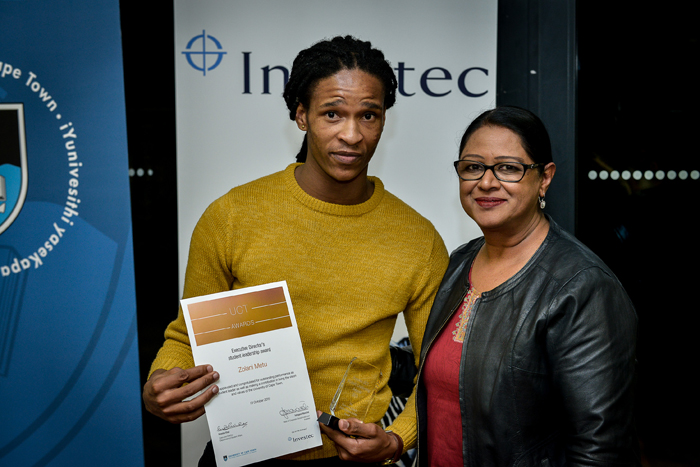 Zolani Metu, secretary-general of the Humanities Student Council, with Dr Moonira Khan.
EXECUTIVE DIRECTOR'S AWARD
ZOLANI METU
Secretary-general of the Humanities Student Council
As the secretary-general on his faculty council, Zolani Metu worked to build cohesion, work satisfaction and competence within the council. He was a student delegate at the South African Institute of International Affairs, and a member of their Youth Policy Committee 2015. He helped his council's health and safety officer plan a stress management week for students. He led the legal team of the UCT Queer Revolution and, in conjunction with Rainbow UCT, facilitated compulsory sensitisation workshop for all student leaders to address homophobia, sexism, racism and other forms of discrimination. He also spent many hours assisting learners as a debating coach and adjudicator at the Thethani Debating League.
---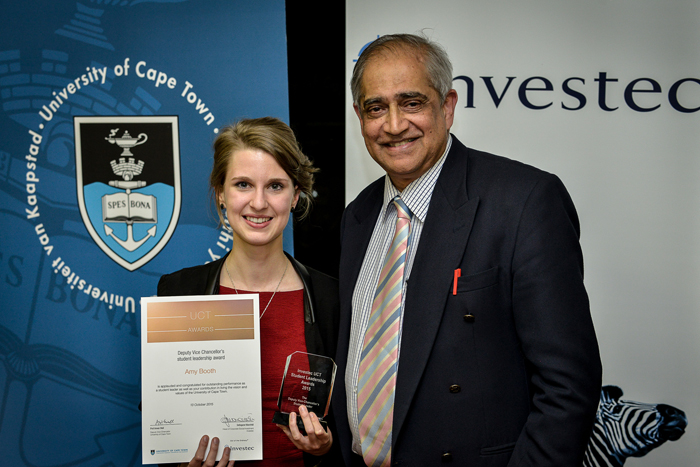 Amy Booth, incoming vice-president of UCT Surgical Society, with Prof Anwar Mall.
DEPUTY VICE-CHANCELLOR'S AWARD
AMY BOOTH
Incoming vice-president of UCT Surgical Society
A third-year medical student, Amy Booth played a pivotal role as the head of the outreach portfolio for the UCT Surgical Society and single-handedly founded two key projects: the Health Aid for Refugee Project and the Cederberg Outreach clinic for farm workers. Her refugee project won the Student Projects for Health Competition, and as a consequence she was invited to attend the Bambanani Education for Change Conference where she showcased UCT internationally. She also revitalised the society's schools project and assisted the breast cancer organisation, Project Flamingo, while working on the SHAWCO Health Clinic committee in Khayelitsha and on the Rochester House Residence Management Team. She was recently elected the incoming vice-president of the UCT Surgical Society, making her the youngest person to achieve this role yet.
---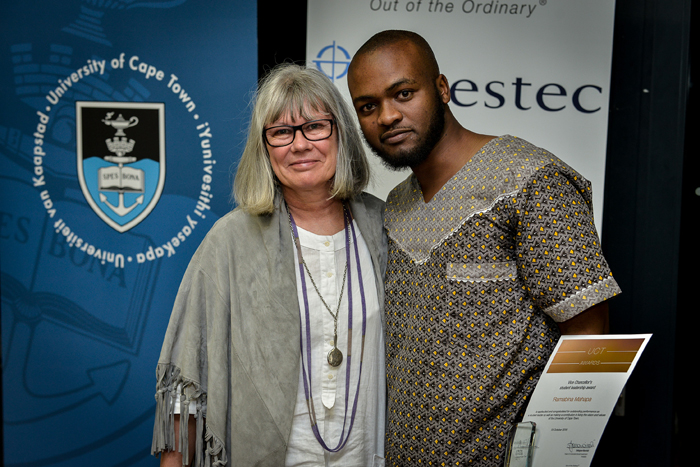 Ramabina Mahapa, president of the SRC 2014-2015, with Prof Sandra Klopper.
VICE-CHANCELLOR'S AWARD
RAMABINA MAHAPA
President of the SRC 2014-2015
Mahapa has been involved in activities that resonate with a strong public service ethic, including his work with SHAWCO, the Enlighters Edusolutions (an NGO he co-founded in Limpopo), and SASCO. As a student representative on the University Admissions Committee in 2014, he consistently challenged processes that he felt unfairly created barriers to access for black students. He played a significant leadership role during the Rhodes Must Fall campaign and subsequent occupation of Bremner, often having to deal with highly emotive, pressurised situations while maintaining a commitment to fair and just processes. He has worked to raise awareness about discriminatory or exclusionary practices, towards the creation of an undergraduate major in African studies, and has contributed towards ensuring that graduation ceremonies are more inclusive and diverse.
Social responsiveness awards | Leadership excellence awards | Executive awards
| Team awards | Additional awards
TEAM AWARDS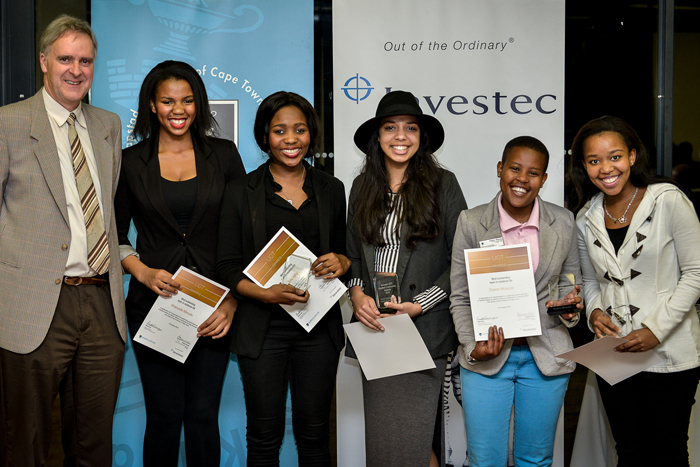 Tugwell Residence House Committee, with Mr Grant Willis.
MOST OUTSTANDING TEAM IN RESIDENCE LIFE AWARD
Tugwell Residence House Committee
This hands-on team ensured that there were tutors for all faculties within its residence and new study rooms on their fifth floor. Residents' achievements were recognised at an academic excellence dinner, and the committee also hosted a very successful Women's Day Dinner with alumni. Many round-the-table discussions were held where residence members gave voice to pertinent issues around race, gender and disability. The committee was also instrumental in introducing various green initiatives within and outside of their residence, including a green walk to upper campus. Outreach projects included visits to the Athlone School of the Blind where they donated books, and to Ons Plek, a residential care centre for young women who have lived, worked or begged on the streets of Cape Town.
---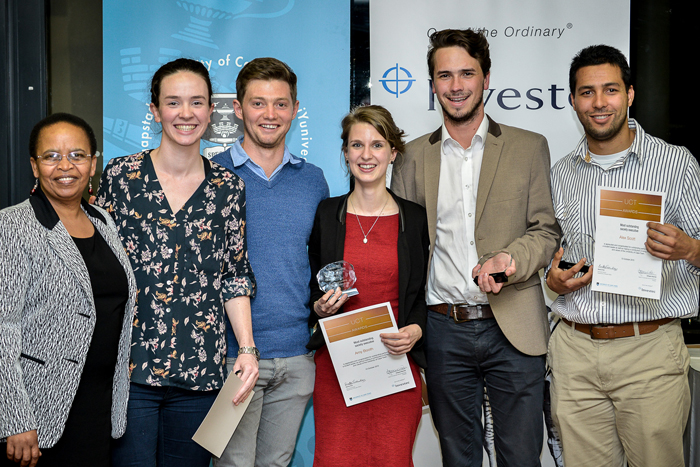 UCT Surgical Society, with Ms Sinsi Nthsongwana.
MOST OUTSTANDING SOCIETY EXECUTIVE AWARD
UCT Student Surgical Society
This society's membership has grown to a noteworthy 608 members, ensuring it is still the leading society in its faculty. The society introduced a three-part orthopaedic surgical course this year – the first of its kind – while increasing the frequency and quality of their traditional and advanced skills workshops. Special mention was made of their prominent role in the ongoing success of the International Association of Student Surgical Societies, which it helped establish last year. This year the association met in Brisbane, Australia, where UCT was well represented.
---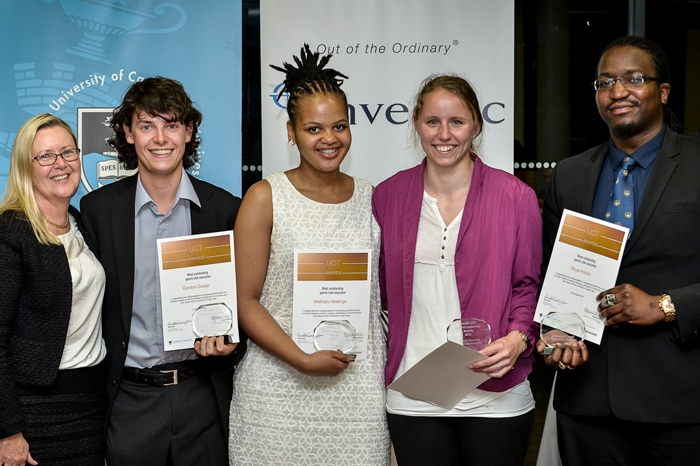 Student Sports Union, with Prof Tessa Minter.
MOST OUTSTANDING SPORTS CLUB EXECUTIVE
Student Sports Union
This year in particular has been a test of this executive's professionalism and diplomacy with regards to transformation and finance. This executive has wholeheartedly engaged in investigating transformation and development within sport, holding transformation workshops and instituting the incorporation of a transformation, development and outreach officer onto all sports clubs' committees, among other noteworthy initiatives. They also excelled in assisting students and clubs with funding applications, helping to make sport more affordable and accessible.
---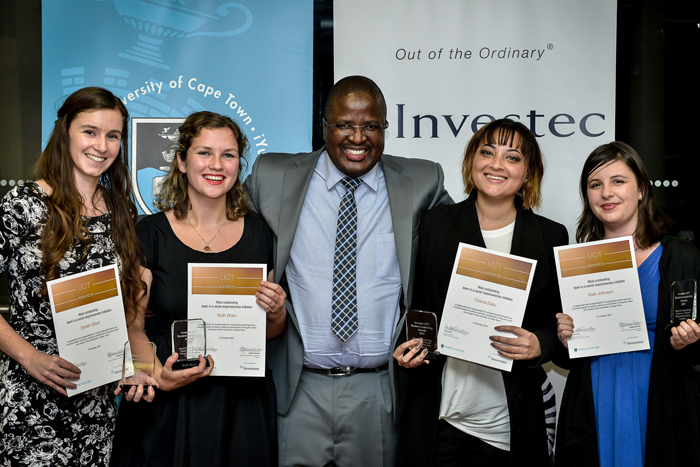 Ubunye Development Agency, Mr Setlogane Manchidi.
MOST OUTSTANDING TEAM IN A SOCIAL RESPONSIVENESS INITIATIVE
Ubunye Development Agency
The winner in this category signed up 600-odd volunteers at the start of the year and grew and strengthened their volunteer base and existing operations, spanning over 20 different schools and child care centres across Cape Town. At a collaborative level, they supported the SRC's Transformation Month of March by arranging a transformation fun day, which saw 100 high school learners participating in different indigenous sports games at UCT. From playing a pivotal role in the organising of the Re-ACT Student Social Responsiveness Conference 2015 to hosting a panel discussion on the topic of 'Race, class and gender in volunteering', they fostered a space for critical reflection, personal growth, active citizenship and social justice.
---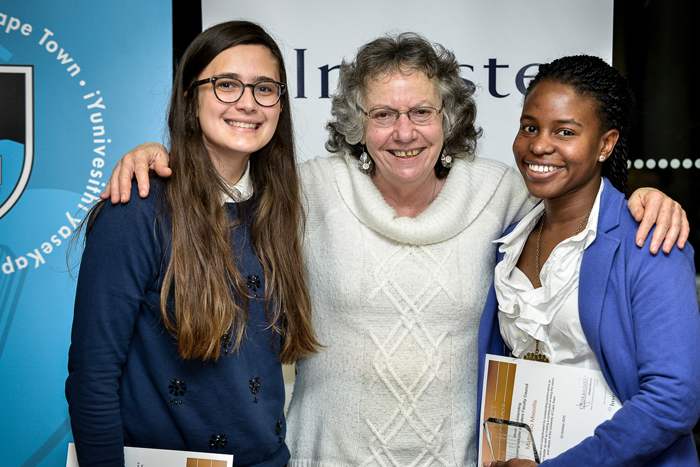 Law Student Council, with Ms Judy Favish.
MOST OUTSTANDING UNDERGRADUATE STUDENT FACULTY COUNCIL
Law Student Council
This council's most notable initiatives included exposing students to key law firms and allied legal professions during lunchtime talks, raising R35 000 for the law students' crisis fund, re-establishing crucial links with the National Prosecuting Authority, the Public Protector and the Women's Legal Resource Centre, collecting hundreds of essential items for victims displaced by the xenophobic attacks, organising the prestigious Cape Bar Exposure Programme, and restructuring their mentorship programme to include oversight by university psychologists. They also initiated both the Dean Q&A and Kramer Consciousness Week to foster a socially and intellectually stimulating environment for undergraduates and to promote inclusivity and diversity within the faculty.
---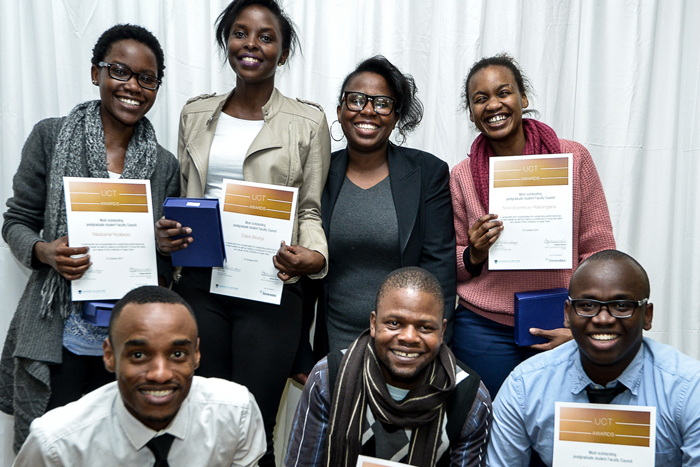 Engineering & the Built Environment Postgraduate Student Council.
MOST OUTSTANDING POSTGRADUATE STUDENT FACULTY COUNCIL
Engineering & Built Environment Postgraduate Student Council
This team's mission was built on three pillars: transformation; integration and involvement; and transparency and responsiveness. Key to their mandate was engaging on the issue of transformation. Key projects include the compilation of a postgraduate orientation booklet, a 'survival guide' for new students, a research expo, which showcased the research of postgraduate students within the faculty, career talks, a finance workshop, and a social consciousness challenge aimed at engaging postgraduate students in coming up with innovative and sustainable solutions.
---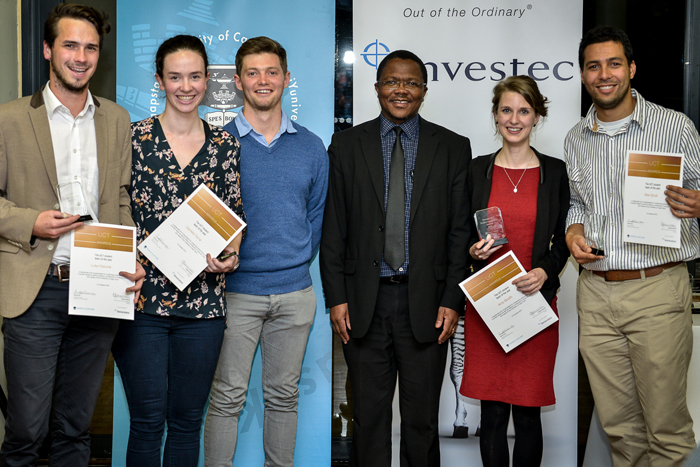 UCT Surgical Society, with Prof Sakela Buhlungu.
UCT STUDENT TEAM OF THE YEAR AWARD
UCT Student Surgical Society
This society has helped promote UCT's vision, mission and values with its many projects. These include a schools project, which creates awareness of medicine as a degree among disadvantaged learners in the Western Cape, a shadowing programme with specialist surgeons, expanding the Women in Surgery programme to encourage gender quality, piloting the Health Aid for Refugee Project in collaboration with the Cape Town Refugee Centre, launching a farm workers' clinic in the Cederberg, and assisting with the Flamingo Project for breast cancer patients at Groote Schuur Hospital.
Social responsiveness awards | Leadership excellence awards | Executive awards
| Team awards | Additional awards
ADDITIONAL AWARDS
The following recognise student leaders who enrich the life of UCT by virtue of the amount of time they commit to the university community outside the lecture theatre.
KERRY CAPSTICK-DALE STUDENT LEADERSHIP AWARDS
DANIELLE FERRAR
President of the UCT Surgical Society
Danielle Ferrar joined UCT as a medical student in 2010 and signed up with Surgical Society in her first year. As a committee member for three years, she headed the outreach portfolio and initiated a Cederberg project for farm workers. In her role as society secretary, she helped put together an international symposium in Cape Town in 2014, where she was elected president of the UCT Surgical Society. In 2015, she helped to organise a similar gathering in Brisbane Australia but could not attend due to academic commitments. She has also been an active member of SHAWCO Health and served on the Simthandile Clinic Project committee, all the while maintaining an excellent academic record.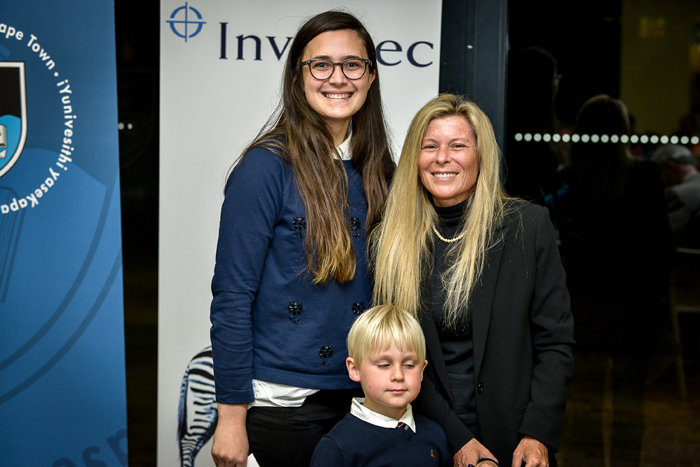 Chelsea Bruk-Jackson, president of the Law Student Council, with Tamra & James Kerry Capstick-Dale.
CHELSEA BRUK-JACKSON
Chair of the Law Students Council
Throughout Chelsea Bruk-Jackson's six-year stint at UCT (first as a BSc student and later in the Law Faculty) she has been involved in student leadership. She was elected by her peers to the Law Students Council for two consecutive years. Prior to this, she was involved in the TedX UCT project as head speaker curator, where she sourced and trained speakers for TedX events. As vice president external for the council she arranged a postgraduate orientation programme, and set up various career and academic workshops. More recently, she oversaw the rebuilding of the council's relationships with South Africa's National Prosecuting Authority and the Public Protector, and headed a council that raised R45 000 for the Law Students' Crisis Fund.
---
ACKERMAN FAMILY AWARD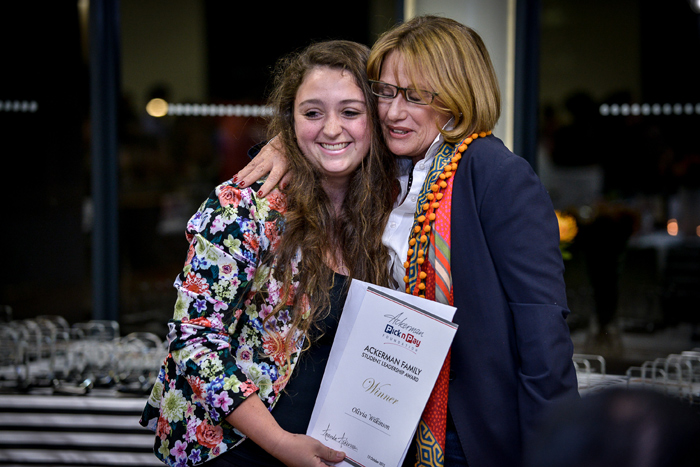 Olivia Wilkinson, with Ms Mandy Ackerman.
OLIVIA WILKINSON
A speech therapy student, Olivia Wilkinson has been involved in UCT student life in a number of areas. She represented her peers on the Rochester House Committee as Academic Representative, took up a role on the Residence Tutors' Council and was one of the only students to serve on the Residence Academic Development Committee. She joined RAG in 2013, became project manager the following year and ultimately progressed to the position of vice chair responsible for operations, logistics and risk.
---
This work is licensed under a Creative Commons Attribution-NoDerivatives 4.0 International License.
Please view the republishing articles page for more information.
---