University life prepares students not only to be competent in their chosen field, but to be effective contributors to society, leading thought and action for the betterment of all. Student leadership, while keeping up with academic commitments, may be a whirlwind of tight schedules and bureaucracy, but it has a history of forging resilient mentors and teachers. The most outstanding student leaders at UCT over the past year were honoured at the Student Leadership Awards held on 15 October.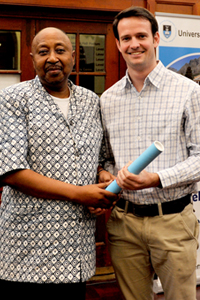 Lorne Hallendorff: The Vice-Chancellor's Student Leader Award
Hallendorff, president of the 2012/2013 Students' Representative Council, received this award for the second year in a row. Hallendorff was acclaimed for working to improve the visibility of his team, for policy work, for ensuring that there were regular reviews and planning sessions, and for his role in creating SRC working groups that encouraged teamwork among council members.
Acting Vice-Chancellor, Professor Thandabantu Nhlapo, lauded Hallendorff for his role in developing the "game-changing" 2014 Tuition Fee Proposal, which had been so thoroughly prepared before being presented to the University Council that "all the kinks had been ironed out".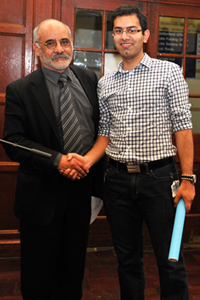 Saadiq Moolla: The Deputy Vice-Chancellor's Student Leader Award
President of SHAWCO Health and a final-year MBChB student, Moolla was described as a consistent and essential member of the SHAWCO Health team since joining as a volunteer in 2009. He became head of clinics in 2012 and attended 65 clinics in the process. Under his leadership, the Health team has launched a huge number of successful pilot projects aimed at improving the health and well-being of vulnerable communities around the Cape Peninsula.
Moolla is on the Dean's Merit list for 2013 and has class medals under his belt. He was hailed for encouraging teamwork and providing opportunities for the team to promote the vision of UCT both internally and externally.
Township Debating League: Most Outstanding Team in Student Development
Operating in 20 schools across Cape Town, the Township Debating League was praised for its role in developing critical-thinking skills in learners at under-resourced schools. The 75 learners participating under its banner at the Western Cape Debating Provincials excelled, and held their own against some of the city's best-resourced private schools.
UCT Surgical Society: Most Outstanding Society Executive
One of the biggest and most active societies on the campus, the UCT Surgical Society has been described as embodying the world-class, Afropolitan vision that UCT strives to achieve. The society hosted numerous workshops during the year, including the first annual Top Knife competition. This pitted some of the top student surgeons against each other as they strove to complete surgical challenges most accurately, with prizes on offer for the 'top knives'. In addition, the society took part in the planning of the first Southern African Students Surgical Symposium, hosted by the University of the Witwatersrand. The leadership of the society was described as "outstanding; not only is it ambitious, but is also pro-transformational".
Rehana Odendaal and Koketso Rammutla: Executive Director's Student Leader Award:
Odendaal, chairperson of the Humanities Student Council, and Rammutla, chairperson of the Faculty of Engineering & the Built Environment's Student Council, shared this award, with the selection panel deeming both equally worthy of this recognition. Rammutla was praised for his humility and ethical leadership. His citation noted that his ability to see the potential in others was clear from his outstanding work as a mentor in the faculty, and as a mentor for UCT's 100Up programme. He is also the chairperson of a non-profit organisation which provides academic and leadership support to local schools.
Odendaal is described as truly embodying the ideals of "servant leadership" and as a "caring person with a deep social conscience". A former chairperson of the History and Current Affairs Society, Odendaal is also active outside the university, serving as an organiser for the InkuluFreeHeid movement.
Faculty of Engineering & the Built Environment Student Council: Most Outstanding Team in Student Media
The EBE council was praised for producing an annual publication of quality and exceptional content. The media team creates a publication, called OnSite, which is described as "professional in layout, design and content". Despite producing a magazine that served only a portion of the university's student body, the team actively looked beyond the faculty, and featured content that was aimed at the broader UCT community. They were also commended for sourcing their own funding.
Faculty of Humanities Student Council: Most Outstanding Undergraduate Student Faculty Council
This faculty council overcame the tragic death of one of its members, and the sudden resignation of two more, to excel at consultative leadership within its constituency. In addition to organising a health and wellness fair that was open to the entire UCT community, the council went beyond the call of duty in arranging a number of socially responsive activities during its tenure.
Faculty of Law: Most Outstanding Postgraduate Student Council
The Faculty of Law Student Council went to great lengths to ensure the comfort of the students it served, organising orientation and welcoming events for newly-registered postgraduate students, as well as a thesis boot camp where students could focus on their writing skills. They also arranged numerous team-building exercises, including a hike up Lion's Head. The council launched a seminar series to encourage students to present research papers, after which discussions were held to help students improve their work.
Emma Selfe and Daniel Sive: The Kerry Capstick-Dale Student Leadership Award
Selfe excelled as the fundraising co-ordinator for the 2012/2013 SRC and was described as "resilient, and responded very well to challenges she faced". Selfe, having been given the fundraising portfolio despite neither campaigning for nor desiring it, was praised for her understanding that a leader's responsibility was to "provide an excellent service to one's constituency, regardless of position", and raised thousands of rands for student coffers. Sive, meanwhile, served as the chairperson for UCT RAG in 2012/2013. Boasting a proven track record of excellence in leadership and academics, he played a significant role in improving the synergy between his organisation and the SRC; and, as part of the UCT soccer management committee, he assisted with the setting up of the inaugural Varsity Football Cup. Sive was hailed for serving with humility on various student leadership committees on campus.
Rebecca Ilunga: The Ackerman Family Foundation Student Leader Award
Ilunga was lauded for managing to exceed expectations as both a student and a leader. Her academic prowess was noted, including her membership of the Golden Key Society and the Allan Gray Orbis Foundation.
2012/2013 Students' Representative Council: UCT Student Team of the year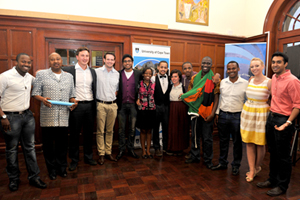 Caps were doffed for the 2012/2013 SRC's initiatives, such as the mobile SRC office. They were also praised for widely consulting students through channels such as the Student Assembly. This in turn informed the SRC's constructive contributions to debates - such as whether or not to hold Friday and Saturday exams, and the annual fee deliberation. The outgoing SRC was also fêted for its work on policy development and for concerted efforts to catalyse student involvement in key debates of national and international interest.
---
This work is licensed under a Creative Commons Attribution-NoDerivatives 4.0 International License.
Please view the republishing articles page for more information.
---