With more severe water restrictions having been imposed by the City of Cape Town from 1 February, UCT has introduced four new measures to curb water use on its campuses.
The Jammie buses will get a monthly dry-wash instead of their weekly sluicing; no windows will be washed in any buildings on campus; non-sport swimming pools (mainly at the residences) will not be topped up; and faculties and departments have been encouraged to stop washing pool and personal vehicles.
But given its large campuses, UCT has been preparing for the eventuality of water restrictions for some time, investing heavily in environmental sustainability with new indigenous plantings, says senior horticulturist Noelene le Cordier from the Properties and Services Department.
Even before the introduction of the City's Level 3B water restrictions on 1 February, UCT's landscaping and gardens sector has been hard pressed to sustain the university's green and leafy environs. However, due to the size of the campus and its gardens, the university has been successful in seeking some temporary relief from water restrictions. This exemption has been accompanied by short- and long-term maintenance plans from UCT's side.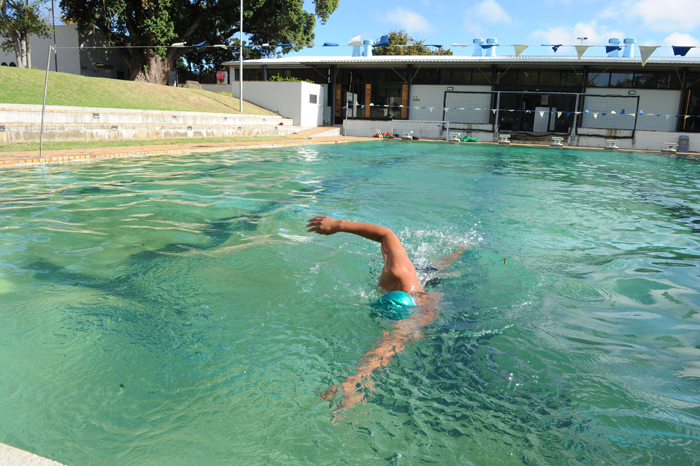 The UCT sports swimming pool is the only pool on campus that will be topped up (using legal means) following the introduction of Level 3B water restrictions by the City of Cape Town on 1 February. Photo Michael Hammond.
Some of the challenges
Although the trend is towards water-wise and long-lived species, there are pockets of campus that are more difficult to manage in times of water restrictions: the sports fields and formal gardens, which are part of a 90-year-old campus that reflects a different horticultural style.
"There are many overly complex formal gardens that require detailed monthly maintenance, and in the current circumstances this maintenance is simply not implementable within current budget limitations and water restrictions," said Le Cordier.
The team has undertaken plenty of new landscape planting using tough indigenous plants. There are also plans to convert lawn areas by landscaping them using tough, drought-tolerant groundcovers.
"But the playing fields have a high water demand, which is far more challenging," she said.
Even the reservoir on upper campus is not enough to meet requirements during the hot, thirsty summer.
"However, if what we have developed and hugely invested in can't be sustained, the situation could worsen. One of the areas in which the original vision of a campus is supposed to be maintained is through its botanical biodiversity, and documenting and preserving the vegetation is of paramount importance."
"The aspect of a borehole is definitely something we need to explore, especially with increased student numbers and increased areas under our management," Le Cordier noted.
Long- and short-term saving
Besides water-wise planting, Le Cordier and her team have undertaken a number of projects with a focus on long-term environmental sustainability: mulching, installation of efficient irrigation systems, monitoring for leaks, and so on.
"We produce our own compost on site and this has helped the gardens tremendously."
Examples of new landscape installations are the roof garden above the law library; the upgrade of the garden at the School of Economics on middle campus, with its new resin-bound stone aggregate path that is compliant with the requirements of a sustainable urban drainage system; the new entrance gateway project on upper campus to create a sense of arrival; and the roof garden in the PD Hahn Building.
Short-term plans include shifting the timing of sprinklers to early morning, and reducing the water going onto the fields, particularly when they're not in use.
"We are, however, in the middle of the cricket season, so certainly have challenges to deal with. Just recently, the cricket pitch was cracking because of the intense heat."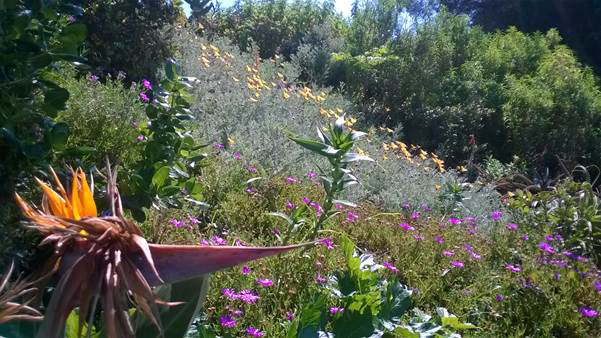 One of the landscaping projects on upper campus that uses an attractive mix of water-wise indigenous and endemic plants. Photo Noelene le Cordier.
In keeping with a climate-resilient form of horticulture, new projects are planned to transition from heavy watering of thirsty lawns and slowly convert to lawn mounds utilising drought-tolerant and long-lived plant species.
Using grey water is also a long-term solution for the grounds and gardens, says Le Cordier, especially in residences and staff housing.
"It is both an ideal and crucial time for everyone to be creative."
Download, print and display the City of Cape Town's water-saving poster...
---
This work is licensed under a Creative Commons Attribution-NoDerivatives 4.0 International License.
Please view the republishing articles page for more information.
---