The Hasso Plattner Institute of Design Thinking at UCT (the d-school) has been collaborating in an initiative to introduce a culture of innovation to insurance and investment giant Old Mutual's head office.
Since the first design-thinking programme with UCT postgraduate students launched in 2016, Richard Perez, the d-school director, knew that the magic happening at the school could be shared with local corporates.
The seeds were planted for an Advanced Programme in Design Thinking for postgraduate students who had already attended the d-school's semester-long foundation programmes.
A tip-off from a d-school coach alerted him to Old Mutual's head of digital, Jikku Joseph, who was looking to introduce design thinking in the over-170-year-old insurance and investment giant.
Perez was thrilled to have Old Mutual on board as a project partner.
"The reality is that when students leave the foundation programme, they're going into environments that might not understand design thinking, nor really support it. So the purpose of the advanced programme is to build that transition from the foundation programme into the real world," he explains.
Old Mutual's Digital Garage and the organisation's employees and customers would provide the real-world environment in which design-thinking students would be immersed for their advanced training. Formerly a ground-floor parking garage, the Digital Garage looks and feels like a Silicon Valley start-up. Staff and managers, including Joseph, who, with former customer experience director Carlton Hood, championed the need for such an innovation space, sit in project teams in an open-plan setting.
The Digital Garage is also home to the digital team that manages Old Mutual's websites and mobile applications.
Hub for innovation
For Joseph, designing a hub for innovation was essential for a huge corporate like Old Mutual to compete in the digital space.
But Joseph also realised that a cool creative space is not enough to bring about a culture of innovation in an 8 000-strong corporate head office. Mindsets of staff and the way innovative ideas are generated and shepherded into fruition are key.
This is when he approached the d-school. Joseph, who qualified as an actuary, recently completed his business degree at Stanford, during which time he participated in a Design Leadership class at Stanford's own design-thinking school. He was involved in a team that helped reimagine the car-buying experience for a large American automobile manufacturer.
Four employees from Old Mutual were included in the design-thinking programme: senior consultant in research and strategy Nabeela Noorani, project consultant Faizel Isaacs, research and consumer insights specialist Firdaus Natha, and digital storyteller Ian Naidu.
For 12 weeks, from March to May, they spent every Monday and Wednesday working through the design-thinking programme with eight postgraduate students from fields as diverse as sustainability, surveying, geomatics, engineering, urban and game design, and exercise science.
"Very rarely do you get an opportunity to get such a broad range of views and mindsets into the problem-solving process."
Facilitated by Dr Keneilwe Munyai, the d-school programme manager, and two d-school coaches, the group was divided into two project teams, each addressing a specific challenge sponsored by Old Mutual executives. The teams worked to solve the challenges using a range of design-thinking tools and techniques – from exercises in empathy and real-life interviews and engagement with Old Mutual customers to using role play, plastic building blocks and a range of prototyping materials.
For the d-school, the challenge was to apply design thinking in a big organisation while integrating staff from a structured environment with students who had already undergone training in design thinking.
"The advantage of this mixed team was that the employees brought the constraints of the real world into the problem space," Perez reflects.
"The ideas that emerge are perhaps a little bit more constrained in response to the levels of reliability required and the financial resources available. At the same time the teams have been able to explore ideas more extensively and, as a result, they are a little more resolved and real."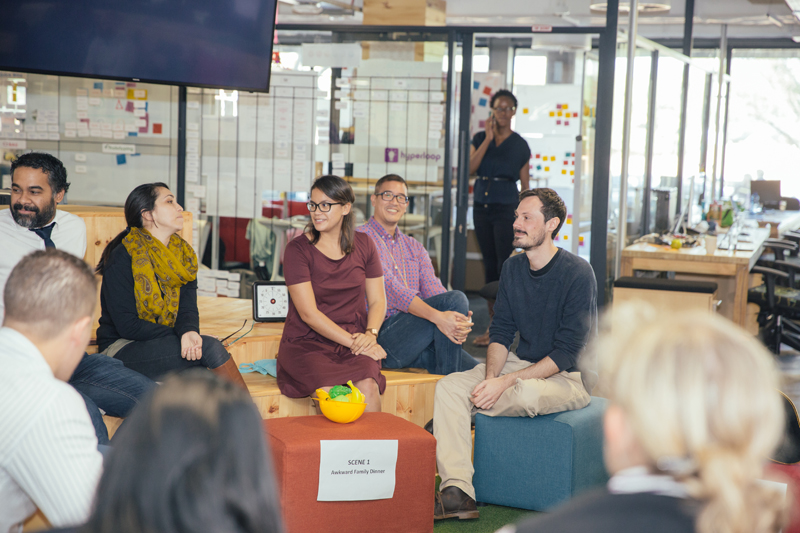 Reframing the challenge
"Making sure that the problem you are solving is the right problem" is the learning that Joseph considers most important from his Stanford experience. Reframing the challenge is a critical aspect of the design-thinking approach.
One of the teams, Victoria's Secret, began with the challenge of designing a way for soon-to-be retirees to transition smoothly from their work life into retirement. After many iterations, including repeat interviews with customers, ideation and prototyping, the team reframed the challenge to meet the requirements of a young earner who needs encouragement to save for retirement.
Team Octupi began with the need for an offering that enables people to make better financial decisions, in a world where financial institutions are perceived to be profit or product focused and not people focused.
The team reframed the challenge to enable young people to connect with trustworthy sources who will help them identify financial goals and make sound financial decisions.
Having the students on site was an eye-opener for Joseph.
"You can't underestimate the power of diversity. Traditionally in Old Mutual we've recruited within a specific skillset. Very rarely do you get an opportunity to get such a broad range of views and mindsets into the problem-solving process.
"Having … individuals who are not encumbered by what can't done helping to solve the problem has been interesting from a creative sense and seeing what could come up.
"This diversity is something that we will be looking at in terms of the recruitment policies when building out our own design-thinking capability."
Engaging with customers
The experience of being a project partner and submitting challenges faced by the organisation to the process has been invaluable, says Joseph. He particularly rates design thinking's human-centred emphasis on engaging directly with customers before developing a concept.
"You need to get out of the building. You need to spend time with customers learning as much as you can before you build the real thing.
"We've seen that that's opened up the eyes of the executives who've sponsored the projects," he says. "They come in with an initial hypothesis of what they think a solution would look like. But by following the process and spending time with the actual customers of that solution, they see that that hypothesis needs to be refined and reviewed [and ultimately] the quality of the solution will be better."
In Perez's view, "The value for the company would be to now take this forward into development and implementation."
---
This work is licensed under a Creative Commons Attribution-NoDerivatives 4.0 International License.
Please view the republishing articles page for more information.
---