In an era of intense change, where it's difficult to predict which jobs will exist in the next 20 years, applying the same solutions to existing societal challenges will no longer work. Design thinking is a new methodology that will provide tools, process and, ultimately, the mindset to develop collaborative, human-centred solutions in contemporary contexts that are dynamic and complex.
And in the South African context, design-thinking skills will be crucial to tackling the country's pressing social problems.
Last night's official launch of the Hasso Plattner Institute of Design Thinking (d-school) at the University of Cape Town (UCT) heralds a breakthrough in this regard. Through the d-school, UCT becomes the first academic institution in Africa to offer training and capacity building in design thinking to students and professionals in the public and the private sector.
Speaking at the launch at the Graduate School of Business, which hosts the d-school, its founding director Richard Perez said, "Our vision is to be a dominant player ... a driver of innovation and new outcomes. We aim to have a reach beyond UCT and, ultimately, have an influence in sub-Saharan Africa and the rest of the world."
Academic rigour and innovation
The UCT chapter of the school is the world's third Hasso Plattner Institute of Design Thinking, a sister programme to the well-established schools at Stanford and Potsdam universities in the US and Germany.
The establishment of the Stanford and Potsdam schools brought academic rigour to design-led innovation practice. It also made training programmes in design thinking available to academic scholars and leaders in the private and public sectors.
It was this that led Vice-Chancellor Dr Max Price to persuade Professor Dr Hasso Plattner, co-founder of software company SAP AG and chairman of its supervisory board and the Hasso Plattner Trust, to 'plant' a d-school in Africa, at UCT. This was founded in Cape Town in August 2015 with funding, intellectual property and academic support from Plattner.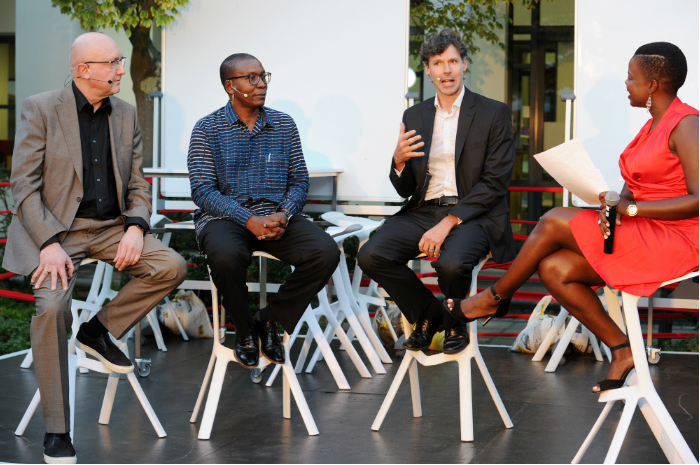 In discussion at the Hasso Plattner Institute of Design Thinking at the University of Cape Town were (from left) Prof Ulrich Weinberg, director of the Hasso Plattner Institute of Design Thinking in Potsdam; Mugendi M'Rithaa, professor of design at the Cape Peninsula University of Technology; Richard Perez, director of the Hasso Plattner Institute of Design Thinking at UCT; and master of ceremonies, Talia Sanhewe.
While the three schools share similar philosophies – thinking across disciplines being one of them – the UCT d-school will use models developed by these sister institutions to draw up a way of working that suits students' needs "in our own dynamic context", Perez said in an interview last year.
Students from all disciplines as well as executives from industry and government come together at the d-school to learn to work collaboratively in diverse and inclusive, multidisciplinary teams on real-world challenges to develop human-centred innovative solutions.
Pace of change
To gauge the pace of change in the world, consider that 20 years ago Google did not exist. Neither did Facebook, Twitter, YouTube, Instagram, Uber or Airbnb. The digital revolution disrupted industries that had existed for centuries, creating new kinds of employment and jobs.
The World Economic Forum has predicted that in 2020 the top 10 skills will be:
complex problem solving
critical thinking
creativity
people management
co-ordinating with others
emotional intelligence
judgment and decision-making
service orientation
negotiation
cognitive flexibility.
These represent a huge shift from industrial-era silos in which professionals from different disciplines worked in isolation from one another. For example, engineers did not collaborate with marketing officers; planners did not talk to cleaners; accountants did not speak to designers; and nobody thought about the human end user.
Interfaces between disciplines
Design thinking is a methodology that cuts across university faculties and departments, and aims to improve students' empathy, comfort with ambiguity, ability to resolve conflicting ideas through considering multiple solutions, and the ability to produce new knowledge through creative mental leaps.
One of the drivers of the project, Deputy Vice-Chancellor Professor Francis Petersen, added, "We would like to foster more and more the collaboration and the integration in a way that profiles interdisciplinarity and transdisciplinarity.
"We believe that where we would push the frontiers of science and engineering [for example] would be at the interface between the disciplines; there is where we're going to get our fantastic breakthroughs, our novel thinking, our innovative thinking."
In March last year the d-school piloted a 12-week postgraduate design-thinking course with students from disciplines as diverse as health sciences, engineering, drama, law and commerce. Students worked in transdisciplinary teams in a customised studio space and are closely mentored by coaches.
The d-school at UCT aims to be the regional leader in education, training and research in design-led innovation, says Perez. To realise this, it will build partnerships and programmes with both private and public sector entities that include traditional class training and experiential training.
It will also offer senior postgraduate courses and exposure to design-thinking processes and methodologies, while also conducting its own research into the trends and application of design thinking.
---
Watch the video:
HPI d-school at UCT Launch.
---
This work is licensed under a Creative Commons Attribution-NoDerivatives 4.0 International License.
Please view the republishing articles page for more information.
---