Jade Adams was born and bred in Retreat, Cape Town. After matriculating in 2003, he applied to study at UCT and was rejected, which led to him joining the military.
Jade says that after matric he was unsure of what he wanted to do with his life. Everyone else was applying for university, so he did too.
"My academic record at the time wasn't exactly university standard, at least not for chemical engineering, for which I originally applied. That was a turning point in my life; I was forced to do some introspection," he says.
After the rejection, he felt like he had nothing to lose and decided to pursue his dreams. He joined the military as a pilot even though he had never flown in a plane, not even as a passenger.
"I hadn't been to an airport. I didn't even know someone who knew a pilot," he says. "Nevertheless, as far back as I can remember, my face had always been turned skywards, fascinated by flight."
The opportunity to join the military arose after his father gave him an application that was advertised in the local newspaper.
"I filled it in, sent it off and so began the next chapter in my life."
It was tough
Jade completed his basic military training in 2005.
"I was awarded the trophy for best overall student and best marksman," he says.
In 2007 he received his pilot's wings, and in 2008 he qualified to fly helicopters. He is currently based at Air Force Base Ysterplaat.
"In that time I was deployed on many internal and international operations, receiving the medal for Peace Support in 2011 for my contribution to peace keeping in the DRC under the United Nations," he says.
He also received the Mandela decoration for his service and contribution during Nelson Mandela's funeral.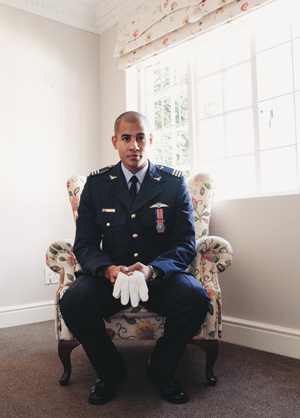 Jade says that being in the military taught him immense discipline among many other life lessons.
"Military training has been the toughest and most fulfilling experience of my life," he says. "I learnt the definition of discipline and physical fitness … However, of everything I learnt, the most valuable lesson was that I can; I am capable; I am good enough."
Jade will return to flying when he completes his studies.
"It's been a long few years without flying and I can't wait to get back into the cockpit," he says.
He is also fascinated by entrepreneurship and would love to start his own business. After graduating in 2018, Jade is considering pursuing an MBA.
A love for sports
A few years ago Jade decided to try out combat sports.
"The most obvious choice was MMA – mixed martial arts. I spent one year in MMA to figure out which aspects of the sport I enjoyed the most. I preferred stand-up fighting over grappling and so started my training in Muay Thai under the then female SA champ where I trained for three years," he says.
When he came to UCT in 2014, he planned to continue with his training, but the sport wasn't offered. Eager to stay fit, he trained with a friend at the UCT fitness centre.
"Many people approached me and asked if they may join us, and it wasn't long before I had a class of about 10," he says.
Then the growth became exponential.
In 2015 Jade registered UCT Kickboxing as a sport. During O-Week in 2016 they signed up over 50 people within a few hours.
"Fearing that the club may grow beyond our venue, we took no further sign-ups. Instead, we started a waiting list, which grew larger than the club," he says.
The class of 2016 allowed him to run various experiments regarding teaching style, layout and exercises.
"Because of them we now have the perfect, set class structure," he says.
Tough love
Jade uses a tough militaristic approach in his classes and starts off with a warm-up, followed by a full-body stretch and then 45 minutes of intense fitness on the rugby fields and stairs. Only then does he begin to teach kickboxing.
He finds that the harder he pushes the class, the more they enjoy the training.
"Classes are intense, always. I incorporate a lot of what I learnt in the military because I know it produces results," he says.
Although the club has seen impressive growth in a short span of time, it has faced its challenges.
"I struggled to find people as committed as I was to the success of the club, and I ended up running it on my own for the majority of the year," says Jade. "However, it was a huge success, thanks to the support of the SSU [Students Sports Union], Lydia Hall and the rest of the management and staff of the Sports Centre."
During this year's O-Week, the club broke last year's record for sign ups, adding 80 people in a few short hours. In the following two days they added more than 120 people to the waiting list.
But Jade says their biggest drawback is that they are unable to secure a larger training venue.
"Ultimately, what we are asking is that every student who wishes to take part in kickboxing be afforded the opportunity to do so and not have to be wait-listed due to poor venue planning and allocation," he says.
At the moment the club cannot accommodate any more members, but they run their waiting list and encourage everyone who is interested to add their name, "At least for statistical purposes, to motivate our requirement for a larger venue," he says.
The club is mainly social and members train for fitness, not to compete. However, Jade hopes that an affiliated coach will be hired before he leaves UCT, although it can be a very expensive process.
"For the time being we try our best to give as much back to the students who signed up as possible, in the form of functions and socials and equipment," he says.
The club meets every Wednesday and Friday from 16:30 to 18:30 at the Martial Arts Centre in the Sports Centre on upper campus.
For more information, contact the club or follow UCT Kickboxing Club on Facebook.
---
This work is licensed under a Creative Commons Attribution-NoDerivatives 4.0 International License.
Please view the republishing articles page for more information.
---