Former UCT Deputy Vice-Chancellor Professor Francis Petersen and Dean of Humanities Professor Sakhela Buhlungu were inaugurated at the universities of the Free State (UFS) and Fort Hare (UFH) this month – a testimony to UCT's commitment to developing a new cohort of leaders in higher education.
It was a baptism of fire for Buhlungu on 3 May as he was inaugurated amid a National Health Education and Allied Workers Union wage protest at the UFH Alice campus that all but halted the ceremony. It was the same ceremony at which Fort Hare's new chancellor, Dumisa Ntsebeza, was also inaugurated.
Buhlungu, a UCT alumnus with a PhD in sociology from the University of the Witwatersrand, was appointed Dean of Humanities in 2014. He took office on 1 February 2017 after the UFH Council announced his appointment in November last year.
Writing to the UCT community at the time, Vice-Chancellor Dr Max Price commended Buhlungu's leadership as Dean of Humanities, saying that he had lead the faculty through "a tumultuous three years with diplomacy, political insight and academic innovation".
Buhlungu said he was looking forward to leading the University of Fort Hare, an institution of "such great historical significance in the country".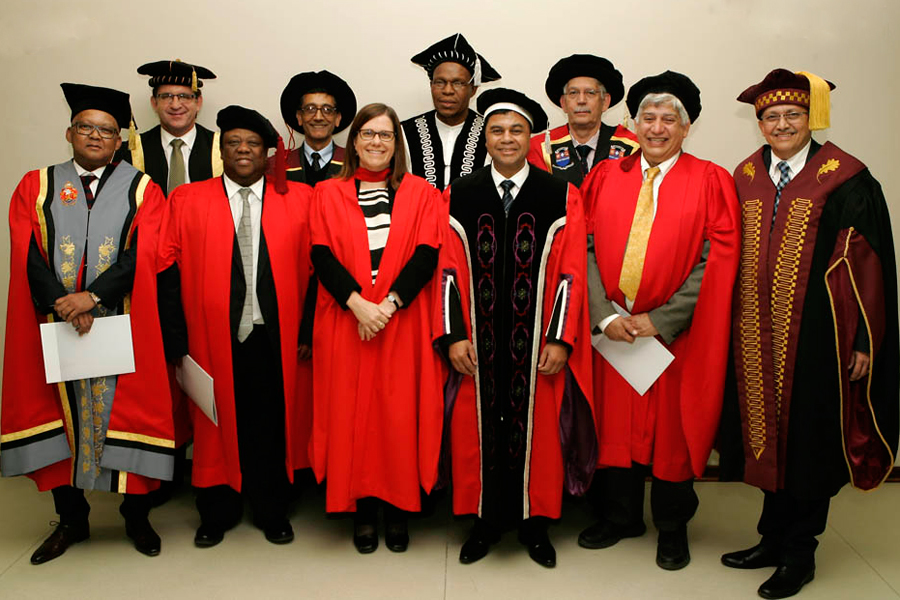 Petersen joined UCT in 2008 as Dean of the Faculty of Engineering & the Built Environment. He was appointed Deputy Vice-Chancellor in 2014.
Speaking at Petersen's multi-campus inauguration at UFS on 19 May, his former UCT colleague and guest speaker, Dean of Commerce Professor Ingrid Woolard, said, "While we miss Prof Petersen, we are also very proud of this appointment because we know he will contribute to the development not only of UFS but also more directly to the growth of the higher education sector.
"Each South African university has its own complexities and personality. But we also share many challenges, especially now, when the nation faces so many questions about the way forward. Universities can contribute a great deal to the national conversation because each institution is a microcosm of our wider society."
---
This work is licensed under a Creative Commons Attribution-NoDerivatives 4.0 International License.
Please view the republishing articles page for more information.
---