Sipho Pityana, UCT's Chair of Council and convener of Save South Africa, delivered the keynote address at the "real state of the nation (SONA)" event at St George's Cathedral on 8 February and outlined the hard truths that he says will not be owned by the state's premier during his 2017 SONA address.
Pityana was joined by representatives from various civil society groups, including Sonke Gender Justice, Section27 and the Treatment Action Campaign (TAC), who voiced, among others, concerns about rampant rape culture, unmeasurable corruption, a health system in crisis, and the neglect of the vulnerable and the mentally ill.
Pityana joined these speakers in lambasting President Zuma for not addressing the critical problems faced by South Africa.
"He has nothing to say, as you heard here earlier on, or contribute, to real issues affecting South Africans: racism, sexism, discrimination against people of various sexual orientations or ability. He has nothing to offer in terms of seriously addressing inequality and social injustice in our society."
Pityana called upon the hundreds of attendees at St George's Cathedral in Cape Town to use all of their energy and their agency to drive Zuma out.
"We must loudly reject looting, theft, corruption, the abuse of power, the contamination of state institutions, the distortion of the justice system for political gain and the complete disrespect for our Constitution," he said.
What is the real SONA?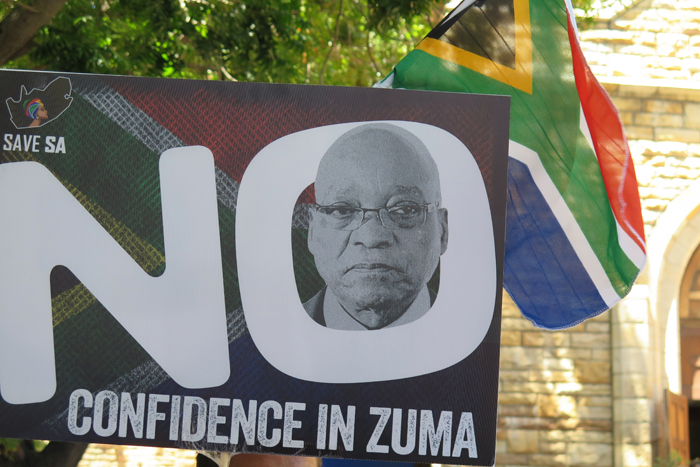 In preparation for this event, Save South Africa asked its supporters to reflect on the real state of the nation.
Pityana summed up these responses as follows: "nepotism, corruption, state capture".
"This, President Zuma, is the real state of your nation. It is being torn apart by nepotism, corruption and state capture and you are at the centre of it all."
Pityana criticised Zuma for failing, time and again, for delivering on his promises during the annual SONA address: such as providing security of tenure, redistributing land and so-called radical agendas to include black South Africans in the economy.
"Our young people are desperate, disillusioned and disappointed as your repeated promises of employment are not delivered on. Youth unemployment has worsened since you assumed office," he stated.
Pityana continued, laying the turbulence of the higher education system at President Zuma's feet: "Your false promise, which you made knowing that you would never be able to deliver on it, of free education, is threatening to destroy a great asset that we have in our universities."
Referring to the recent Esidimeni tragedy, Pityana criticised Zuma for his lack of empathy and compassion.
"A real president would have ordered the national flag flown at half-mast and called for a national day of mourning as well. We grieve the devastating indictment of our nation's health care and the neglect of the most vulnerable."
Pityana urged attendees to support Save South Africa's motion of no confidence in Zuma, stating:
"We have to stop the Zuma nightmare and begin to dream again as a nation."
---
This work is licensed under a Creative Commons Attribution-NoDerivatives 4.0 International License.
Please view the republishing articles page for more information.
---