He's quick. He's powerful. He's competed across the world, from the All Africa Games in Dakar to the Paralympics in Rio de Janeiro.
Now, Mpumelelo Mhlongo can add a second UCT Sportsperson of the Year award to his ever-growing mantelpiece. After a slew of impressive performances on the track, the jumper and sprinter claimed the Jamison Cup for the second year running at the UCT Sports Awards, which were held in late October.
Mhlongo represented South Africa at the World Athletics Championships and placed 4th in the T44* long jump final. He went on to win the gold medal in the long jump at the South African Sports Association for Physically Disabled Championships, as well as silver in the 100- and 200-m races.
He was also invited to compete at the London Anniversary Games, but his crowning glory this year was when he was selected for Team South Africa for the 2016 Paralympic Games in Rio. Mhlongo ran in the 100-m semi-final and just missed out on making the finals. Undeterred, he went on to place sixth in the T44 long jump finals.
It was a year of firsts for disability at UCT, with the first wheelchair rugby and sitting volleyball events taking place. Other major awards handed out on the night included the following:
Sports Club of the Year: Yacht Club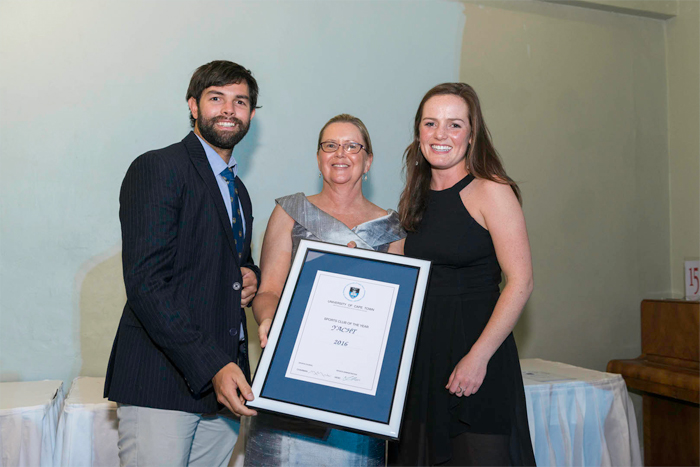 UCT Yacht Club
To win this award, a club has to demonstrate social responsiveness, good governance, sound financial management, value-for-money for members, performance achievements and has to undertake new initiatives.
This year the Yacht Club showed brilliant student governance, which allowed them to run numerous internal league events and a training programme for new sailors and to take part in national and international competitions. The club's committee ensured that equipment was available for all members.
The club's Development Sailing Programme allowed high school students to learn how to sail and take part in club activities. The club also vigorously promoted women's and disability sailing.
Chairperson's Award: Gordon Dodge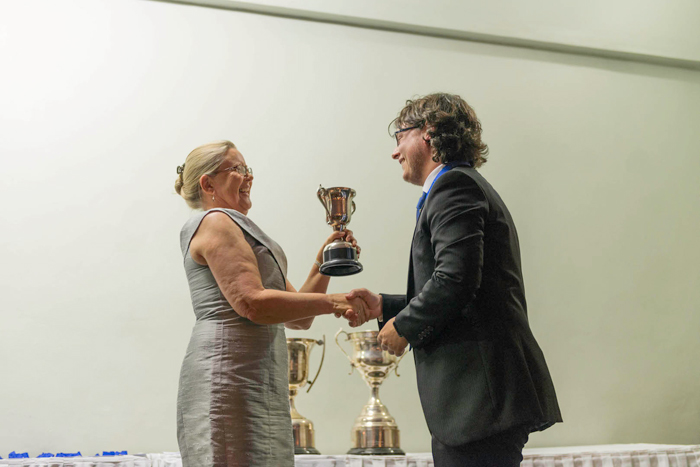 Gordon Dodge
This award is made at the sole discretion of the UCT Sports Council Chairperson, Associate Professor Tessa Minter.
Gordon Dodge has been a member of the UCT Rowing Club's first team since 2011, coxing many crews to victory at the South African Senior Rowing Championships and the Universities Boat Race. Aside from being an athlete, Dodge is a national umpire for rowing and hockey and is a qualified swimming official. He has also completed his scuba diving and pilot's licences.
Dodge's experience in a variety of sports and his subsequent re-election to senior positions, are clear indications of his contributions, said Minter.
He was chairperson of the Rowing Club in 2014 before being elected to renewed terms as Chair of the Sports Union. He was also the 2016 SRC Sports and Recreation representative. Nationally, Dodge is Chairpersonship of University Sport South Africa for rowing for a third consecutive year.
In 2015 Dodge was awarded the Turpin Cup for service to sport. He has been a true ambassador for UCT Sport and his warmth and energy enable him to inspire and lead others, said Minter.
Performance of the Year (Landstem Trophy): UCT Cycling (Coronation Double Century Team)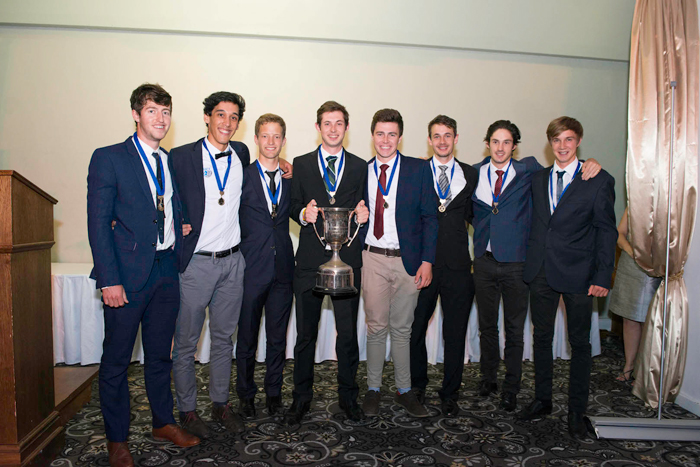 UCT Cycling Team
The Coronation Double Century is a highlight on the road cycling calendar, consisting of a 202-km team time trial. This year 250 teams competed, including top professional sponsored teams.
The UCT team finished 11th overall, just 24 minutes behind Dimension Data, a team consisting of some of the best cyclists in the world. The UCT team also managed to clock the fastest time over the last 80km, beating even the Dimension Data cyclists.
Only one of the nine teams that placed higher than UCT did not feature a full-time professional cyclist.
Team of the Year (Butterworth Cup): The U20 Ikey Tigers Rugby Team
UCT U20 Rugby Team
The U20 Rugby Team made history this season when they went wire to wire unbeaten, scoring a total of 529 points and conceding only 88 points as well as obtaining 67 league points out of a possible 70. They missed out on only three bonus points.
This year the team had a 14-game winning streak and were crowned the Western Province Super League U20 A League Champions, which, outside of the provincial competitions, is arguably one of the toughest U20 club rugby leagues in South Africa. This is only the third time that UCT has won this league.
Transformation and Development Trophy: Yacht Club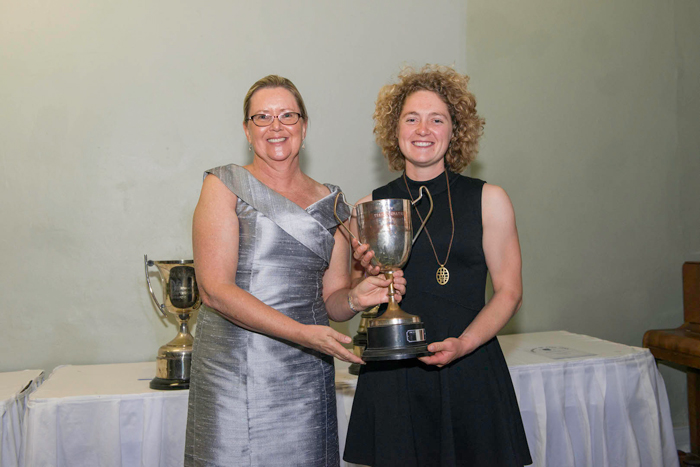 Nina Pienaar (UCT Yacht Club)
The Yacht Club started a Development Sailing Programme in 2016, which allowed high school students from Grade 10 upwards the opportunity to learn to sail and be involved with club activities.
The club also strove to break gender stereotypes about sailing. They ran an all-girls sailing campaign and entered the Lipton Cup Regatta. In Women's Month, they took part in the Women's Day Cruise.
Finally, the club also made an effort to make the sport more accessible to students with disabilities by collaborating with IkeyAbility to take students with disabilities for a cruise in Table Bay, teaching them the basics of sailing.
Turpin Cup, for service to sport: Muya Koloko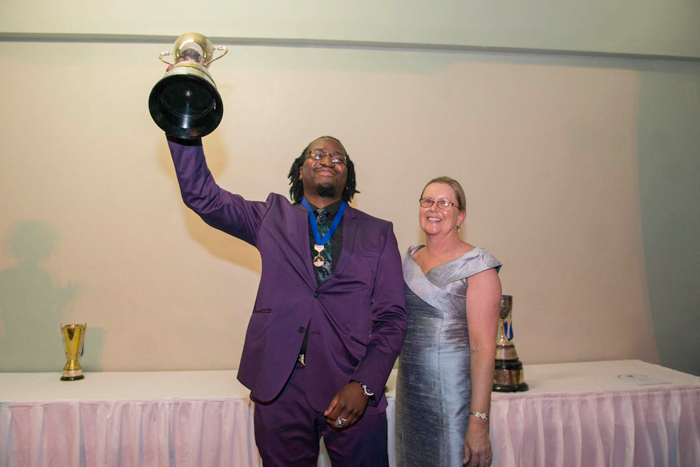 Muya Koloko
Ju-Jitsu exponent Muya Koloko was recognised for more than a decade of service to sport, and not just within UCT. He has been involved with the UCT Ju-Jitsu committee since 2004, which makes Koloko one of the longest-serving committee members of any club. He has also been a voluntary Ju-Jitsu instructor for the club since 2008.
In 2016 Koloko worked with the SRC to give self-defence workshops on upper campus, Medical campus and Forrest Hill residence. He has also been an active member of the Student Sports Union executive and has served as the Transformation, Development and Outreach Officer for the last two years. He spearheaded a range of successful initiatives, including, but not limited to:
- organising and running workshops on sporting club culture, gender and sexuality matters
- creating a transformation sub-committee so that clubs could have more hands-on engagement with the Student Sports Union regarding transformation and development
- organising disability sporting events to provide more opportunities for our students with disabilities to play sports, such as goalball, wheelchair rugby, blind football and sitting volleyball.
Best First Year: Lauren Nixon (Water Polo Club)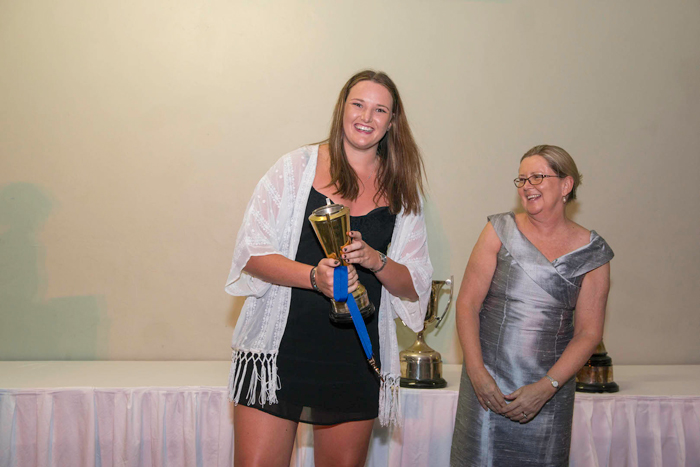 Lauren Nixon
Lauren Nixon was a pivotal member of the UCT Water Polo first team. If this wasn't difficult enough for a first-year student, Nixon was quickly selected to represent South Africa at this year's EU Nations Tournament in Prague, an outstanding achievement for such a young player. Nixon's performances at this international tournament helped the team win gold.
Further, Nixon was selected as part of the South African team that competed at the Olympic Qualification Tournament in the Netherlands. Although the team narrowly missed out on this year's Rio Olympics, being selected at 18 years of age to represent South Africa is a remarkable achievement.
Coach of the Year: Brevan Thompson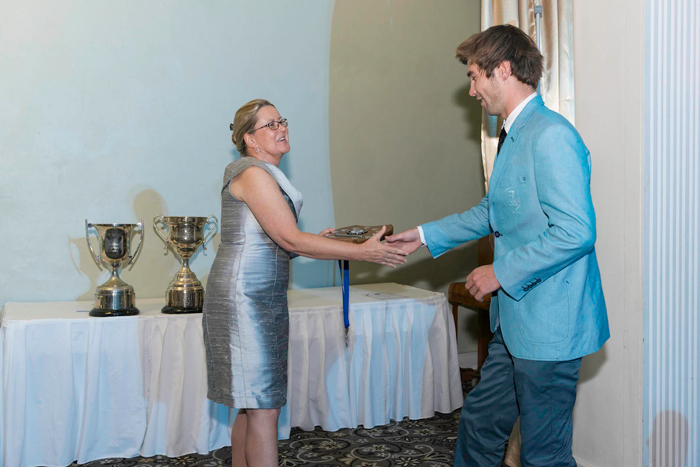 Brevan Thompson
Brevan Thompson was selected as the South African 470 Team Coach for the Olympic Games in Rio 2016, where they finished 20th overall.
As well as performing on the world stage, Thompson has been invaluable to the development and improvement of sailing at UCT since he started in 2012. He was involved in coaching the novice members of the club. During his time at UCT, Thompson helmed the UCT A crew to victory at the 2012, 2013 and 2014 USSA Tournaments.
*T44 is a classification for disability athletics that applies to an athlete who can walk with moderately reduced function in one or both legs, and for single below-knee amputations.
---
This work is licensed under a Creative Commons Attribution-NoDerivatives 4.0 International License.
Please view the republishing articles page for more information.
---