Many held placards on the Jammie Steps and plaza at noon today calling for engagement and dialogue to resolve the impasse between the university and student protesters.
The latter have led the call to shut down the university in their demand for free higher education. A small group of these counter protesters gathered among the silent protesters on the plaza.
UCT, like many campuses around the country, suspended classes earlier this month because of protest action. But the rolling protests have come at a critical time in the academic year.
UCT leaders such as the Chair of Council, Sipho Pityana, Vice-Chancellor Dr Max Price, and Acting Deputy Vice-Chancellor Professor Anwar Mall have warned of the dire implications should the university not reopen on 3 October. They urged the various campus communities to work together to find lasting solutions to the higher education crisis.
In his video message from London, Pityana stressed that "nobody can justify throwing to waste the financial sacrifice of families that have paid for students due to write exams at the end of this year". He added: "There can be no justification for compromising career prospects of completing students with offers to start their careers in 2017. It cannot be right that any of our students should lose a year of studying."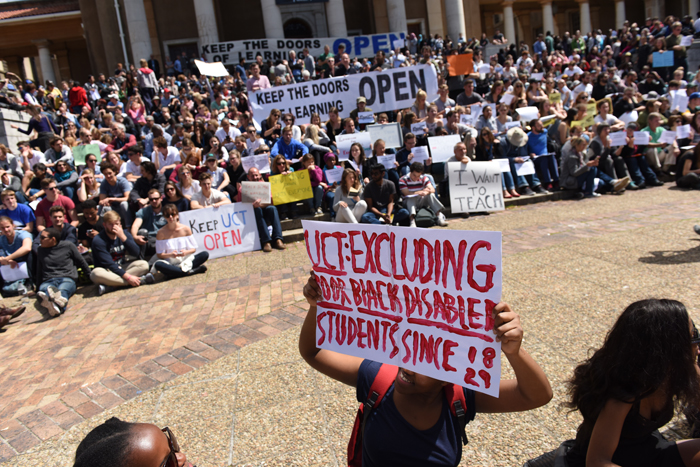 A small group of counter protesters also met on the Jammie plaza with a clear message: they would not allow the university to reopen on 3 October.
One student at the silent protest said: "I am here to fight for my education. I don't believe someone has the right to shut UCT down."
Another said: "I am here to preserve my right to an education. I will not allow others to infringe on my rights. I need my education to better myself for the future. More importantly, I am here to support everyone else's collective education."
Voicing his concern about violence, one student said: "I am supporting this silent protest because I believe that keeping the university open empowers the poor more than any violent protest can."
A staff member added: "I would like our students to graduate this year-end and the academic project to continue."
Earlier on Friday, a group of some 150 workers and students gathered in front of the Bremner building to hand over a memorandum to Vice-Chancellor Dr Max Price. Among the concerns expressed was the issue of insourcing and free higher education.
Story Helen Swingler. Photos Michael Hammond.
---
This work is licensed under a Creative Commons Attribution-NoDerivatives 4.0 International License.
Please view the republishing articles page for more information.
---