Over R1 million in funding and resources launches student start-ups overnight at the UCT Upstarts Idea Auction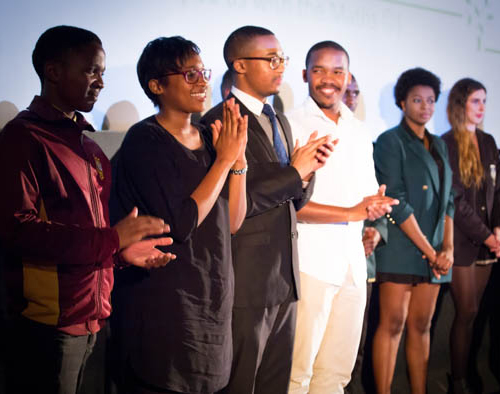 UCT Upstarts team Funda Fund (comprising, second from left, Gomolemo Malao, Tshepa Seqebo and Thapelo Nthite) raised R14 800 in university tuition fees at the Idea Auction for Liso Nyandu, a Grade 12 student at Joe Slovo High School.
Eight innovative student start-ups that are reimagining the educational landscape in South Africa raised just over R1 million in cash and in-kind support at the UCT Upstarts 2016 Idea Auction on Thursday, 8 September 2016. An overflowing crowd of business leaders, tech entrepreneurs, investors, changemakers, creative innovators and education officials showed their support for the student entrepreneurs at the live crowd-bidding event held at the Labia Theatre.
What makes these start-ups remarkable is that they have all been initiated by students at UCT. Rather than waiting until after graduation, these students took their first steps towards becoming social entrepreneurs by participating in UCT Upstarts – a "pop-up" social innovation platform that is now in its second year.
UCT Upstarts is the Vice-Chancellor's Social Innovation Challenge, which this year tasked students to come up with ideas to "Re-educate Education". Over 12 weeks from April to September 2016, students attended two lunchtime talk-shops, workshops and do-shops per week aboard a double-decker bus on UCT's upper campus. The programme is a joint initiative between Super Stage (a social innovation platform for students), the Bertha Centre for Social Innovation and Entrepreneurship (a specialised unit at the UCT Graduate School of Business) and the Office of the Vice Chancellor.
The programme introduced students to a diverse network of innovators, entrepreneurs, industry leaders and design-led innovation educators who shared their personal stories, gave practical and experimental workshops, and mentored the students through their process.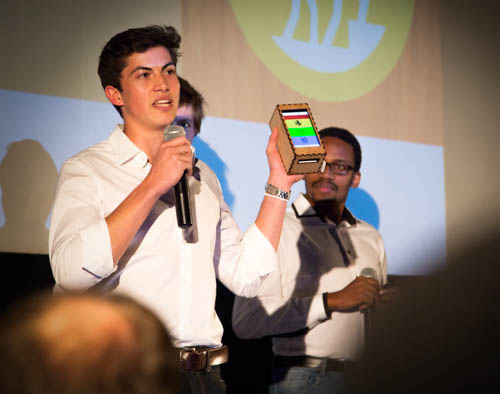 Nicholas Harrison of Pop Print shows off a mock-up of the thermal printer unit.
At the Idea Auction, eight teams of students pitched their ideas to a hand-picked audience of movers and shakers, who committed their expertise, resources, networks, incubation spaces, travel opportunities, media exposure and 'moola' to help launch them overnight from Upstarts to start-ups.
Social entrepreneur Gina Levy, founder of Upstarts and Super Stage, hailed the Idea Auction as a great success.
"We raised R97 050 in cash at the last count and just over R961 800 as value-in-kind," she said. "We believe our currency is opportunity – that's why Upstarts is creating businesses of the future now – ones that will challenge business as usual, influence new ways of thinking and improve the quality of thousands of people's lives in SA and beyond."
The eight start-ups launched at this year's UCT Upstarts Idea Auction are:
PlugEd – a low-cost credit-card sized Raspberry Pi computer pre-loaded with grade-appropriate educational content that township school children can plug into their TV at home.
Lwazi – an online on-demand tutoring platform that matches students to peer tutors on campus either face to face or using live-streaming.
Dadewethu ("my sister" in isiZulu) – sells and delivers pregnancy tests, sanitary products, condoms and lubricants to female students on campus, and runs an informational website and WhatsApp/phone line to educate women – and men – about female reproductive health.
Funda Fund – makes crowdfunding for university tuition more accessible to underprivileged high school students by helping them tell their stories and run strategic campaigns both on- and offline.
Pop Print – encourages intellectual development in schoolchildren by using point of sale receipt printers at participating supermarkets to generate locally relevant and affordable stories, puzzles and other resources.
FeedBack – an app that enables learners and peers to evaluate teacher performance and matches professional development opportunities to the teacher's needs.
The Uniform Exchange – provides affordable second-hand school uniforms to children in underprivileged communities.
En Route – an educational agency that exposes school children to inspiring role models through motivational talks and career guidance days.
Sponsors and partners-in-kind include the Bertha Foundation, Hasso Plattner Institute of Design Thinking at UCT, the SAB Foundation, Relate Bracelets, Standard Bank, Red Bull Amaphiko and City Sightseeing.
Dr Francois Bonnici, director of the Bertha Centre, said: "By crowdsourcing funding and resources, UCT Upstarts aims to make a tangible and immediate impact and build a movement of social innovation on campuses around the country."
UCT Vice-Chancellor Dr Max Price hailed the Upstarts participants for having the vision to be job creators rather than simply job seekers.
"These students are going out to be the employers and the innovators and creators of a new society. I was delighted to be part of this initiative again this year."
Visit the UCT Upstarts website for more information...
---
This work is licensed under a Creative Commons Attribution-NoDerivatives 4.0 International License.
Please view the republishing articles page for more information.
---