Former Constitutional Court judge Zak Yacoob, who was the speaker at the second of the June graduation ceremonies, urged those present to fulfill their constitutional obligations by working to create a truly non-racial, non-sexist South Africa.
Yacoob, who lost his sight at the age of 16 months due to meningitis, had a long and distinguished career as an advocate and anti-apartheid activist, before being appointed to the Constitutional Court in 1998.
In his speech, Yacoob reminded the gathering of some 330 graduands from the Faculty of Humanities that they were among the most privileged people in South Africa and that many millions were too poor even to consider an education.
"I hope that you have used your privileged position at this university wisely," he said. "Wisely, in the sense that I hope and trust that you learnt more about the subjects in relation to the humanities that you were involved in, that you learnt more than just a person who got a degree."
Be a good human being
In his view, the most important characteristics students should strive for are to be "a good human being" first, followed by being "an enthusiastic participant in the struggle for a fair and just society", and only in the third instance, a good student.
He added: "I hope you have learnt, not only about your discipline but about South Africa, society, the balance of forces and our own humanity.
"I hope you have also learnt that our constitution does not create the non-racial, non-sexist society that we hoped to have. That does not mean our constitution is useless – our constitution provides a vision for the future and obliges all of us to become truly non-racist and truly non-sexist."
He said he had to admit that when he was the same age as many of those present, he was "both a sexist and racist". "It was a difficult time because I had to work very, very hard with myself to understand who I was to become truly non-racist and non-sexist."
He said many South Africans led dual lives with a public and a private face – but it was time to get rid of that divide.
"Our constitution obliges us to contribute towards a better society," he said.
In his conclusion, he said: "Congratulations once again. Good luck to all of you. Have a wonderful life. Have a productive life. But old people like us require you – the bright, intelligent, creative youth – to contribute to our new creative future."
Distinguished teacher
Also at the ceremony, Dr Joanne Hardman in the School of Education received the Distinguished Teacher Award for her "ability to keep students engaged and individually mentor them to excellence".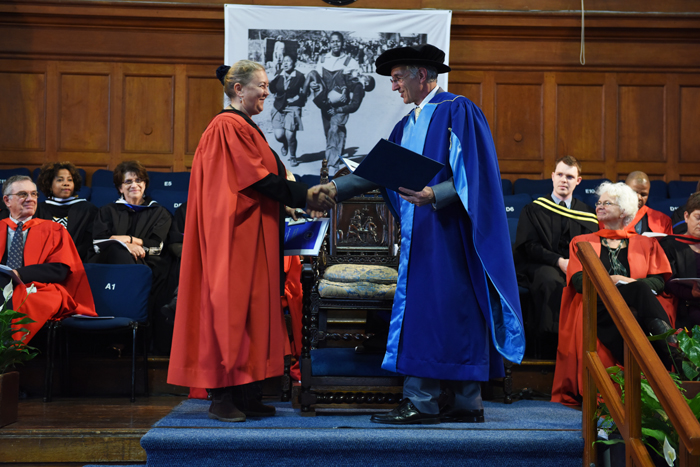 Dr Joanne Hardman receives the Distinguished Teacher Award from Vice-Chancellor Dr Max Price.
She was described as one of the world's most promising Vygotskian scholars, whose teaching and research was framed by cultural historical activity theory.
Graduands were awarded degrees in a variety of disciplines, from teaching to dance, drama, music, philosophy, politics, economics and social work.
Four doctoral degrees were also awarded – two in education and two in music.
---
Watch the recorded ceremony:
See a selection of pictures from social media:
---
This work is licensed under a Creative Commons Attribution-NoDerivatives 4.0 International License.
Please view the republishing articles page for more information.
---