When Sibusiso Pinky Sibindi was still in Grade 11, she participated in the making of a Dutch documentary about five South African children. The film was called Leaving Mandela Park and looked at how music and dance could help them to overcome their circumstances.
Pinky was chosen because she was a dancer – the others were a rapper, a violinist, an opera singer and a drummer. The documentary followed their day-to-day lives at home, in school and in their communities and focused in particular on their dreams.
When Pinky graduates, the documentary makers will be there again to record her achievement, although in a discipline some might suggest is as far from the arts as is possible.
On 15 June 2016 Pinky graduates with an honours in accounting, and she has set her sights on becoming a chartered accountant – just one more step on the road to achieving her dreams.
"It's not an easy road, but worth every stride," she says.
Dreaming big
Unlike some of the other participants in the documentary, hers is a success story.
Pinky believes that she has reached this point not only through focus and hard work, but also because her parents believed the one thing that mattered was education. They made the sacrifice to send her and her three siblings to the best possible schools.
"My dad always says people can take material things away from you, but what you put in your brain, no one can take away from you," she says.
When Pinky was young, her parents moved to Cape Town from Johannesburg to look for work and found themselves living in a shack in Imizamo Yethu in Hout Bay. Pinky's father bought and sold craft work, while her mother worked in a factory and later as a domestic worker.
Pinky landed a bursary to attend Kronendal Primary and then went on to Camps Bay High School, following in her sister Ntokozo's footsteps. Ntokozo graduated from UCT with an LLB and now works in Johannesburg as an attorney.
The first dream that she and her sister shared was to see their parents move out of their shack and today the family lives at Summer Greens with the support of Ntokozo.
Pinky's second dream was to become an accountant, which is something she was encouraged to pursue by her mother, who was a church treasurer.
Currently she is doing her first year articles at Ernst & Young while preparing for her Initial Test of Competence exams, which is the first step on the road to becoming a chartered accountant. Three years of articles and two sets of exams lie ahead, but Pinky is undeterred.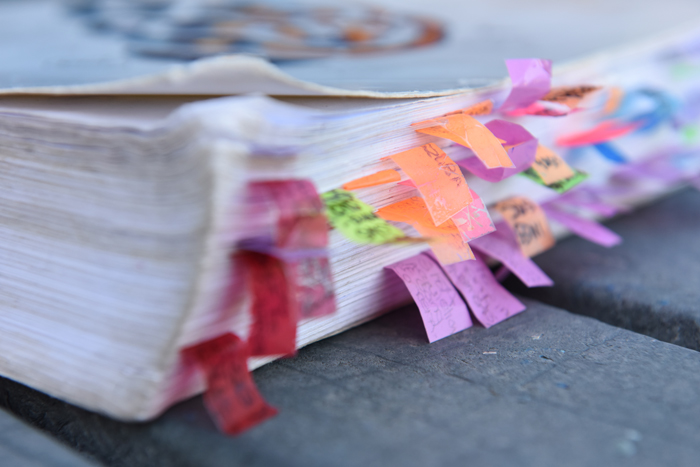 Well-thumbed and with lots of tags, this is one of the many tomes Pinky has been carrying around as she prepares for her board exams to become a chartered accountant.
The hard yards
Pinky sees the synergy between the discipline of dance and the dedication needed to get through an accounting degree.
Initially, she took part in extramural activities, like Res4Res (a theatre face-off of short plays written and directed by students at UCT's residences), but ultimately the demands of the course dictated her life. For the past few years it's been a case of all work and no play – so much so that she regards herself as having been "away from people".
"It was me alone in a corner with books," she says. Now that she's working, she says at least she can take "guilt-free" time off over the weekend.
She is currently preparing to rewrite the Board 1 exam. UCT has stepped in to help former accounting students by offering them an eight-week boot camp which entails attending classes from 18:00 to 20:00 and writing a test on the weekends.
A devout Seventh Day Adventist, she writes these exams on Sunday.
Her religion too has played its role: "I could not have made it all without God. That has always been my main source of strength and focus and so my experiences are incomplete without acknowledging His hand in everything."
As for UCT's support, she says, "They're still there for us, which is super nice. I still feel like I can walk into anyone's office and ask questions."
With her graduation imminent, Pinky is not about to rest on her laurels. There are at least two more big dreams on her list. One is to travel overseas, which she hopes to do on a work exchange through her current employer.
The second?
"Eventually after everything, I want to be my own boss. I want to create jobs. I want to be an employer," she says.
Story Andrea Weiss. Photos Michael Hammond.
---
This work is licensed under a Creative Commons Attribution-NoDerivatives 4.0 International License.
Please view the republishing articles page for more information.
---