In 1946 Myfanwy Williams wrote a letter to Einstein, which led to her studying in Cape Town. The newsroom took some time out to speak to her daughter, Julia Wood, a conservationist in Cape Town and UCT alumnus who was hugely inspired by her mother.
When she was just 16, Williams' fascination with the stars and science prompted her to write to Einstein. She wrote a letter to him in which she spoke about how much he inspired her. She also shared with him her passion for the stars, her dreams of becoming a scientist, and told him the story of how she would often stay up late with her friends studying the night sky.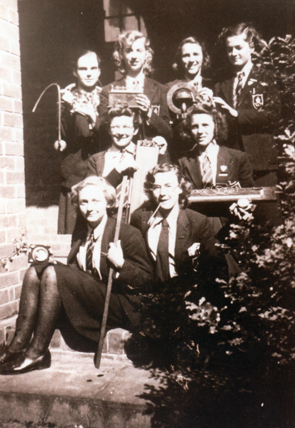 Myfanwy (top row, second from the left) in her school days.
To her astonishment, Einstein responded with an encouraging note, even though he mistakenly referred her to as "Sir". She eagerly wrote back, "confessing" that she was a girl. In his second correspondence, Einstein told her that he did not mind her being a girl, and that she should not mind either. "One or two of her school friends also wrote to him, but he corresponded really with my mom," says Wood.
"In those days there also was no motivation to study further," says Wood. Although it was rare for a woman to go to university in 1948, Einstein's words inspired Williams to study further. She studied genetics at the University of Stellenbosch and graduated cum laude despite being the only woman in the class. She also received the chancellor's award for that year.
Strong believer in education
While astronomy was her passion, Williams was forced to compromise and settled for studying agriculture with a major in genetics.
"Her father would only pay for her to go to university if she studied agriculture. He had a farm and hoped she would take over the running of it," says Wood. After graduating, Williams worked for Tidmarsh, a well-known agriculture scientist who was studying the genetics of red grass (Themeda triandra), and went on field trips with Acocks, a famous vegetation scientist.
Williams was a strong believer in education and an avid reader. Before passing away in July 2014, she even had plans to further her studies. "In the end she decided that her maths would not be up to current standards – having matriculated 40 years before," says Wood.
In 1958 Williams settled down, started a family and focused on one of her other passions – animal rights. Now, the "crusader for animal rights" was able to use the knowledge she had gained from her studies. "Mom showed that there was more to life than fame and never wanted to be recognised or get any reward. She just wanted to make a difference on the ground," says Wood.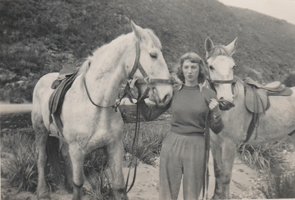 Myfanwy in 1987 at Solva, the family farm owned by her grandfather.
Williams served on the committee of the Animal Welfare Society for ten years, was one of first trustees of Beauty without Cruelty and helped to launch both the Dolphin Action and Protection Group and the South African Association against Painful Experiments on Animals. She also served for a period as the chairman of the board for the Western Cape SPCA.
It runs in the family
Williams had three children and expected them all to go to university. Wood says: "My sister and brother both studied in the Faculty of Humanities at UCT – both obtaining their PhDs – and are now professors. My sister is in the English department at the University of Fort Hare and my brother is dean of the Essex Business School in the UK."
Wood, being very close to her mother, followed in her footsteps. She studied zoology and botany at UCT and feels that there are far more opportunities for women now than there were before. "Currently access to higher education issues don't have as much to do with gender but other issues which are also valid," says Wood.
Wood's first love is biodiversity conservation, and she enjoys being able to make a difference in the conservation field by contributing to securing and expanding South Africa's conservation estate for the future. Although her mom was unhappy that she didn't follow suit and go into animal rights, she feels that her link with animal rights is evident in the conflict animal programmes she currently runs. "At the end of the day no matter what wildlife I manage, it needs to be as humane as possible," she says.
Wood has two sons, Eric and Thomas, who have also taken a keen interest in science. Thomas received a special award at the Eskom Regional Science Expo in 2015. "He was 12 at the time and was awarded a special award by the UCT Vice-Chancellor Dr Max Price, and also won a gold award," says Wood.
Her shark-loving nine-year-old, Eric, wants to channel his passion for nature and ecology into becoming a marine biologist. "He is also very aware of current conservation issues and has inherited my mom's animal rights sentiments," says Wood.
Perhaps Myfanwy Williams' outlook can be captured by one of her favourite sayings, coined by Mahatma Gandhi: "The greatness of a nation and its moral progress can be judged by the way its animals are treated".
---
This work is licensed under a Creative Commons Attribution-NoDerivatives 4.0 International License.
Please view the republishing articles page for more information.
---