Somalia is often held up as a textbook example of a 'failed state'. However, there are other stories to tell – not least about the country's thriving ICT sector and growing economy.
"Somalia and the Somali people have long been misunderstood internationally," says Mohamed Elmi, who is in the second year of his Commerce PhD programme in Information Systems. "I believe I have a responsibility to share the nuances of my country and its people." Elmi's research focus is on the potential of Somalia's thriving information and communication technologies (ICT) sector to spur stability and economic development in the war-torn African state.
Somalia's recent history is a tragic one: ripped apart by civil war in 1991, the country has had no effective, functioning state apparatus for over 20 years, creating a void filled by warlords who rule by ideology and violence. Today Somalia is the textbook case of a 'failed state' – a country equated with militant Islamic group Al Shabaab, and international piracy. But there is another story Somalia has to tell: a story of a growing economy and a thriving ICT sector, which according to Elmi, may offer a glimpse of Somalia?s path to future stability and prosperity.
In the last 15 years, the Somali private sector has built an ICT sector that offers among the most affordable access on the African continent, according to a report by the Centre for Global Communication Studies at the University of Pennsylvania. This growth is demonstrated by the fast-rising number of fixed and mobile telephone services, increased access to and use of computers, and a surge in the number, speed and reach of internet service providers. According to estimates by the United Nations, access to mobile telephones in Somalia rose from 1% in 2000 to nearly 50% in 2013.
The most commonly cited explanation for this flourishing industry in such a hostile territory is the lack of regulation. Most ICT companies operating in Somalia are Somali-owned and operated. "These companies have invested significantly smaller amounts than those in neighbouring countries, but are reaping profits far greater than their counterparts elsewhere on the continent," says Elmi. ?This growth has been facilitated by the advancement of technology that can be easily set up and installed without the need for large investment infrastructure." 'Cellphone companies in a suitcase' have emerged to fill a need in remote communities at relatively low cost, because they do not have to pay excessive taxes to the state.
"The regulation and red tape we see around ICT access in so many countries has hampered the adoption of new technologies," explains Elmi. This connectivity, he adds, is affecting both the economic and the social development of the country.
The ICT companies recognise the importance of public support. According to the Centre for Global Communication Studies report, many of these companies are working to ensure goodwill by filling roles traditionally reserved for government. This includes addressing Somalia?s illiteracy and education challenges through programmes such as 'ICT4education' in schools in both urban and rural areas. They have also partnered with the World Health Organisation and United National Children?s Fund to promote vaccination, in the battle to eradicate polio.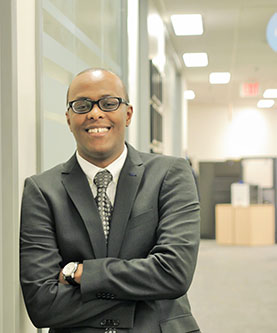 Mohamed Elmi.
The image portrayed of Somalia may be one of chaos and poverty, but there are remarkable signs of resilience hidden within the narrative of despair. The ICT sector may be the most obvious, argues Elmi, but another is the wider Somali economy, which has been growing at an average rate of 2.8% since the year 2000 (albeit off a very low base).
"I foresee Somalis embracing the power of technology as a way to address economic stagnation," says Elmi. "ICT could help encourage peace in the fragile capital, as well as offering a cost-effective way to educate youth and boost an economy that currently cannot absorb the large unemployed population."
In order to carry out his research, Elmi relies on data collected by United Nations agencies, donor countries, non-governmental organisations and private companies. This is because Somalia has no centralised government apparatus to collect statistics about the economy, population and other indicators. "Where the data do not exist," says Elmi, "I will return to Somalia to gather that information."
The objective of Elmi's thesis is to expand our theoretical understanding of the necessary conditions that enable the adoption of ICT in spaces that usually would not necessarily allow for success.
"The Somali people have embraced these new innovations, adopted new technology, expanded access and are even breaking new ground in the delivery of social services," says Elmi. "I believe Somalia offers a new paradigm that has not been closely investigated. I will use technology as an entry point, to explore new definitions of statehood and understand how communities can thrive in the context of chaos."
Story by Natalie Simon. Main photo by Arne Hoel/World Bank. Photo of Mohamed Elmi supplied.
---
This work is licensed under a Creative Commons Attribution-NoDerivatives 4.0 International License.
Please view the republishing articles page for more information.
---