This issue of Monday Monthly profiles CHED's work from the student point of view, with a special focus on how we strive to provide 'enabling pathways' that extend from school right through to the world of work.
The importance of providing students with supportive 'pathways' is highly topical in higher education discourse, as institutions around the globe are wrestling with the challenges of high drop-out rates, especially in STEM areas of study (science, technology, engineering and mathematics). While CHED has a good national and international reputation, it is important that we continue to benchmark ourselves in a rapidly evolving area of scholarship and practice.
CHED's wide range of services – from FYE to Extended Curricula, Global Citizenship to Career Expos – recognises two important realities about UCT's students. The first is that our students are amazing – they are some of the most talented and academically capable students in the country and from across the continent. They bring with them immense cultural and social capital, given their diversity of background and experiences. As you will read in the write-ups, many of CHED's services seek to draw out these strengths and to provide opportunities for students to fl ourish. As they flourish – as students, leaders, activists, researchers – they contribute to UCT's excellence. They are in fact an essential contributor, if not the essential contributor, to UCT's excellence.
The second reality is that many of these very same students arrive at UCT against great odds given the ongoing legacy of unequal provision of education. Even though most of our students come from good public and private schools, the pernicious effects of inequality continue to manifest in feelings of alienation and frustration, and unacceptable differentials in academic performance between white and black students. This is unacceptable. If UCT's commitment to redress in its admissions policy is to translate into equity of outcomes then there must be unequivocal support for students all along the pathway.
This is what CHED is about.
CHED (through its ADP programmes based in each of the faculties) has focused predominantly on the transition from school to university, but increasingly the pathway extends further up the curriculum. More recently we have begun to work at the postgraduate level, providing intensive support for the writing that is so critical to the success of postgraduates. Many of CHED's services extend to all students – FYE, Writing Centre, Career Services, Vula and its 'products' – ensuring the continual improvement of the teaching and learning experience. CHED's reach includes the diverse audiences of Summer School and its extension programme, which seeks to make the intellectual resources of UCT available to those beyond its walls (extra-mural). Most recently through MOOCs our 'students' are all around the globe.
CHED's contribution to transformation – to helping UCT meet its commitment to equity of access and equity of success for students, both at university and in their chosen careers – is as relevant now as it has ever been.
To find out more about the Centre for Higher Education Development, visit ched.uct.ac.za and follow @CHED_UCT on Twitter. Alternatively, get in touch directly on 021 650 2645 or ched@uct.ac.za.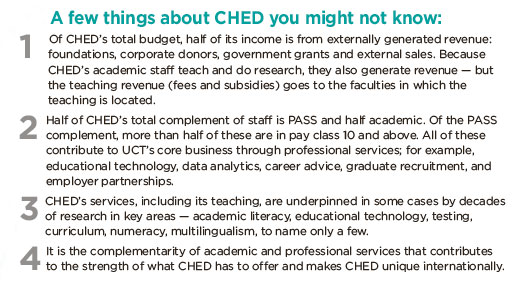 Read more stories from the July 2015 edition.
---
This work is licensed under a Creative Commons Attribution-NoDerivatives 4.0 International License.
Please view the republishing articles page for more information.
---