That four groups won the 2014 UCT Collaborative Educational Practice Award for collaborative educational practice might testify to the ongoing drive to break through silos in teaching and learning at the university.
The UCT award for collaborative educational practice is open to two or more UCT staff members who have collaborated on a particular project to enhance the teaching and learning environment. The projects need to have been sustained for several years and to have had a positive impact.
Meet the four groups of scholars recently honoured by the university.
Terminology and symbols in mathematics and dynamics
A group, led by Dr Tracy Craig in the Faculty of Engineering & the Built Environment, designed and implemented learning and teaching interventions that led to a significant improvement in student success rates.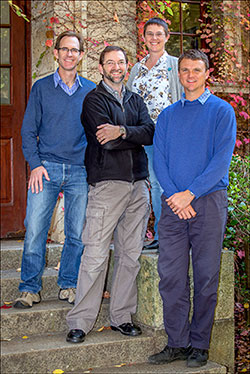 From left, Dr Bruce Kloot, Trevor Cloete, Dr Tracy Craig (behind) and Pierre le Roux.
They did this after investigating student learning difficulties in relation to a specific course in mechanical engineering, namely MEC2023F/S Dynamics.
Craig, who works on the Academic Support Programme for Engineering in Cape Town (ASPECT), collaborated with colleagues Trevor Cloete, Pierre le Roux and Dr Bruce Kloot.
The group pooled their insights, experience and knowledge to address issues such as the differing uses of terminology and symbols in courses in mathematics and dynamics.
Student success was also witnessed in follow-on engineering courses that were not the particular focus of the project.
'Capstone' accounting course
Paul Maughan led a team from the College of Accounting in a collaborative project that launched and monitored an innovative 'capstone' course for students studying to become chartered accountants.
Paul Maughan. Absent are Shaun Parsons, Alex Watson, Goolam Modack, Sumaya West, Carlos Correia, Geoff Everingham, Michael Harber and Delano Gallagher.
The project analysed the new competency framework of the SA Institute of Chartered Accountants, and asked how their courses could provide students with the broad range of skills they required.
There was the logistical challenge of dealing with a class of 450 students, as well as the need to maintain a realistic load in the programme as a whole.
They achieved this, inter alia, through designing tasks that required students to bring insights from all of their academic disciplines to the analysis of annual financial statements of several listed South African companies.
The approach has been enthusiastically acclaimed by students and staff, and a sustainable teaching model has been put in place.
The team comprised Maughan, Shaun Parsons, Alex Watson, Goolam Modack, Sumaya West, Carlos Correia, Geoff Everingham, Michael Harber and Delano Gallagher.
Sustaining the planet's resources
Carolyn McGibbon (Dean's Office, Faculty of Commerce) with Gwamaka Mwalemba (course convenor) and Assoc Professor Elsje Scott (Department of Information Systems) were lauded for a sustainability-based project that was recognised for educational 'best practice' at the 2015 World Economic Forum in Davos.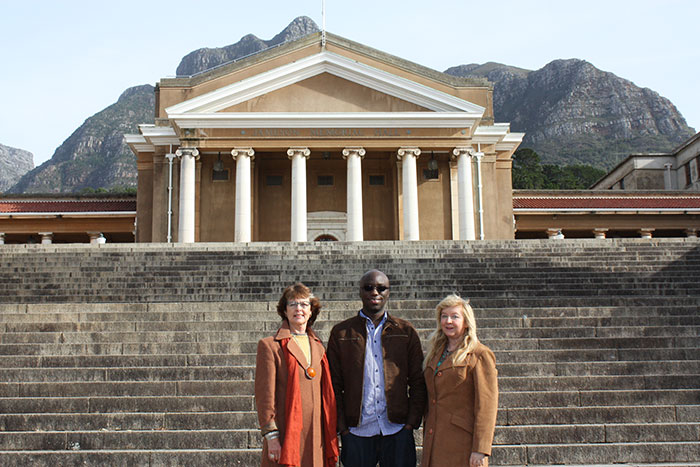 From left, Assoc Professor Elsje Scott, Gwamaka Mwalemba and Carolyn McGibbon.
The project was responding to challenges in the context of information systems undergraduate courses taken by both commerce and science students.
The challenge was to incorporate concepts of sustainability across the curriculum, and achieved this by focusing on the carbon footprint as a proxy for sustainability in the UCT context. This involved further collaboration with a whole range of people at UCT, ranging from within faculties to the Information and Communication Technology Service, Properties and Services Department and the Energy Research Centre.
Students engaged with real UCT data and conducted their own research, leading to the course receiving highly favourable reviews, including the honour at Davos. In addition, the collaboration has led to three peer-reviewed papers to date.
Managing pesticides across disciplines
Assoc Professor Hanna-Andrea Rother, based in the Centre for Environmental and Occupational Research in the Faculty of Health Sciences, led a group that received the award for developing a highly successful postgraduate diploma in pesticide risk management.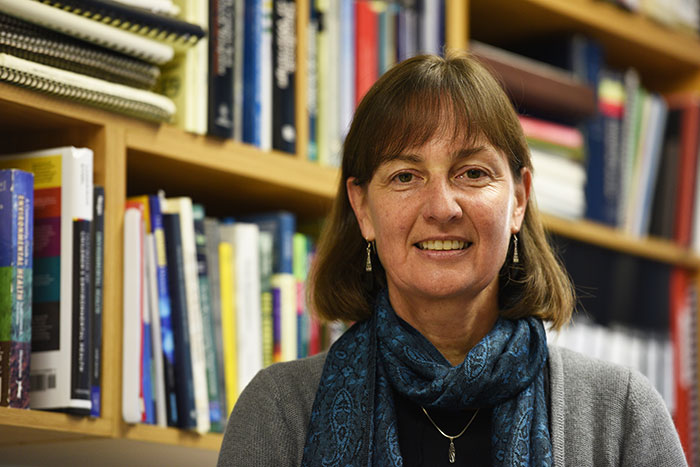 Assoc Professor Hanna-Andrea Rother. Absent are Gregory Doyle and Shanali Govender.
Rother and her team, Gregory Doyle of the Educational Development Unit and Shanali Govender in the Centre for Innovation in Learning and Teaching, addressed a challenge set by the United Nations Food and Agricultural Organisation (FAO) to establish a programme to boost the capacity of low- and middle-income countries to implement FAO/WHO codes of conduct related to pesticide management.
The group met this challenge by not only blending cross-disciplinary content and skills, but by creative online communication and teaching approaches, including innovative ways of using UCT's Vula environment, WhatsApp and similar media.
This allowed for a blend of on-site and in-the-field teaching, with, at times, virtual discussions taking place with as many as 360 online participants from countries in Africa and South America. The course has been acclaimed for not only providing effective training, but also inducting participants into the community of pesticide risk management professionals.
Story by staff reporter. Photos by Michael Hammond and supplied.
---
This work is licensed under a Creative Commons Attribution-NoDerivatives 4.0 International License.
Please view the republishing articles page for more information.
---