Home ownership is associated with a sense of security in an unpredictable world. But recent research suggests that property ownership in and of itself provides no real poverty alleviation, either direct or indirect. This finding holds very real implications for policy in countries such as South Africa, where government is rolling out housing subsidies to build low-cost housing for the country's poorest citizens – commonly referred to as 'RDP' (Reconstruction and Development Programme) houses.
As part of his PhD research, based at UCT's Centre for Social Science Research and Sociology Department, Dr Singumbe Muyeba investigated the effects of real property rights on urban poverty in Cape Town's Khayelitsha township and in Matero township in Lusaka, Zambia. His particular interest was in the economic, social and human capital effects of property titling (real property ownership through the possession of a title deed) and social upliftment projects such as informal settlement upgrading, which claim to be a conduit to poverty reduction.
"There used to be a number of benefits associated with property ownership, such as health and improved social status," says Muyeba, currently a visiting lecturer at Bridgewater State University in Massachusetts, USA. "But new homeowners actually experienced a worsening of tenure security because of the costs of property ownership."
The trouble, explains Muyeba, is that the long-term costs of owning a house are hard to bear, particularly for older residents.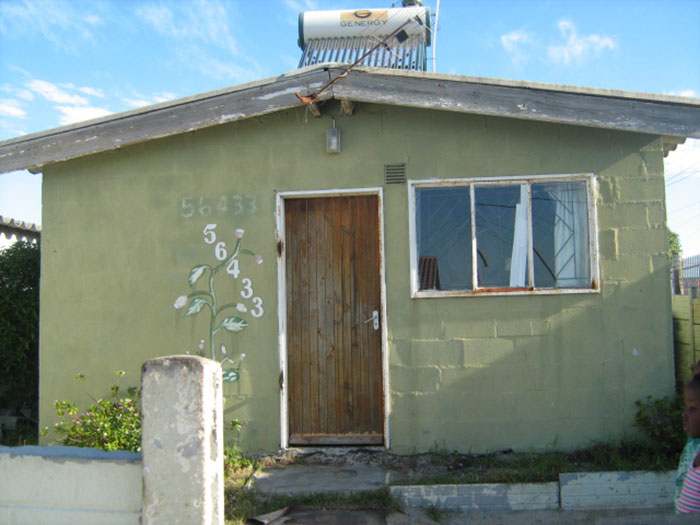 An RDP house in Kuyasa, Khayelitsha. A surprising finding was an increase in the number of teenage pregnancies among the beneficiaries of housing programmes.
"With low or no income, few can get access to the loans they need in order to build extra rooms for renting out, or upgrade their houses to increase value. In the meantime, the costs of property rates and other municipality fees, and the accompanying threat of dispossession – particularly in Lusaka – put financial pressure on those who can least afford it."
However, Muyeba did find a number of positive effects resulting from property ownership. Better housing environments resulted in better physical health, higher levels of political awareness, and greater neighbourhood satisfaction. His most surprising finding, however, was an increase in the number of teenage pregnancies among the beneficiaries of these housing programmes.
"The best explanation I could find was that houses built of brick and mortar provide more privacy for intimate relationships than shacks do," says Muyeba.
Muyeba is often asked about the policy consequences of his research, but he says there is no straightforward answer. His research clearly shows that housing cannot alleviate poverty if there are no jobs and no means to make a living. Providing employment opportunities for people with unskilled labour in an economy that demands skilled labour – such as South Africa's – is therefore essential.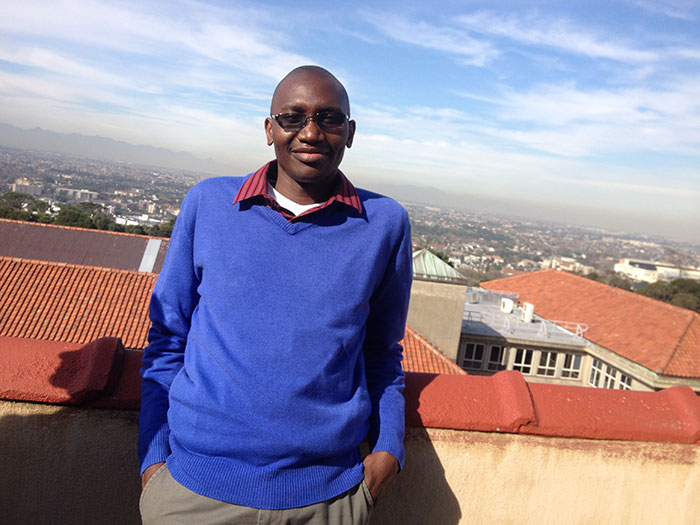 Singumbe Muyeba.
"We need to see real opportunities that offer people financial stability," stresses Muyeba.
He also argues for the establishment of a state fund to provide low-interest credit to beneficiaries of subsidised housing programmes. He points to research in Peru and Indonesia that demonstrates the success of such programmes.
"Finally, not all situations warrant the provision of freehold title," says Muyeba. "Policymakers in developing countries such as South Africa and Zambia need to go beyond the dichotomy of legal ownership versus non-ownership. In some cases, pre-existing tenure arrangements may be the best option for residents."
Story by Natalie Simon. Images courtesy of Singumbe Muyeba.
This article is featured in the latest Research at UCT newsletter. Be the first to get the latest research news by subscribing.
---
This work is licensed under a Creative Commons Attribution-NoDerivatives 4.0 International License.
Please view the republishing articles page for more information.
---