South Africa stands at the centre of a global TB epidemic that is devastating the health of millions and their communities. Researchers at UCT are working with colleagues at Oxford University, health workers, and community volunteers, in the hunt for an urgently-needed new vaccine.
Brewelskloof Hospital rests in secluded grounds on the outskirts of the town of Worcester, in the Western Cape.
Built as a sanatorium in 1948, its 199 beds treat just one disease – tuberculosis.
In many parts of the world, including South Africa, the fight against TB is far from won. In Worcester and its surrounding area, a semi-rural region with a population of around 350 000, almost one adult in 100 will get TB every year. The rate among children is more than double that.
A child's growth chart, standing in a Brewelskloof clinic room, is testament to the prevalence of the disease. Brightly coloured, with friendly pictures for the children awaiting measurement, it also advises parents of early TB warning signs to watch for. TB is slow to take hold – one expert calls it 'insidious' – so the disease can be far advanced when it is detected.
TB has always been a presence for the Worcester community. The arrival of HIV, now affecting one person in 10, has escalated the problem. Across South Africa as a whole, HIV is now a complicating factor in some 62 per cent of TB cases.
According to Associate Professor Mark Hatherill, "In Worcester, every family knows someone – a relative, a neighbour, a friend – who has or has had TB. While mortality is lower when not associated with HIV and when patients access treatment early, people are still sick for a long time. They can't work, they lose their jobs – it's what makes TB a social ill as well as a physical one."
Hatherill is director of the South African Tuberculosis Vaccine Initiative (SATVI) at UCT, the largest dedicated TB vaccine research group on the African continent. The most commonly-used TB vaccine, BCG, has been around since 1921, and has limits. It does not guarantee lifetime protection and is not effective against the major form of pulmonary TB in adults who transmit the disease. A successor vaccine is needed – urgently.
Professor Helen McShane, of the Nuffield Department of Medicine at Oxford, has been working with SATVI since 2005. With other partners, including non-profit development partner and co-funder Aeras, they have built a system of trialling vaccines, based at SATVI's unit in Worcester and with the active participation of the local community.
The partnership is now on its fifth trial together. The most recently completed trial involved some 3 000 babies in and around the Worcester. Participating families are found and recruited by local volunteers. McShane says: "Without the community's involvement, we simply couldn't test these vaccines. It is critical that the trials are conducted well, and to the appropriate ethical and regulatory standards. The reputation SATVI has built up over years within the Worcester community is invaluable in this regard."
For one of those volunteers, Belinda Ameterra, chairperson of Worcester's community advisory board for SATVI, the trials have an important social role. A sales executive for a local furniture company, she brings commitment and compassion to her recruitment work.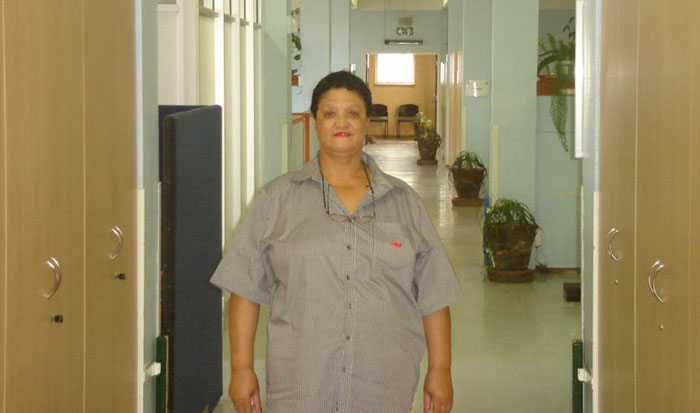 Belinda Ameterra leads the community effort to recruit volunteers for TB trials.
Belinda explains: "People are usually very afraid of their health status. We have to comfort them and tell them it's not that serious to get themselves tested.
"We are talking about some of the most vulnerable people in the most rural areas, who are jobless and most insecure about their status. You have to explain to them that there is life after you have accepted your health status. You almost have to hug that person and make them feel it is worth it. It makes a huge difference in that person's life, it makes them feel wanted."
Each trial's principal investigator gives a monthly update on progress to the advisory board, which has grown to 30 members. Belinda says: "We are supposed to have just 20, but what can you do if people are eager to help?"
Linda van der Merwe, SATVI's resource manager and a nurse at Worcester, shares that motivation. She was working as a nurse in the impoverished Eastern Cape in the early 1990s when HIV triggered an explosion in TB cases.
She explains: "It was such a problem. I didn't feel I could have an impact. All I could do was see my patients and see they took their medication. When I realised there was research at UCT that I could take part in, I applied for a position as a nurse, because I would dearly like to see TB eradicated. I really do believe that some day it will happen."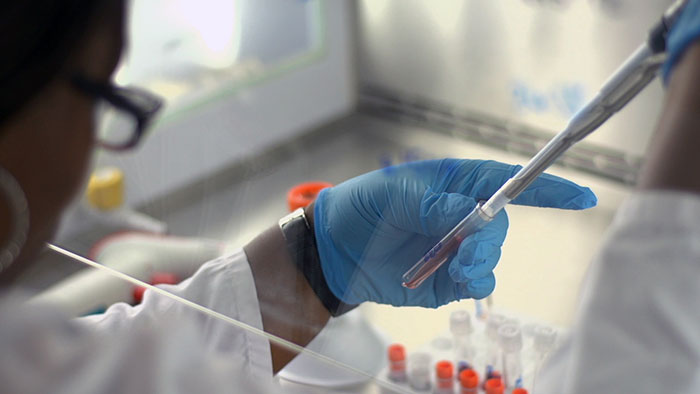 Testing at SATVI, the largest TB vaccine research group in Africa.
The most recent trial found a vaccine developed by Professor McShane's team to be safe, but not improving on BCG-induced protection from the disease. Nevertheless, the team feels that a lot has been learned.
Professor Valerie Mizrahi, director of UCT's Institute for Infectious Diseases and Molecular Medicine (IDM), which includes SATVI, says: "We had some extremely important results. We know that the induction of a T-Cell response is necessary, but not sufficient, for protective immunity. We now need to think outside the box for a different approach."
So the hunt continues, with results from SATVI feeding into Professor McShane's laboratory work in Oxford. SATVI are developing a new approach, running smaller-scale trials of a number of vaccines in tandem, saving time and allowing the most promising candidates to progress. Meanwhile, Professor McShane's team is investigating the possibility of a nebuliser vaccine, targeting TB directly where it strikes – in the lungs – rather than via the bloodstream, as most other vaccines do.
Mizrahi describes the researchers as "impatient optimists" – confident that a vaccine will be found one day, but aware of the urgency of the situation. South Africa has a national rate of 860 cases per 100 000 people. The mortality rate is 48 patients per 100 000, rising to 1 211 for cases involving HIV.
McShane describes South Africa as "the epicentre of the global TB epidemic". India, Indonesia, Nigeria, China and many other countries are struggling with the disease as well. South Africa is the ideal location for research partnerships, says McShane. It has infrastructure at developed-world levels, including liquid nitrogen for freezing vaccines, and other resources necessary to meet 21st-century regulatory standards.
Above all, there is SATVI, and the expertise they have built in conducting trials. "SATVI have led the world in TB vaccine research," says McShane. "Their methods are now being copied in Kenya, Senegal and Uganda. We have gained so much momentum and learned so much together. As a field we have made enormous progress in the last 10 years. But there is much more work to be done."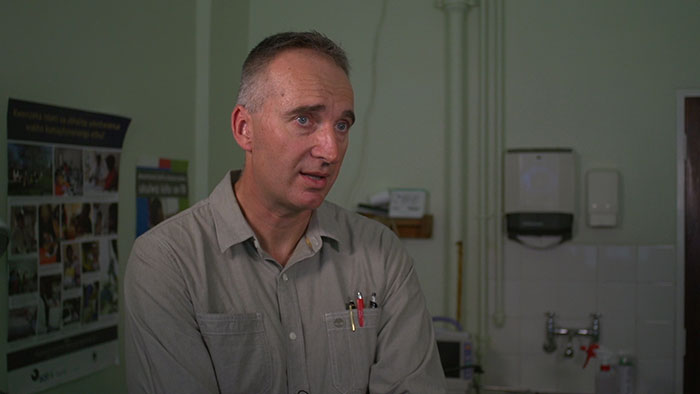 Associate Professor Mark Hatherill.
Associate Professor Mark Hatherill is also conscious of the task still facing the team. "Tuberculosis was one of the first microbes to be identified, yet there is so much we don't understand about it. How does it develop? What puts people at risk from it? How can we best diagnose it? How can we protect people from it? I am optimistic, mainly because there's more work being done. We are not at the beginning of the road, we're some way down it – but there's some way to go."
Linda van der Merwe, the nurse who was prompted to join SATVI after witnessing infant mortality in the Eastern Cape, agrees. "Having seen the effect HIV had on TB, this is so important. This is one disease that really needs to go."
Story and video courtesy of the University of Oxford.
This article is featured in the latest Research at UCT newsletter. Be the first to get the latest research news by subscribing.
---
This work is licensed under a Creative Commons Attribution-NoDerivatives 4.0 International License.
Please view the republishing articles page for more information.
---