The Keith Grainger Memorial UCT Open Squash Championships was bigger than ever this year, with 78 male and 32 female players competing. The tournament also saw ten under-14 players taking part in their first-ever major event.
On the last day of the tournament Natalie Grainger, Keith's sister and coach of the American national women's team as well as a former world #1 player, presented a squash coaching session attended by learners from across the Western Cape together with their coaches: "I am so pleased to be here contributing to ensuring that up-and-coming youngsters don't need to leave South Africa to play international squash, as I had to. My brother, Keith, loved his time at UCT; he made so many friends here and contributed wherever he could, as barman, a committee member and organiser of the first ever UCT squash tour to the USA whilst fighting bone cancer. His resilient spirit shone through in everything he did. This event is so close to my parents' and my hearts and his spirit lives on. It is really special to be able to remember my brother in this way."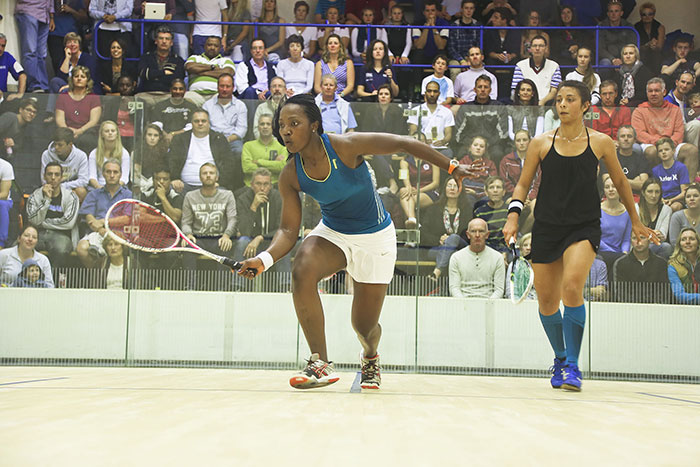 South African #1 squash player Siyoli Waters (left, ranked 35th in the world) is seen here beating her Egyptian opponent Farah Abdel Meguid, ranked 75th in the world, in the nail-biting women's final. Siyoli's victory meant this is the third consecutive year that she has come out tops at the tournament.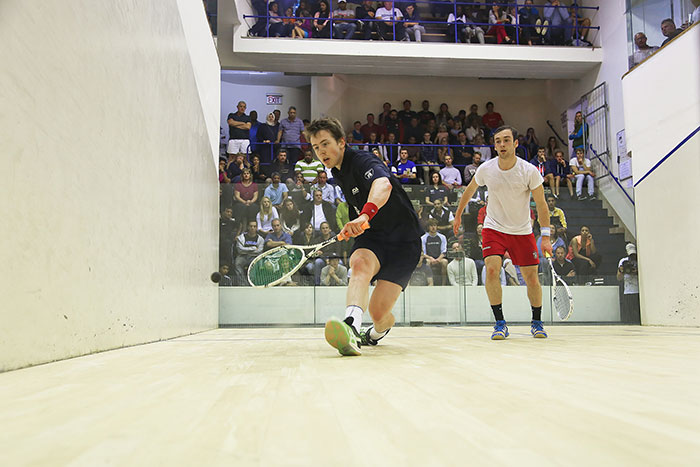 Nathan Lake (front) was the winner of the professional men's final, in which he competed against Angus Gillams. After the match he said, "I would like to thank all my opponents this week, especially Angus in the final. I had to work really hard to win the 3rd after leading 7-0 – you never gave up and I had to remain focused and was relieved to win the match. This is my 3rd time at this event in Cape Town, and I love it here! It is such an enjoyable experience."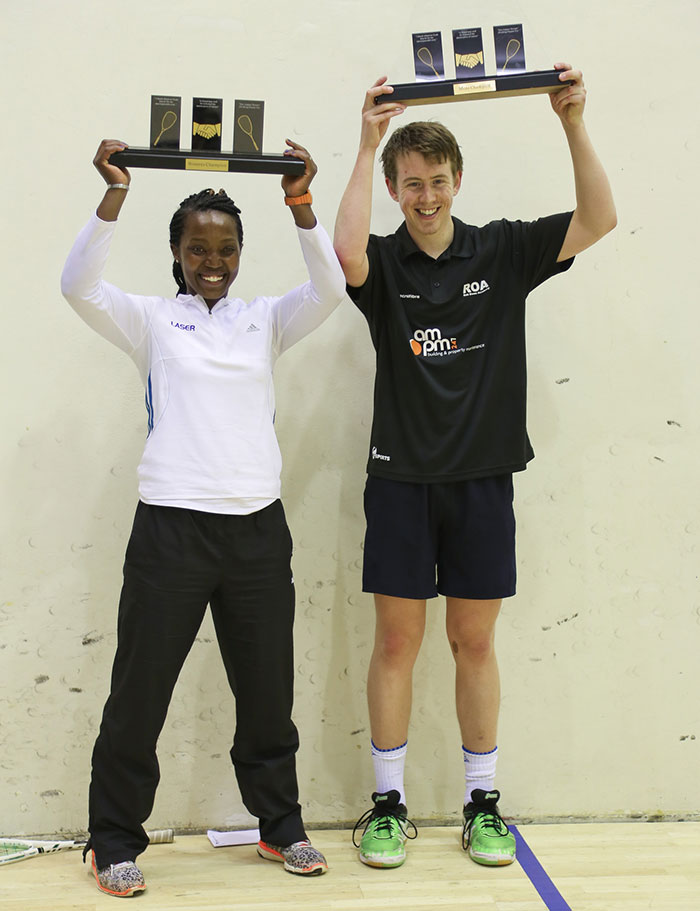 Siyoli Waters (left, a UCT alumna) and Nathan Lake lifting their trophies at the prizegiving at the championship's end. In her acceptance speech Siyoli reflected on wise words from Natalie Grainger: "She said I needed to be more consistent in my approach, so it was important for me to win for the 3rd straight year. It was such a privilege to have Natalie back in South Africa. She is a player we really look up to and I was really pleased to see so many squash-playing juniors in the crowd."
Photos by Je'nine May.
---
This work is licensed under a Creative Commons Attribution-NoDerivatives 4.0 International License.
Please view the republishing articles page for more information.
---