We're spending more and more of our time online, but what does the law have to say about some of our most common online activities?
HERE'S A QUICK QUIZ

How many of the following statements do you agree with?
I have sent a bulk email invite to everyone on my contacts list.
I have used a photo I found on the internet as a cover picture on one of my social media accounts.
I know of a great product that's only available overseas; so I am planning to buy it in bulk and get it sent to me in South Africa, so that I can sell it locally at a profit.
Sometimes I buy music online and then convert it to mp3 format to share with my friends.
I recently used a proxy IP – how else could I set up an American-based Netflix account?
If you said yes to any of the above, you – like many South Africans – are guilty of illegal online activity. Surprised? Look at the list again, and now consider that it includes: sending unsolicited bulk email, otherwise known as spam (1); illegally modifying and sharing copyrighted material (2); parallel importing (3); copyright infringement and illegal distribution (4); and committing fraud by faking your IP (5).
"Nowadays, we research online, we communicate online, we shop online, we play online; yet we hardly ever think about the legal implications of these online activities," says Dr Tobias Schonwetter, director of the law faculty's IP Unit. According to Schonwetter, most of us do not sufficiently consider the website terms and conditions of common service providers (such as Facebook); our employer's policies regarding online conduct (their social media policies, for example); or even whether clicking on a button really concludes a contract as intended when ordering an item online and paying for it instantly with a credit card.
Beyond our personal responsibility to educate ourselves, however, Schonwetter agrees that in many cases the law is out of sync with the contemporary reality of our online lives. "We are somewhat privileged here in South Africa, in that we have a relatively modern piece of legisation called the Electronic Communications and Transactions Act, which ensures that we can participate in e-commerce in a somewhat predictable manner," he says. "But take our copyright laws as the opposite example. The Copyright Act was drafted in the late 1970s; and it doesn't take a lot of imagination to see that a pre-digital piece of legislation is unsuited to dealing appropriately with the issues brought about by digital technologies, most of which are connected to the fact that each and every one of us nowadays copies other peoples' material on a grand scale, just by using the internet. This leads to some pretty absurd results."
In addition to laws being out of date, there are also factors specific to our local context that increase the liklihood of people participating in unlawful activity. For example, copyrighted material from overseas is often either not available locally, or offered at a price beyond the budgets of the majority of South Africans. Add to this the low likelihood of being prosecuted for such unlawful activity, and it's not hard to see why most people remain unconcerned.
On a deeper level, and specifically in the area of intellectual property, Schonwetter questions whether the general concept of monopolising knowledge through IP rights is supported in a society in which communal values and systems of collective ownership are still prevalent. "Our research in this area – such as the Open AIR project – has shown that often more flexible systems are attractive; and more relevant locally as they allow for formal or informal collaboration with varying degrees of openness that can be a crucial engine for innovation and development."
So what can you do if you want to become a more law-abiding online citizen?
In the case of material that is commonly copyrighted, Schonwetter suggests making use of open licences such as when music or literary works are shared under a creative commons (CC) licence. He says: "This is a great and easy way to alleviate the risk of (unintentional) copyright infringement. And with almost a billion works licensed under CC – including all content on Wikipedia, and tens of thousands of pictures on Flickr – it shouldn't be hard to find the right material for one's purposes." For the rest, the best single thing you can do is become better informed about the legal consequences of your online actions.
By Ambre Nicolson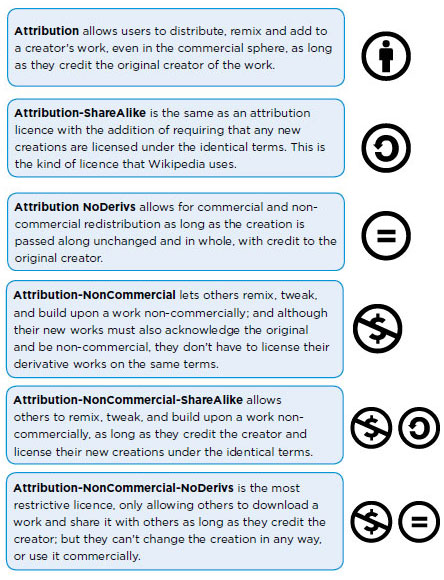 ---
This work is licensed under a Creative Commons Attribution-NoDerivatives 4.0 International License.
Please view the republishing articles page for more information.
---