The founder of Hiifi, Tom Raviv, has revolutionised Wi–Fi authentication and taken it to the next level. Here, the 22–year–old final–year Postgraduate Diploma in Accounting/BCom Honours in Accounting UCT student gives us a glimpse into his business endeavour, and shares some of his entrepreneurial skills.
What inspired you to get into your line of work?
It just happened. I've always been interested in tech start–ups and was constantly thinking about ideas, until one came along that I believed was good enough to pursue.
Tell us a bit about Hiifi. How was the concept born, and what do you hope to achieve with your business?
Hiifi is quite simple. Customers are able to gain access to a business's free Wi–Fi by promoting the business on social media or engaging with the business over the Internet. For example, say John walks into Hard Pressed café; he selects the Hard Pressed Hiifi hotspot, and using Hiifi's landing page, tweets that he's having a great coffee there. He's then given instant access to their Wi–Fi.
Our aim is to make the Wi–Fi experience easy and enjoyable for everyone, making payments and passwords redundant.
The idea behind Hiifi came about when I was in Greece with my family on vacation. I was at a crowded bar, and wanted to check in on my social media. The problem was that the network was blocked by a password, and it was too full to find staff and ask for the password. It didn't make sense to me that the bar itself was preventing me from marketing it, for free, on my social network. From there, I came up with the idea for Hiifi.
After Greece, I travelled with my brother to San Francisco, and got in touch with a few programmers to discuss the idea. They gave me some tips and a few more things to think about, pushing the idea even further. Once I arrived back in SA, I met with Al and Fed, who have programming and engineering backgrounds. We assembled our team, and started working on Hiifi.
What makes Hiifi unique is its ability to create relationships between a business and its customers beyond the counter. Understanding what these businesses are doing right in terms of sales to different demographics, their busiest times of the day and so on, can be vital in ensuring that an initial strategy has been implemented effectively. We designed a non–obtrusive way for businesses and customers to engage with each other in a way that benefits all parties. Our systems are learning to predict what our users want to see, and will be able to connect them with brands and businesses they want to hear from.
Looking forward, our medium–term vision is to continue scaling out to coffee shops, restaurants and businesses in the hospitality sector across South Africa. I'd say our long–term vision is more ambitious than that.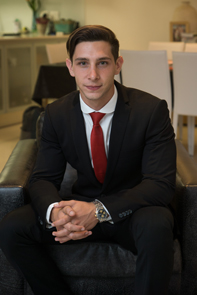 Tom Raviv, Hiifi entrepreneur and final–year student
What do you wish you'd known about entrepreneurship before you entered the industry?
Naturally, you want to get involved in as much as possible, because you have a vision and the optimism to make it succeed. But taking on more means taking attention away from the other things, which works to your detriment. I would have wanted to learn earlier to say no to many of the other ideas I attempted pursuing, so I could focus on the more promising and enjoyable ones.
Right now, I'm still not in the ideal position, entering my final year in accounting honours, being involved in the Kairos Society (which works to find and empower select young leaders who will push the world forward through entrepreneurship and innovation) and persevering with Hiifi. But I'm learning how to balance and prioritise, which I believe is important. I'm glad I'm learning this earlier on in life.
What do you love most about your career?
Since I'm technically still a student, I wouldn't really call it a career just yet. Which is a great thing, because I believe I'm at the point in my life where I can take risks, learn as much as possible (in the books and on the streets), and have fun while doing it.
Tell us about a risk you took during the course of your career, and how it affected your career path.
I'd say the biggest risk I've taken has been pushing Hiifi and being actively involved in Kairos while my academic career has become more demanding.
What advice do you have for young people starting their own businesses?
It comes down to hard work, sacrifice (much of which is your social life), and believing that anything is possible.
How important have social media and online brand management been in managing your career?
It's the core of our business, so it's essential.
Tell us about your role models, and how they've helped shape your career and work ethic.
My family as a whole has inspired and continues to inspire and shape me – my father's business experience and work ethic, my mother's vision and creativity, and my brothers' curiosity and challenging attitudes (they're tough to argue with!).
How do you feel about the future of entrepreneurship in South Africa in general, and why?
I'm optimistic, mainly for two reasons. Firstly, I believe the next generation of local leaders, in business and politics, will be well educated and make smarter and more calculated decisions. Secondly, we can see a growing entrepreneurial and start–up ecosystem growing in our country. Start–up accelerators and incubators are emerging in every city, investors are becoming more informed about the likes of venture capital and angel investing, the government is shifting focus to stimulating economic growth and job creation through small businesses, and young entrepreneurs are now given the support – financial and otherwise – so that their ideas can transform into businesses.
What have you learnt from your mistakes?
I can only blame myself, regardless of where the mistake was made.
What do you think is the most important innovation of your lifetime?
The Internet.
Which three South Africans would you most like to have dinner with?
Elon Musk, Koos Bekker and Ivan Glasenberg.
If you had unlimited resources at your disposal, what would you do next?
Philanthropically: Make sure everyone has access to a good education.
Personally: Travel to space.
If you found this an interesting read, see Tom's interview with FIN24 below
First published by Who's Who. Photo of students with laptops by Michael Hammond.
---
This work is licensed under a Creative Commons Attribution-NoDerivatives 4.0 International License.
Please view the republishing articles page for more information.
---