Many of the bottled tissue and organ specimens in the collection at UCT's Pathology Learning Centre – the biggest of its kind in Africa – are fast becoming rarities, as medical schools worldwide report declining autopsy rates. But now anyone can 'adopt a specimen' and conserve this treasure.
Autopsies are expensive, as is the process of bottling interesting specimens. Added to which, modern pathology often requires an entire tumour to be sectioned for rigorous microscopic examination, leaving nothing to display, says virologist and curator Dr Jane Yeats.
However, as Dr Rob Bowen points out, autopsies are important for teaching hospitals, where a certain percentage of deceased patients must be subjected to an autopsy: "It's an audit of the calibre of medical practice if you want to retain your licence as a teaching hospital."
The UCT collection of over 5 000 specimens, the earliest (showing a testicular lesion) dating to 1920, is not beyond this struggle for survival.
"Not many universities around the world have collections like this," said Yeats. "Museums like these fell out of use dramatically after the introduction of good colour photography.
"With contemporary textbooks, you don't have to see something in a bottle. So although we're keeping our collection, our push is for digitisation to open the resource to the world, covered by Creative Commons licensing.
"You have to catch students' imagination; their world is so digital."
Teaching and research
But the collection remains a valuable teaching and research resource, Yeats adds, even in this digital age. Some specimens reflect our medical history (the collection includes a baboon piggy-back heart used by transplant pioneer Chris Barnard in his early experimentation), others illustrate distinctly African diseases – in addition to common-or-garden varieties such as appendicitis.
"Appendicitis is still a real problem today, even with antibiotics and surgery and there's a risk of death if it's not properly treated," noted Bowen, one of three stalwarts Yeats has recruited to help re-catalogue the specimens, as part of the digitisation process.
Bowen handles the general pathology specimens while former colleagues Roc Kaschula and Richard Hewlett handle paediatric pathology and neuropathology specimens respectively.
"Medicine is moving all the time so we're updating information with a modern perspective on each case," he explained. "There's all kinds of molecular information available now. We may even know which gene is responsible for a specific condition."
Students do tutorials on the specimens, learning what a diseased organ looks like so that when it comes to surgery they know what to expect; for example, they can tell the difference between a benign and malignant tumour.
"It's a precursor to surgery," says Bowen. "But today you'd never make a final diagnosis on what you see with the naked eye, even though you know something is malignant."
Some of the preserved organs show diseases that have declined markedly in the post-antibiotic era; such as syphilis.
"Syphilis is not a disease that's vanished." His colleagues are seeing a resurgence of syphilis, in neonates, for example, linked to HIV.
"The extreme cases doctors saw before penicillin are or should be rare now, so it's nice to have specimens to show students what happens if you don't treat syphilis – or don't recognise it in a modern context."
Glass to Perspex
The renewal and digitisation process began in earnest following the launch of the new Pathology Learning Centre in 2011.
First, many specimens require restoration. Older samples are in glass bottles, sealed with bitumen. But since the 1950's specimen have been bottled in Perspex containers, crafted in the laboratory.
Laboratory assistant Melvin Lawrence has built a jig to bend the Perspex so that there is only one join to each container. This reduces leakage of the preserving fluid, a mix of formalin, glycerine and salts.
Organs, particularly soft organs, are held in suspension by attaching them with nylon thread to a transparent backing plate.
As this fluid discolours over time, it must be replaced regularly, keeping Lawrence busy. Some organs, like the liver – probably because of bile – are particularly problematic. He is also experimenting with different fixatives so that the specimens retain their colour.
Shelf to screen
Industrial designer and animator Jürgen Geitner leads the digitisation process, his combination of special skills (photography, animation, web design and general design), contributing to the look and feel of the website. 'Old hand' IT officer Dave Woolley built the collection database and manages the website. They are now planning to remodel it along the lines of top retail sites that know just how to quickly locate the exact item a visitor is after.
Geitner is the chief operator of the new virtual microscopy system, introduced earlier this year to visualise the microscopic pathology of all the specimens in the collection. (All the specimens have microscope slides archived in Groote Schuur Hospital, UCT's main teaching hospital.)
Geitner scans them and adds the image to the website, so that visitors can see the macro and the micro for each specimen.
"It's something different every day," said Geitner, showing a revolving 3D image of a skull after a brain haemorrhage following a fracture. His job is an interesting conversation starter.
"Some people are repulsed, others intrigued and curious."
Travelling show
As the collection is a unique treasure, Yeats has made specimens accessible to a broader audience: for community health days, as well as displays at libraries, shopping malls, and schools, with specimens showing the 'grizzly aspects of disease', like smokers' lungs with carcinomas.
"In the past there tended to be a lot of secrecy around human specimens, much of it linked to freak shows where they used to parade people with 'funny conditions'," said Yeats.
But things have changed, thanks to exhibitions like Body Worlds, the travelling German exhibition of preserved human bodies and body parts.
"People are interested in this stuff – there quite a lot in the school curriculum on anatomy and physiology – and we can show them stuff that's real.
Adopt a specimen
It's an expensive collection to maintain. To help them in their task the Pathology Learning Centre has launched its 'Adopt a Specimen' campaign. For R250, you can adopt a specimen for five years; or for a lifetime for R1 000.
Dr Tim Tucker has adopted three liver specimens, all linked to his PhD research on viral hepatitis. The specimens have become part of his personal story and Yeats is hopeful other medical graduates will follow suit.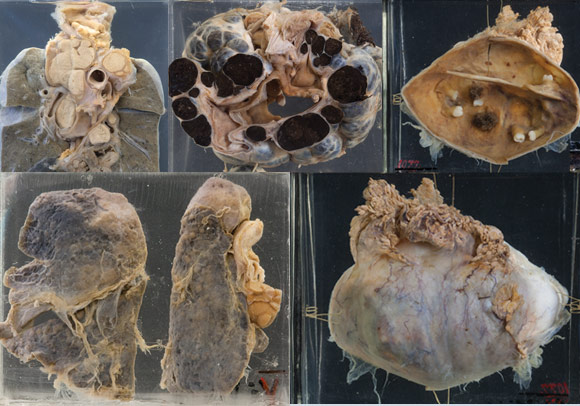 Compiled by Helen Swingler. Main photo by Michael Hammond.
---
This work is licensed under a Creative Commons Attribution-NoDerivatives 4.0 International License.
Please view the republishing articles page for more information.
---