Greek physician Hippocrates is often quoted as saying, "The chief virtue that language can have is clearness, and nothing detracts from it so much as the use of unfamiliar words." From open access textbooks to concerted efforts to create equitable communication between health professionals and patients, take a look at some of the ways people inside UCT's Faculty of Health Sciences are sharing what they know – in a language people can understand.
Language immersion
The primary language used between medical students at UCT and their patients is English, but many patients in the Western Cape are first-language Xhosa- or Afrikaans-speakers. This creates a host of problems for the patient and for treatment – such as when cleaning staff, for example, are asked to step in as translators. This has serious implications for doctor-patient confidentiality, explains Associate Professor Derek Hellenberg of UCT's Division of Family Medicine.
While Xhosa and Afrikaans have been part of the curriculum for more than a decade, Hellenberg and colleagues stepped up the intensity in 2009 with the Language Immersion Project. Students could choose to live with a local Afrikaans- or Xhosa-speaking health worker for two-and-a-half weeks while stationed at a community health facility, as part of the 'Becoming a Doctor' course.
During the day, the students did their clinical duties and after hours, they integrated socially and culturally with their host family and the community, on condition that only Afrikaans or Xhosa was spoken. Hellenberg reports that immersing students into a language environment in this way saw them improve drastically.
But it wasn't just their language skills that improved.
"Their confidence in their clinical skills and clinical reasoning [also] improved over the period," reports Dr Ian van Rooyen, who teaches on the 'Becoming a Doctor' course.
The programme grew from two students per language in the first year to eighteen students in 2014, and the demand is high.
"In the first year we could only take two students, but we received 36 applications," says Hellenberg.
The project has been so successful that many other South African universities have adopted similar models.
Mobile translator
Some students have put their thinking caps on to remove language barriers in the medical arena. In 2013, then-MBCHB student Saadiq Moolla developed and launched the Mobile Xhosa and Mobile Zulu websites, which help health professionals translate key terms into patients' mother tongues, at no charge.
Some students have put their thinking caps on to remove language barriers in the medical arena. In 2013, then-MBCHB student Saadiq Moolla developed and launched the Mobile Xhosa and Mobile Zulu websites, which help health professionals translate key terms into patients' mother tongues, at no charge.
"It helps so much to be able to explain to a patient that you will be taking blood, for example, so that they understand what you're doing and why. It reduces anxiety and improves the quality of care," Moolla told UCT's Daily News at the time.
Moolla's younger brother Ashraf, a UCT actuarial science student, later wrote the code for a mobile application along the same lines. Mobile Translate MD introduced several new languages that weren't previously available on the website: Afrikaans, French and Spanish.
"French in particular is unexpectedly important in the South African setting, as we have many refugees and immigrants who speak this language, and there are no French translators in our hospitals; so hopefully the app will help to overcome this barrier," explains the elder (and now-graduated) Moolla.
Plans are afoot to include all eleven of South Africa's official languages.
Besides dodging the need for a stable internet connection, the app also introduced new features, including a handy text-to-speech function that allows users to hear how phrases and words should be pronounced correctly.
"We ask that people contact us about phrases that they often use at the doctor, so that we can add them to the list," says Ashraf Moolla.
Anybody interested in helping to grow the app can send the developers an email at info@mobilexhosa.org.za.
Signs of improvement
The Language Immersion Project and Mobile Translate MD go a long way towards creating equity in medical treatment, and UCT's Health and Human Rights Programme (HHRP) takes it a step further.
Dr Marion Heap of the HHRP has long argued that deaf patients are at a tremendous disadvantage during medical examinations, as so few health professionals are fluent in sign language. As she argued in a Cape Times article in 2008, studies show that deaf people in Cape Town fall victim to problems such as delays in diagnosis, missed appointments, repeat visits, misdiagnosis, misunderstandings, and misuse of medication, as well as anxiety and distress.
"Until professional interpreting services are an integral part of healthcare services, we will not bridge the language gap; and a majority of South Africans will continue to be deprived of their constitutional right to health care," she wrote at the time.
This is why, since January 2010, the HHRP has been piloting accredited diploma-type medical interpreter training. It includes accredited South African sign language (SASL) classes, human rights, ethics, and interpreting, as well as practice in selected health facilities under the guidance of the professional SASL interpreters.
In 2012, and in conjunction with UCT's Disability Unit, Heap arranged for an introductory course in medical sign-language interpretation to be hosted at UCT's Medical School. The course was run by academics from the University of the Free State, a university with experience in training professional interpreters, with a view to kickstarting the Western Cape's ability to provide professional interpreting services.
Four people from or associated with UCT completed the course, much to Heap's delight. Now, the HHRP is piloting the first ever free-to-patient sign-language interpreter service in Cape Town, and in the country. South Africa has no posts for interpreters in health care for signed and spoken languages – and indeed, has never had, says Heap.
"Our project provides trained medical sign language interpreters on a daily basis for signing deaf adults and children," says Heap.
Big-screen teaching
June 2013 marked the first time that an upper endoscopy performed on a patient at Groote Schuur Hospital was streamed live to surgical registrars-in-training at Red Cross.
This was part of the hands-on training course developed jointly by Professor Sandie Thomson, head of the Division of Gastroenterology, and Professor Alp Numanoglu, head of the Division of Paediatric Surgery.
Endoscopy is a minimally invasive medical procedure that examines interior organs. Endoscopes are thin tubes, fitted with a light and video camera, that allow diagnostic tissue sampling and a wide array of therapeutic interventions that reduce the need for major operations.
The course combined two different video-conferencing technologies – digital video transport system (DVTS), and Polycom, which provides high-definition images – and uses minimal bandwidth, making it ideal for implementation in rural areas where UCT is extending its clinical teaching platform, says Jerome Corns, who manages the faculty's Information and Communication Technology System.
When Corns and colleagues installed the first video-conferencing system linking campus lecture rooms with off-site teaching facilities, video conferencing "wasn't big at UCT", he says. "But the faculty later developed a teaching programme around it, with eight to 10 students sitting in on lectures relayed from the main campus."
Bandwidth had been a limiting factor, but that changed after the introduction of SANReN (a high-speed network, primarily for research institutions and organisations) at UCT.
"We also take teaching straight from the wards. Live demonstrations are relayed from theatre via a portable tele-education facility that allows us to plug into the network, so that we can feed live video conferencing from surgery.
"It adds a huge dimension to our teaching platform – and we can expand this into rural areas, where we don't have specialist services."
Thomson and Numanoglu ran their basic endoscopy course at the Surgical Skills Training Centre at Red Cross War Memorial Children's Hospital, the most advanced surgical skills training centre in sub-Saharan Africa. The venue means that technology can be used for more than 'just' the high-tech streaming equipment, but also for distance teaching, such as the web-based education programmes broadcast at the centre.
Monday Monthly last year.
"We have had live surgery from Japan being shown to students in the anatomy building. There's nothing like it in the country."
Open access textbooks
When UCT's Professor Johan Fagan realised that colleagues from other African countries could not afford textbooks, his first thought was to make textbooks about the ear, nose and throat (ENT) open access.
An ear, nose and throat specialist, Fagan first approached two senior authors in the field to see if they would agree to making some of their old, out-of-print textbooks available free online. They agreed.
But their publishers didn't.
Instead of giving up, Fagan began writing textbooks chapter by chapter that he released online as PDFs. One textbook focused on head and neck operative surgery, and the other focused on hearing tests and how to fit hearing aids.
"I have since had some of the top ear, sinus, and head and neck surgeons around the world writing for free – to the extent that I'm now being approached by colleagues who ask if they can contribute," says Fagan.
And the chapters have proven extremely popular, as Fagan reports over 400 000 downloads so far, with a chapter being downloaded every 80 seconds.
"Downloads are from almost every country in the world. The biggest users at the moment appear to be South Africa, the United Kingdom and the USA, followed by India," says Fagan.
"What's remarkable is how the internet crosses boundaries. At the height of the Syrian War we had downloads coming from Damascus, so there was obviously one surgeon or doctor in Damascus who required some information and was downloading information as to how to do the surgery."
The Open Access Atlas of Otalaryngology: Head and Neck Operative Surgery and Open Access Guide to Audiology and Hearings Aids for Otolaryngologists have become standard textbooks in many countries. Fagan sees such open education resources as part of a academic's role to both create and distribute knowledge.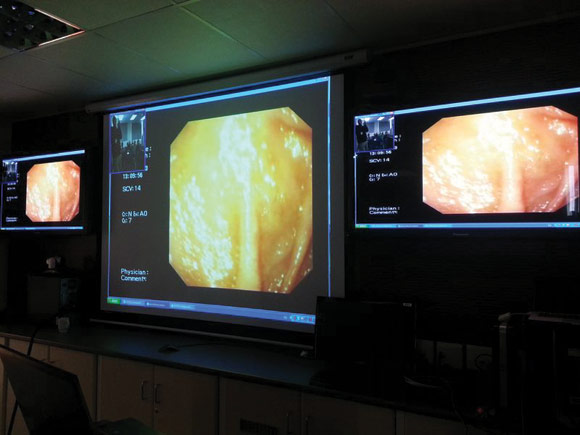 View from within: This image of an endoscopy, streamed live to students, allows students to get a close look at the surgical procedure without actually being in the theatre.
Compiled by Yusuf Omar. Photos by Michael Hammond.
---
This work is licensed under a Creative Commons Attribution-NoDerivatives 4.0 International License.
Please view the republishing articles page for more information.
---