Perhaps the best way to describe the Insurrections Ensemble is as a musical conversation. To watch this collective of artists perform is to witness a discussion between the musical traditions of South Africa and India, between music and poetry and between such diverse instruments as a double-bass, bow, guitar, sarod (a Northern Indian lute) and sarangi (a short-necked stringed instrument often used in Hindustani music).
Even the group's origins have their roots in conversation. The idea began in 2011 as a discussion between poet, sociologist and UCT lecturer Prof Ari Sitas and economist, singer and composer Sumangala Damodaran. "We can theorise about it, we can research it, but can we also do it ... craft it?" From there the group grew to include Brydon Bolton (double-bass player, composer and sound artist), Jürgen Bräuninger (composer, sound artist and electronics specialist), Sazi Dlamini (musicologist, Nguni bow manufacturer and performer and guitarist), Pritam Ghosal (composer and sarod soloist), Malika Ndlovu (poet), Claude Cozens (drummer), Neo Muyanga (composer, multi-instrumentalist and singer), Tapan Mullick (cellist), Vivek Narayanan, (poet and historian), Pitika Ntuli (philosopher, poet, sculptor), Tina Schouw (singer, songwriter, author), and Sabitha TP (poet).
"The heart of the project was and is about the beauty and pain of crafting something together that resonates across the Indian Ocean," explains Sitas in a conversation recorded between himself and Jonathan Mandell. "The language is as ancient as an African lament or the Bhairav raga or as modern as the micro-tones between the traditions that we can explore with the fretless strings of the ensemble. The sessions were as expansive as the art of improvisation and as disciplined as the art of song demands. Add to that the language of the lyric with its defiance against the world's wrongs and you start getting a sense of what it means."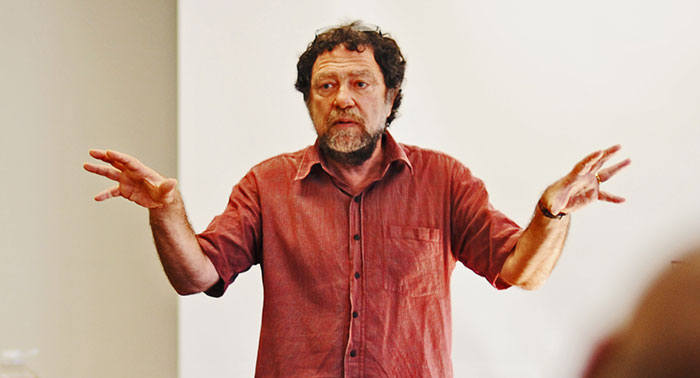 Poet, sociologist and UCT lecturer Professor Ari Sitas.
According to a previous interview with Bräuninger, "It was always the plan from the outset to have this Indian Ocean meeting and in musical terms, to see where Indian and African music meet, which was quite interesting. There are very few projects that I know of on this level where music from two countries come together to see how they work together."
The group has performed in Delhi, Durban and Cape Town.
For the upcoming performance for the Poetry Africa Festival at the Homecoming Centre there have been some changes in the line-up.
"Ahsan Ali's sarangi is a necessary progression from the wonderful cello work of Tapan Mullick, who cannot be with the ensemble anymore. Brydon's double-bass and bow will pick up some of the sonority of the cello, but the sarangi and its phrasing will take us in a new dimension closer to the emotion of minor notes. Words cannot describe what this instrument does and how it connects the Indian subcontinent to the east coast of Africa and '" surprise, surprise '" to Madagascar," says Sitas.
Also, although Neo Muyanga is composing for Mayihlome, he will not be able to be part of the performances at the Homecoming Centre. Says Sitas: "His voice and guitar will be missed. We decided not to look for a guitarist as such but for a multi-instrumentalist to augment Dlamini's bows. Enter Ze Maria: he is a Mozambican maestro who plays anything from bows and saxes, to guitar and strings. Finally, we lost Malika Ndlovu for this round. She endorsed Mbali Vilakazi, a great young performer and poet who will stir things up."
So what can people expect from the new oratorio, described as a defiant celebration of hope in times of violence and war?
"It is hopefully an infectious blend of craft and passion," says Sitas.
Mayihlome-Aahwaan will be performed at the Cape Town leg of the 2014 Poetry Africa Festival, presented by the African Arts Institute, the Centre for Creative Arts at the University of KwaZulu-Natal, UCT's Centre for African Studies and South African History Online.
When: 24 and 25 October at 19h00
Where: District Six Homecoming Centre, 15 Buitenkant Street
For tickets and more information.
---
This work is licensed under a Creative Commons Attribution-NoDerivatives 4.0 International License.
Please view the republishing articles page for more information.
---