UCT wants to establish itself as a research-intensive university and hopes to do this through a renewed emphasis on cross-disciplinary and interdisciplinary collaboration, improved support for researchers, and intensified efforts to integrate postgraduate students into international networks of scholars.
These lofty ambitions were outlined by Professor Danie Visser, deputy vice-chancellor for research, at the launch of the 2013/14 Research Report on 28 August 2014. They are also contained in the new research strategy that will go before Senate soon.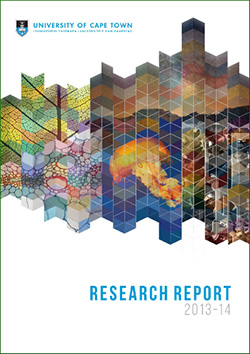 "What we can glean from the research report is that UCT does very well as a research institution, however there is still a great deal that we can unlock. The [research] strategy tries to set the general pattern on which we might do that. It describes the research principles we subscribe to and it sets out various things that we'd like to be," explained Visser, who hosted the annual event at the stately Smuts Hall.
Vice-Chancellor Dr Max Price in his opening remarks drew attention to some of the research highlights from last year: "The number of new research contracts signed increased by more than 40%, and is valued at a record R1-billion. Furthermore almost 45% of our research contract funding came from foreign non-profit organisations."
Price expressed his pleasure at the fact that funding to postgraduate students increased to R175-million and funding to postdoctoral research fellows to R60-million. "We are also pleased to have more than 300 postdoctoral fellows," said Price, who noted that a decade ago there were less than 50 such fellows, and that this is an area of "significant growth" for the university.
Focus on humanities research
Dean of the Faculty of Humanities Professor Sakhela Buhlungu, keynote speaker at the launch, asserted that humanities research provides society with a mirror in the constant "search of ways to understand and better the human condition'.
He argued that knowledge produced through humanities research is contingent on various factors, as its subject matter is humans, whose behaviour is often 'unpredictable and contradictory".
"Humanities research and knowledge offer broad patterns rather than absolute truths. There's a longer gestation period for ideas and research. Thus the impact of the ideas is long-term, the knowledge produced is not suited for quick fixes, and over time the research percolates and provides material for more technical areas to build on," Buhlungu concluded.
Official proceedings ended when Dr Marilet Sienaert, executive director of the Research Office, handed the new research report to Price.
The full report is available online: www.research2013.uct.ac.za
Story by Abigail Calata. Photo by Je'nine May.
---
This work is licensed under a Creative Commons Attribution-NoDerivatives 4.0 International License.
Please view the republishing articles page for more information.
---