Among the university's special collections are numerous scientific archives: papers, notebooks, photographs and plates that document – mostly by hand – scientific endeavour and discovery in an earlier age, before computers, cameras and colour printing.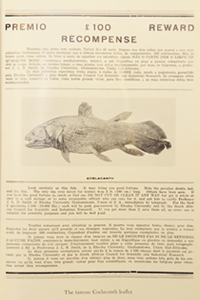 A reproduction of Prof JLB Smith's famous coelacanth leaflet (offering a reward for specimens of the prehistoric fish), republished in his 1956 book, Old Fourlegs: The story of the coelacanth.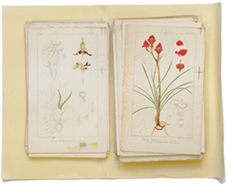 A hand-coloured print of Disa spathulata belonging to UCT's Bolus Herbarium.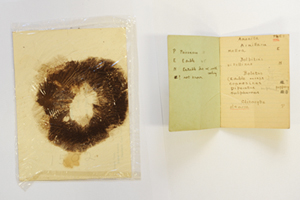 A spore pressing of a scaly psalliota, a mushroom found at Brakkloof on the Cape Peninsula, and a notebook listing the peninsula's poisonous, edible, eatable, non-edible and unknown fungi, made by botanist Edith Stephens.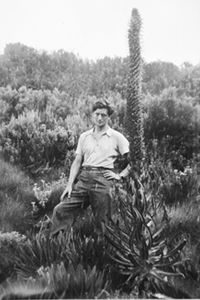 This photograph by Edmund Schelpe - the former curator of the Bolus Herbarium and professor of plant taxonomy in the Department of Botany - is of entomologist John Riley next to a giant lobelia, taken during an expedition to Mount Kenya in 1949.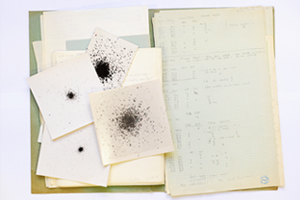 Astronomer Dr Andrew David Thackeray's detailed plottings of the variances of star clusters.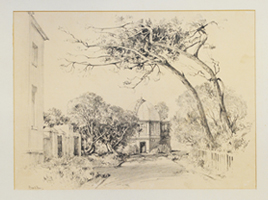 One of four large mounted drawings of the Royal Observatory in Cape Town(now the South African Astronomical Observatory) from the papers of Jacob and Eric Halm.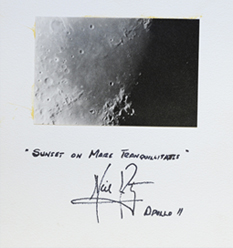 Dr Francis Thackeray's photograph of Mare Tranquillitas (Sea of Tranquility), including the Apollo 11 landing site, taken from the grounds of the Radcliffe Observatory, Pretoria, in 1969, using a 12½-inch telescope, and signed by American astronaut Neil Armstrong, the first moonwalker.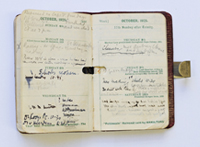 One of Afrikaans poet C Louis Leipoldt's very many day planners - tiny diaries filled with the day-to-day matters that needed his attention. Leipoldt was encouraged at an early age to read widely, and was given a grounding in several languages and the natural sciences, particularly botany and geology. Whenever the family visited Cape Town, he was sent to his father's friends, such as Professor PD Hahn, for special instruction.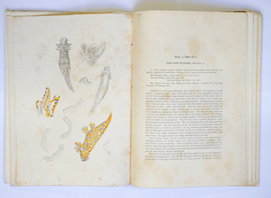 UCT's many books on marine biology include a recent donation from the Department of Biological Sciences: a volume on nudibranchs dating to 1854, the British monograph Nudibranchiate Mollusca (Joshua Alder, Albany Hancock, Ray Society). These volumes feature beautiful, hand-coloured illustrations, such as this Thecacera pennigera (winged thecacera), a species of sea slug.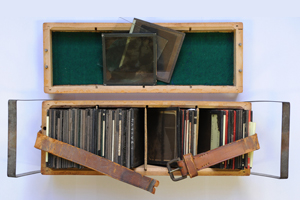 The Cape Mountain Club kept an extensive photographic collection, including glass plate slides (in picture) and minutes and correspondence from the past century, reflecting the landscape and vegetation over the years, including events such as snow on Table Mountain, and the existence of the historic fish market in Cape Town.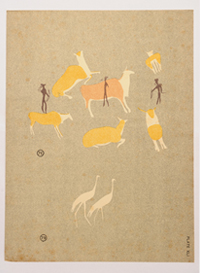 Illustrations inside the 1930 publication Rock Paintings of South Africa, which includes a folding map showing the specific location of works, and an introduction and descriptive notes by Dorothea Bleek. This forms part of Special Collections' UNESCO-recognised Bleek and Lloyd collection.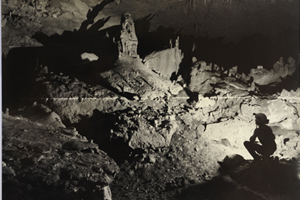 A photograph of Wilson Cave, a small but highly decorated cave near Hunt in Texas Hill County with over 800 feet of passageway, taken in 1990. It belongs to the South African Speleological Association's comprehensive collection of photographs, minutes, correspondence, general records and cave maps gathered between 1954 and 1999.

A cardboard model of a brain and head measure belonging to the JG Davidson phrenological collection, which includes correspondence, minutes and reports of the British Phrenological Society. Phrenology, the study of skulls to determine an individual's character and mental capacity, enjoyed some popularity in Europe in the early 19th century, but is now considered a pseudoscience.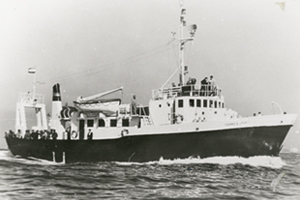 An archival image of the Thomas B Davie, a research ship named after the former UCT principal and one of several research vessels the university has owned over the years. It is part of the TB Davie collection, which includes cruise reports, asset registers, charters of the vessel and photographs. The 205-ton Thomas B Davie was commissioned after its predecessor the John D Gilchrist's sea days ended in 1966. Launched in 1965, the new vessel permitted longer cruises further off shore, notably two visits to the Vema Seamount in the Atlantic Ocean.
Curated by Renate Meyer, UCT Libraries Special Collections and Archives.
Compiled by Helen Swingler.
Photos by Michael Hammond (unless otherwise attributed).
---
This work is licensed under a Creative Commons Attribution-NoDerivatives 4.0 International License.
Please view the republishing articles page for more information.
---