Bridging the divide in child health
Paediatric pulmonologist Prof Heather Zar has just been awarded the 2014 World Lung Health Award in recognition of work that has "the potential to eliminate gender, racial, ethnic, or economic health disparities worldwide". What work has warranted this international acclaim?
Respiratory illnesses like asthma, pneumonia and tuberculosis (TB) are global issues. The burden of these diseases, however, falls in large part on Africa and other low-and-middle- income countries, a significant portion of whose populations are under the age of 17 years.
That's why it is particularly important that the World Lung Health Award – given out every year by the American Thoracic Society – is going, for the first time, to someone from Africa and someone specialising in childhood health. Prof Heather Zar, head of the Department of Paediatrics and Child Health at the Red Cross War Memorial Children's Hospital, received this award at a ceremony in San Diego in May.
"This award was given to me, but it reflects a lot of work done by a lot of people, and strong collaborations with excellent colleagues," says Zar. "My hope is that it helps shine a spotlight on this relatively under-resourced area of research. Children are so seldom prioritised on the health agenda. There's a lack of knowledge about the burden of childhood illnesses – even though children make up 37% of the population in South Africa, and 50-60% in other African countries."
Her expertise has long been locally and internationally acknowledged: The past president of the South African Thoracic Society and the current president of the Pan African Thoracic Society, Zar is set to become the next chair of the Forum of the International Respiratory Societies. Her career highlights are many and varied.
African innovation
After finishing her postgraduate training in the United States specialising in paediatric pulmonology, Zar returned home and applied for the only available position at Red Cross – as a medical officer. "Day after day, I saw children and mothers coming for asthma, and they were being given oral treatment, theophylline," recalls Zar, "which is really not great and has lots of side-effects. Why? Because asthma spacers [the chamber you attach to an asthma inhaler, allowing children to breathe in their medication more easily over a number of breaths] were too expensive, and the hospital couldn't afford it. That's how I got started, thinking about a homemade spacer."
Zar and her team pioneered the use of what others might think of as waste: an empty 500ml plastic cooldrink bottle. "It's a good example of using the sophisticated resources of an institution like this [UCT and the Red Cross Children's Hospital] to improve care, to do something that is low-cost and impactful on child health." Zar's team ran nuclear medicine scans on the bottles, to test how much medicine had been deposited in the lungs, as well as clinical studies in which its effectiveness in treating children was tested compared to other regular spacers.
Thanks to their low-budget solution and rigorous testing, theophylline and its side-effects are a thing of the past, and the use of cooldrink bottles as asthma spacers is now included in guidelines from the Global Initiative for Asthma and the World Health Organisation (WHO).
Another advancement now included in WHO guidelines and national recommendations is the use of sputum induction for rapid TB testing in children. A few short years ago, it was widely believed that children couldn't provide enough sputum for a TB test. Instead doctors used gastric lavage or stomach pumping, a process that involved starving a child overnight, then sticking a tube down their nostrils or throat, into their stomach, and sucking all the contents out. Children were subjected to this process three days in a row before doctors could retrieve a specimen large enough for testing. Zar and her team found a surprisingly simple, less invasive solution: by nebulising a child beforehand and suctioning the back of their throat very quickly, you can induce enough sputum for a rapid TB test (using Gene Xpert). This retrieves a better specimen than that from three days of gastric irrigation.
Building capacity
The Department of Paediatrics and Child Health has historically run a fellowship programme that trains paediatricians, nurses and sub-specialists from universities across the continent and helps them set up training centres in their home countries. When Zar took over as head of department, however, the fellowship was on the point of being shut down.
Under her leadership, the African Paediatric Fellowship Programme (APFP) has been re-established. Today it boasts partnerships with 22 academic institutions from 11 different countries in Africa, has trained over 55 paediatricians in general paediatrics, and many different paediatric sub-specialities (with a further 22 trainees per year accepted from 2014). In addition, the parallel nursing training programme under Assoc Prof Minette Coetzee has been developing nursing skills across the continent. "APFP doesn't just generate research, qualifications and skills development," says programme director and Head of Paediatric Neurology Prof Jo Wilmshurst. "It creates change in local practice."
Zar's research projects and the training programmes have involved significant capacity building, not only in the care of patients but also in clinical research, ensuring the development of the next generation of African leaders in child health.
Researching child health
Another signature initiative Zar heads up today is the Drakenstein Child Lung Health Study, a longitudinal research initiative studying 1 000 mother-child pairs in Paarl from before birth until 5 years. The study looks at a wide range of factors (from mental and physical health, to nutrition, the role of the surrounding environment and the microbiology involved in childhood illness). Funded by the Bill and Melinda Gates Foundation and initiated in 2011, it stands to be a landmark study for developing new ways of preventing and addressing early child health issues.
What's more, observes Drakenstein project manager Whitney Barnett, through clinic referrals, research staff are helping to diagnose and get treatment early on for children, who otherwise may have been overlooked. Soon-to-be mothers are now asking to be enrolled in the study, as opposed to researchers seeking their permission. According to a survey of 208 study participants conducted in early 2014, over 90% of mothers feel that they are learning through their participation and that their child's health is better because they are part of the study.
The Drakenstein study is one of several supported by REACH, the Research Centre for Adolescent and Child Health – the first centre of its kind on the continent, and conceived by Zar – opened at the Red Cross Children's Hospital in October 2013. This state-of-the- art, expanded clinical research unit serves as a hub supporting clinical research sites in the community and other healthcare facilities.
Ongoing advocacy
What work does Zar still see ahead of her? "My projects have always arisen out of need, really. People have long accepted the dogma that says 'we can't do better for children' but time and time again, we have to revisit what we once accepted," says Zar.
"Our role at the Red Cross and at UCT is to move the field forward so we do things better for children, for the future. It's not good enough to do more of what we've been doing. We have to develop better ways of preventing and treating childhood disease. It's up to us to contribute to, if not set, the global research agenda and to develop stronger capacity in child health, particularly in Africa. We have to be very strong advocates for child health."
HEALTH FACT
According to the World Health Organisation, an estimated 235 million people suffer from asthma; more than 1.3 million children die each year from pneumonia; and 1 million children and 8.7 million people develop TB annually.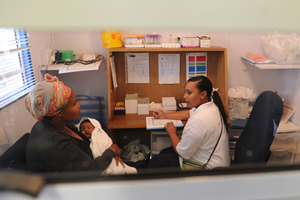 94% of mothers participating in the Drakenstein Child Lung Health Study - an initiative Prof Heather Zar heads up - feel they have close relationships with research staff. Here, a study mother attends a follow-up visit with study staff at the Mbekweni clinic.
Story by Judith Browne. Images by Michael Hammond.
Read the latest edition of Monday Monthly online or download the PDF
---
This work is licensed under a Creative Commons Attribution-NoDerivatives 4.0 International License.
Please view the republishing articles page for more information.
---