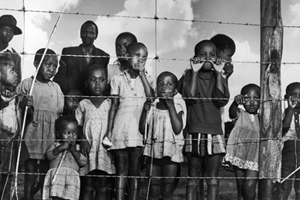 Apartheid in black and white
This arresting image of residents of apartheid 'emergency camp' Moroka forms part of a compelling exhibition at the Michaelis Gallery of the work of acclaimed photographer Margaret Bourke-White. Photos in Black and White: Margaret Bourke-White and the Dawn of Apartheid, a photojournalistic portrayal of South Africa in 1949 and 1950, initially run in Life magazine, exposed the brutality of apartheid. More than 10 000 families, evicted from the surrounding land, lived in Moroka - a name that became synonymous with South Africa's worst slums. The exhibition concludes on 7 May 2014.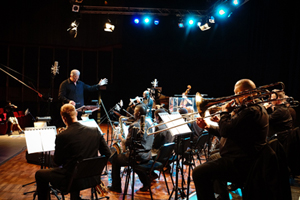 All that jazz
William Haubrich, the head of brass at the South African College of Music, recently took part in the Living Jazz Legends project to honour award-winning jazz trumpeter Feya Faku. Haubrich conducted, directed and performed with Faku and his jazz orchestra at the launch of the project in Johannesburg. Faku is the first of the beneficiaries of this project, sponsored by the National Lotteries Board, among others. The project will take the form of a recorded documentary of the featured artist, followed by a book of the artist's musical arrangements and a CD and DVD of a live recording.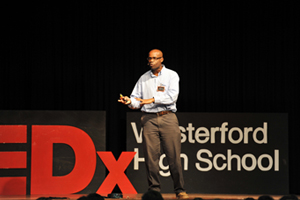 Motivate to innovate
Inspiring learners about the ways in which they could contribute to the growth of the continent, Professor Kelly Chibale addresses a Westerford High School audience during the school's TEDx programme staged earlier this month. Holder of the South African Research Chair in Drug Discovery and director of UCT's Drug Discovery & Development Centre (H3-D), Chibale spoke about Africa as a place of innovation, and gave the audience insight into the world of drug discovery. As Africa's first integrated modern drug discovery and development centre, H3-D aims to deliver drug candidates for clinical development.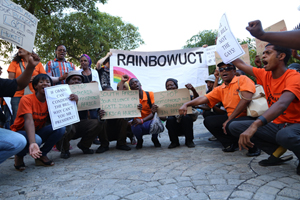 Against discrimination
RainbowUCT joined a peaceful picket outside Parliament demanding that the South African government speak up against anti-gay legislation in Uganda and other African states. Organised by Free Gender, a Cape Town-based NGO, the protest followed Ugandan President Yoweri Museveni's signing into law a bill allowing for repeat homosexual 'offenders' to be jailed for life. "We were protesting to get the South African government to speak up about what is happening in other African countries," said Pam Dhlamini, chairperson of RainbowUCT. "South Africa was quiet when these bills were passed, and we wanted the South African government to say something, since [Uganda] falls under the SADC countries."
---
This work is licensed under a Creative Commons Attribution-NoDerivatives 4.0 International License.
Please view the republishing articles page for more information.
---