By engaging with communities outside of UCT, the university is fulfilling its most important transformative role. Addressing participants at the Social Responsiveness Symposium on 24 February 2014, Vice-Chancellor Dr Max Price said if any testimony were needed to the commitment to transformation across the university, it could be found in the sphere of social responsiveness and engaged scholarship.
"We often risk thinking of transformation and our transformation agenda as being primarily about the demography of the student and staff bodies. In doing so we often forget that our most important transformative role is in engagement with the communities outside the university, and how we change those communities." The symposium culminated in the launch of the 2013 Social Responsiveness Report, which had teaching and forms of engaged scholarship as its focus, compared to the research focus of previous years. Other highlights included a talk on the role of public intellectuals, and examples of how individuals and departments are making their work more publicly accessible; as well as examples of capacity building with communities and government officials.
Going public
Professor Pierre de Vos – Claude Leon Foundation Chair in Constitutional Governance in the Department of Public Law, and recipient of the 2013 Vice-Chancellor's Social Responsiveness Award – spoke about how his engagement as a public intellectual has enriched his teaching.
"When teaching on the right of access to health care or the right to equality, I will engage with a specific Constitutional Court case; and in between, tell stories about what happened in a particular situation.
"I do this to make it real for the students, so that they understand that the Constitution and the law are not abstract. They affect real people every single day," De Vos said.
In addition to regularly being asked for comment on constitutional issues, De Vos writes a widely read and influential blog, 'Constitutionally Speaking', which is republished by the Daily Maverick. He is also involved with non-profit organisations like the AIDS Legal Network, where he serves as board chairman and contributes to their quarterly publication.
One of De Vos's greatest challenges, given this broad level of involvement over and above his responsibilities as a researcher and teacher, is time management. Engaging with the public on social media is particularly demanding: De Vos manages this pressure by allocating specific times in the day in which to engage.
Another symposium speaker, Dr Rob Little from the Percy FitzPatrick Institute of African Ornithology, picked up on the role of social media and online platforms in communicating the work his department does to a wider public. The institute is housed within the Department of Biological Sciences, and is one of UCT's two DST-NRF (Department of Science and Technology, together with the National Research Foundation) Centres of Excellence.
"Over the last eight years we have produced over 600 scientific papers in peer-reviewed journals. From 2005 we have produced nearly as many semi-popular articles. Along with that, we have produced almost three books a year; which is quite phenomenal, since there are only five academic staff and 50 students at the institute," said Little.
"Our mission is to use birds to conserve biodiversity – to make this a better place to live in," he explained.
How is the institute turning this kind of research and writing into something more palatable for the public? By using both Facebook and film. In 2012, the institute's Cape Parrot Project produced a television show, Endangered, which was screened in the US on the Public Broadcast Service (PBS) and other networks; while the project's Facebook page has become the largest parrot conservation group worldwide, with over 5 000 subscribers.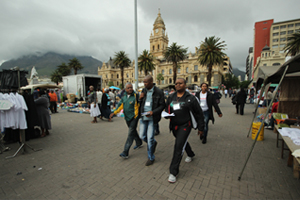 Keeping pace: Top metro officials had their eyes opened when participating in an Amazing Race-like event in which they needed to perform tasks using only public transport to get around. This was part of a high-level short course developed by UCT's Graduate School of Development Policy and Practice, in partnership with the National Treasury.
Equal partnerships
Associate Professor Sophie Oldfield from the Department of Environmental & Geographical Science shared her experience of long-term partnerships with civic organisations in Cape Town's townships. Her involvement in areas like Nyanga, New Crossroads and Valhalla Park stretches back to 2000. As part of her students' practical course component, they spend time every week speaking with local community groups and individuals about a range of issues, such as the living conditions of so-called backyard dwellers and the nature and logistics of informal home-based businesses.
Oldfield aims to construct "teaching projects around a research agenda that fits with the NGO and its partners, and teaching fieldwork skills of observation, interviewing and writing; but ultimately, producing some product that could be useful for the partner". One such product is a neighbourhood Yellow Pages that Oldfield's students developed for Valhalla Park, listing the home-based businesses in the area.
As part of their coursework, students are asked to reflect on their experiences in the communities by journaling. Some of the excerpts she shared showed how students were changed through their interaction with community members.
"My first impression of New Crossroads was a strange mixture of interest – and absolute alienation – I was part of the same city organism as they were, but felt as different from them as if I were a visitor from the moon," wrote one student.
Another student related the following anecdote: "Today I spoke to one of the cleaners in the microbiology building at UCT. I simply asked why she was not home for the holiday and she ended up telling me her life story. I feel that sitting and talking to the residents of Valhalla Park has changed me a little bit. I feel I've learnt to listen attentively, and I have also seen the very basic need of people to feel that they are being listened to. I do not know if I would have spoken to the kind lady today if I had not done this research in Valhalla Park."
Building government capacity
While Oldfield and her students engaged with grassroots organisations, the team from the Graduate School of Development Policy and Practice (GSDPP) engaged with senior public officials, who were participating in high-level short courses.
The GSDPP was established in response to the Vice-Chancellor's call for a "Kennedy School of Government for Africa". Its core mission is to train senior officials in government and government agencies in South Africa and other African countries.
At the symposium, Dr Judith Cornell from GSDPP related her experience of engaging with six of South Africa's eight executive mayors and their technical teams on a course aimed to "align their political mandate with reform goals; strengthen their capacity to achieve ambitious, yet realistic goals; and build effective coalitions". The course was initiated and funded by the National Treasury and developed in collaboration with the World Bank Institute.
This course was so successful that late last year the school hosted another one in partnership with the National Treasury, titled 'Leadership in Public Transport for Spatial Transformation', and including the leadership of all eight metros. One of the highlights of the course was an Amazing Race-style event. Teams had to perform specific tasks using only public transport to get around. According to Cornell this exercise was "great for team-building", and brought transport officials and councillors – some of whom hadn't used public transport in years – face-to-face with the realities of commuting.
Story by Abigail Calata. Images by Micheal Hammond.
---
This work is licensed under a Creative Commons Attribution-NoDerivatives 4.0 International License.
Please view the republishing articles page for more information.
---