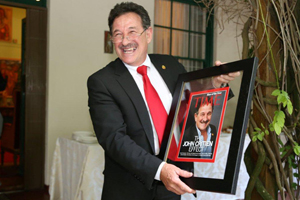 John Critien always went over and above what was asked of him as Executive Director (ED) of UCT's Properties and Services, ensuring that not only his department, but the university ran well.
Paying tribute to Critien, who goes on early retirement at the end of this month, the Vice-Chancellor, Dr Max Price, said that the Property and Services ED had been responsible for many important developments at the university during his 13-year tenure.
"Managing change was one of John's strengths. He leaves us so many permanent things to remember him by. In his 13 years here he has an impressive list of achievements," said Dr Price at Critien's farewell, held recently in the Irma Stern Museum's gardens.
Amongst these developments was the introduction of the Jammie Shuttle, the university's free transport service to staff and students, "which forever changed the way in which campus was accessed".
Price said Critien had also played an important role in ensuring that negotiations with the mini-bus industry went smoothly at the time of the introduction of the Jammie Shuttle service.
He further applauded Critien for helping establish the Groote Schuur CID which saw foot, vehicle and bicycle patrols being introduced in the residential areas surrounding UCT and which had contributed to staff and student safety. He was also responsible for CCTV cameras being installed along Main Road from Newlands to Observatory.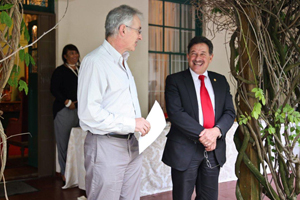 Dr Price noted many important buildings had been acquired, and others constructed, under Critien's tenure. The latter include Graça Machel residence, the New Engineering Building, Obz Square residence, the new buildings on Middle Campus, as well as the Teaching and Learning Building which is still under construction.
Critien had also saved the university tens of millions of rands in general rates valuations after approaching the City Council in 2006 to have all of the university's properties revalued and its rates revised.
His passion for the Green Campus Initiative, which he has been closely involved with since its inception, saw the launch of many important green projects, including ground-breaking sustainability studies such as the UCT Carbon Footprint Report 1 and 2. The Carbon footprint reports show that UCT's electricity consumption has declined per capita during the last five years by 12%. This is significant and attributable to the active management of demand.
Surrounded by his two daughters and sons-in-law, Critien said that there were a number of reasons he decided to take early retirement, among them being the fact that "you cannot buy time". "My personal circumstances are such that I can take early retirement. I wanted to retire while I was young enough to have a life after UCT," he added.
He said he was delighted that his successor, Andre Theys, had come from within the ranks of the university and that he was leaving the department "in good hands".
Critien, who speaks fluent Italian, plans to teach English in Sicily in the near future.
---
This work is licensed under a Creative Commons Attribution-NoDerivatives 4.0 International License.
Please view the republishing articles page for more information.
---