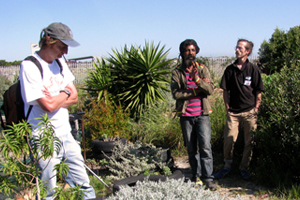 How does your garden grow: Co-researchers Leif Petersen (left) and Andrew Reid (right) discuss the fruits of their labour with Neville van Schalkwyk, the Rasta elder who runs the Hillview Community Nursery and who was integral to the implementation of the Seawinds street garden pilot project.
A pilot street garden project near Lavender Hill that provides a best-practice model of how to sustainably harvest indigenous plants for medicinal purposes has won the UCT Plant Conservation Unit's Theo Manual Award for Conservation Education.
The open-access garden on a pavement in Seawinds - an area adjacent to Lavender Hill - contains plant species of cultural and medicinal value to the Rastafarians. The project resulted from a collaboration between a local group of Rastafarians and Sustainable Livelihoods Foundation (SLF), a grassroots NPO that helps communities take charge of their own development.
SLF co-founder and researcher, Leif Petersen, estimates that the traditional medicine trade uses nearly 130 local species and generates an annual spend of R120-million in Cape Town. His research revealed that there are more than 448 terrestrial and marine species collected within the municipal boundaries of the city for food, cut flowers, medicines and fibre. Petersen's research collaborator, Andrew Reid - a UCT social anthropology master's student - believes that close to half of the 250 harvested plant species collected within the city limits are used in the traditional medicine trade, of which potentially three-quarters are used and traded by Rastafarians.
Reid maintains the unregulated harvesting has the potential to create conflict with conservation officials. "While the law reigns supreme on paper, the reality is that fining and arresting these individuals is not a sustainable use of limited resources. However, neither can wild harvesting continue unabated without serious ecological consequences," says Reid.
Neville Schalkwyk, a Rastafari elder and the manager of Hillview Community Nursery, has been one of the key community players in this project. "He helped determine the list of species to plant in the garden. He also grew the plants at his nursery and planted them at the roadside garden," explains Reid.
Reid reports that the community has reacted favourably to the garden. "A number of community members have expressed their aesthetic appreciation of the garden. In addition, the plants have been selectively harvested by community members for their medicinal properties."
Story by Abigail Calata.
---
This work is licensed under a Creative Commons Attribution-NoDerivatives 4.0 International License.
Please view the republishing articles page for more information.
---