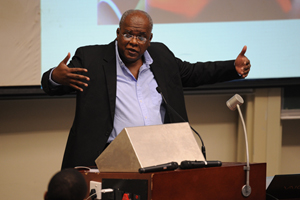 Professor Jonathan Jansen
After an incident in 2007 in which black cleaning staff were tricked into participating in a humiliating initiation video filmed by white students, the University of the Free State was associated with all things racist. Today, its rector and vice-chancellor, Professor Jonathan Jansen, is a thought leader on transformation; recently, he was invited to speak at UCT.
At its core, he says, referencing top African scholar Mahmood Mamdani, transformation requires the 'rules of the game' to be changed, so that racism and all forms of bigotry - which were the prevailing discourses until relatively recently - can no longer find a foothold.
Jansen was speaking at UCT on 4 October, having been invited to discuss transformation in higher-education institutions by the Faculty of Engineering and the Built Environment's Transformation Committee. Drawing on his experiences as the head of UFS since 2009, he described how 'nearness' - including but beyond 'physical proximity' - was helping to free that institution from the shackles of its deeply segregated history.
This 'nearness' takes a number of forms: 'mediated action', in which the physical and symbolic architecture of the university should evolve to meet contemporary demands; and free-flowing communication between Jansen and the students and staff, whether on social media or in his office ("I only speak to students who are passing [their courses]!").
Why would a vice-chancellor physically sit down and speak with students, though?
"It's the best way to anticipate a crisis," he says. Moreover, it fosters an unprecedented "sense where everybody feels recognised". One path to "changing the rules of the game" is to modify the parameters for players, opening up new spaces where they can tread new (and sometimes uncomfortable, at first) ground. For UFS students, this means a core, compulsory curriculum as one of the key strategies to "try to deal with this terrible past".
"The questions posed force the kids to confront serious, challenging questions," he says, creating the conditions for the conversation to evolve throughout their tertiary career and beyond.
Already, Jansen says, more and more students are beginning to see the world through the eyes of the 'other', with a visible allaying of the "fear of moving out of one's tribal zone".
Another initiative is the 'No Student Hungry' programme.
Not all students are fortunate enough to eat every day, says Jansen, and the 'No Student Hungry' programme combats this by providing a stipend to all students in need. What he noted from this was that students would perceive the people queuing for food as simply that: hungry people about to eat lunch, as opposed to being defined by the marker of race (a 'white female' queuing for food, or a 'black male' queuing for food).
Jansen calls it "nearness by resemblance".
What about the numbers game? The numbers are important, perhaps, in a technocratic sense, but alone they don't transform, says Jansen. Strong leadership is vital for university society, and South African society as a whole, to transform into an equitable one, in which a "deep respect for humanity is inherent", Jansen says. "At its core, leadership is about influencing people," he adds, emphasising that the process needs to be driven from the top. So, what should UCT be aiming for?
"The success of UCT depends solely on the material impact it makes on the lives of children in Kayamandi, Manenberg [and similarly marginalised communities]," such that they are afforded the same opportunities as the children born and raised in the leafier suburbs on the university's doorstep, says Jansen.
Story by Yusuf Omar.
---
This work is licensed under a Creative Commons Attribution-NoDerivatives 4.0 International License.
Please view the republishing articles page for more information.
---