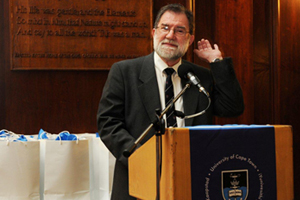 Waving goodbye: Professor Tim Dunne bade a warm 'thank you and farewell' to UCT on behalf of the 53 stalwarts - with a combined service period of 1410 years - that are retiring from their distinguished careers at the university this year.
Myths about stodgy retirees with stiff upper lips were blown out of the water by one of the most entertaining speeches UCT has witnessed in recent years.
The oratory skills of Professor Tim Dunne were in full cry as the veteran statistician had Smuts Hall in stitches for the duration of his talk, which was delivered on behalf of the staff members that UCT was honouring at the annual Retirees' Dinner on 8 October.
Anyone that can playfully weave tales of the Roman Empire, the origin of zero and Hugh Amoore's bow ties into a thank-you note to the university deserves the rousing applause Dunne received.
Prior to Dunne's speech, outgoing staff members were toasted by Professor Thandabantu Nhlapo, the acting Vice-Chancellor, and Professor Danie Visser, Deputy Vice-Chancellor.
Of the 53 retirees UCT was honouring, 40 served UCT for 10 years or more, of which 24 served for 30 years or more, and a select group - of seven - for forty years or more, said Nhlapo.
"These dinners are really very special to us. It's a pleasure for me to acknowledge all of you and your devotion you've shown over many years to help UCT be where it is today - which is in the top 200 universities in the world, and the top one in Africa.
"With the help of people like yourselves, we will probably stay there for quite a long time.
"We are very fortunate in working with colleagues who represent the best in their respective fields, whether in the academic field or the PASS arena."
Dunne thanked the university for providing the retirees with their "just desserts, after the fine meal". He praised the architecture of the "sort of secular cathedral" that was Smuts Dining Hall, a venue that was now witnessing he and his colleagues' 'passing', but "...hopefully out, rather than away".
Going back in history, the combined 1410 years of service that the retirees had provided takes one to the year 603, Dunne said.
"In contrast to our UCT lifetimes of 1410 years, our pensionable ages tonight sum to roughly 3216 years. We can then go collectively back to the year 1247 BC, look around, and say, 'what's up'?"
What was up back then, he said, was mostly zero. Five hundred years before that, the Egyptians had decided on a symbol for zero, with generations of humanity eventually settling on the circle we use today.
"We retirees will undertake, for a suitable sum, to offer what humankind has sought for centuries, to comprehend, represent, use and share: nought," he said to guffaws from the guests of honour, before signing off with: "And now I practice what I preach: zero."
---
This work is licensed under a Creative Commons Attribution-NoDerivatives 4.0 International License.
Please view the republishing articles page for more information.
---